If you're using Apple's Safari 3 Public Beta (which will become final when OS X 10.5 ships next week ), here's a little feature you may not have spotted yet. In Safari 2, the Safari -> Reset Safari menu item was definitely a "break glass in case of emergency" feature. Selecting it brought up a scary dialog, informing you that choosing this option would basically wipe out your cache, Downloads window, cookies, saved usernames, passwords, and other AutoFill information, and Google search entries. Wow—definitely not something you should be using for routine maintenance! Click Reset, and all that data just goes poof! Clicking Cancel was usually the prudent thing to do.
Given how many things the reset feature affected in Safari 2, I hadn't even looked at it in Safari 3 Public Beta, even though I've been using the browser since the beta came out in June. When I finally did poke around the reset feature the other day, I was pleasantly surprised: it's now greatly improved. Instead of an all-or-nothing proposition, you can optionally choose which items to reset: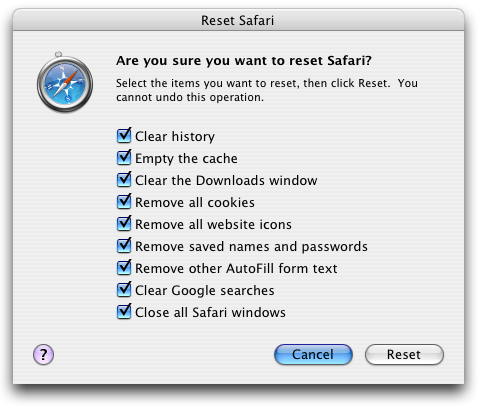 As you can see, not only do you have control over individual items, there are more items under your control. In particular, occasionally clearing out history, cache, and website icons can be a good thing to do—people have reported that clearing these things regularly can improve your browsing speed. There are also potential privacy issues with cookies, and I like to clear mine out regularly. In Safari 3 Public Beta, that task is now much simpler than it was before. (You could do this in Safari 2, but it took a trip into the preferences and then a few more mouse clicks to get the job done.)
So if you've been afraid to visit the Reset Safari menu in Safari 2, give it a second chance in Safari 3—it's been greatly improved.