Anyone who uses Photoshop all the time is looking to speed it up—especially, if you're like me, you're regularly working on images larger than 200MB. The most obvious tip? Buy a new Mac Pro and load it up with 3GB to 5GB of RAM.
"Sure Jim, just send me the moolah and I'll get right on it," you're probably thinking. Well, I don't have the money either, but I do have a few tips to help you speed things up without spending any of your cash.
Venture into Photoshop's preferences (Command-K) and you'll find the Performance section, where you can adjust how much RAM Photoshop uses to load your image into memory. No matter how much physical RAM you have installed on your Mac, you should use the slider to keep the setting hovering around the 60% to 65% mark at the very most. This will leave enough RAM to run Mac OS X and any other applications you may be running, yet still give the bulk of available RAM to Photoshop.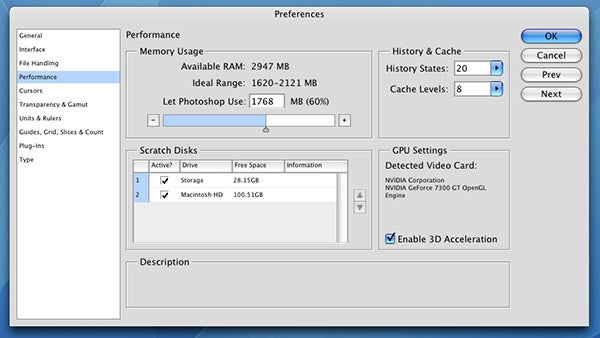 The next thing to look at in the Performance panel is your Scratch Disk setting: you want to set it to a drive other than the startup disk. Obviously, you can only do this if you have a second hard drive (you should not use a partition on your main hard drive, for the reasons noted here ). The point is, you want your Photoshop scratch disk to be one that gets used for little else (if anything) other than Photoshop. You can not only turn drives on and off in this dialog, but change the order in which Photoshop uses them by clicking the little arrows after selecting the drive you wish to move. (If you have enough free space, Leopard will let you resize hard drive partitions without having to reformat them, provided that there is enough space available.)
Next up is the History States and Cache section. The more history you want Photoshop to keep track of, the more RAM Photoshop uses to store that information. I experiment a lot with my images, so I keep it at 20.
Photoshop uses image caching to redraw high-resolution images on-screen faster by storing low-resolution versions of the image in memory. Adjusting the Cache to a higher number (8 is the maximum) will allow Photoshop to redraw your image faster as you zoom, scroll and adjust your image at the expense of opening the image a little slower the first time. To me, this is a fair trade.
There are a few other preferences you can adjust to help speed up our favorite image editor. In the General panel, uncheck the Export Clipboard item. Chances are you aren't copying and pasting from Photoshop into another application, but unless you often find yourself needing the PICT image Photoshop stores in your Clipboard's memory, you'll save a lot of time every time you switch applications or quit Photoshop. You can always switch it back on if you need to do something in a pinch.
Also, make sure the History Log is turned off. If you don't even know what it is, then chances are you don't need it. (It saves a log file of all the changes you made to an image, which is readable via File – > File Info).
Let's now move on to some of Photoshop's Panels. Take a trip to the Layers panel flyout menu and select Palette Options. Make sure the small thumbnail option is selected. Also, unless you're absolutely attached to it, using the Navigation panel sucks up more RAM, so close it at all times. Having the Styles Panel open with a lot of individual Style icons displayed also takes up a small amount of RAM, so dock the panel to the side of the screen or close it.
There are some things you can do to help your cause that have nothing to do with settings in Photoshop as well. Not running Application Enhancers can help. While I've found them to be quite stable and a lot of fun, they do take up a small amount of RAM to keep running, and they do appear to slow down the interface redraw a bit.
Drag and drop or use File – > Place to move images into your Photoshop file, don't copy and paste. When you use copy and paste, you're using more of your Mac's resources, thus slowing everything down.
And finally, you may think you don't have any applications other than Photoshop running because you don't see icons in the dock with the little black triangle under them. But remember to check the Activity Monitor application found in your Utilities folder. When opened, you'll see a list of process which are currently running on your Mac, as well as how much physical RAM they're using. You'll be surprised at how many little things like mouse and keyboard drivers, calendar helper apps, font and clipboard managers and all the other doo-dads can take up. You can remove them from the startup list in your Accounts pane of System Preferences to keep them from launching on your next restart, or you can quit them directly from within Activity Monitor. Either way, you'll be saving more RAM for Photoshop to use.
[James Dempsey runs the Creative Guy blog, which offers tips, tricks and opinion on a variety of Mac OS X and design topics.] [Updated 10/25 to fix the editing error regarding scratch disks.]