Our Mock Draft of Leopard Features took place in a conference room far away from the unforgiving glare of TV cameras. But what if we had managed to convince some upstart cable television network to provide blanket coverage of our OS X 10.5 draft? What would that have been like? Probably something like this…
Welcome back to ESPM—the worldwide leader in sports and Macintosh coverage. Our regular coverage of the professional Jarts circuit will not be seen today, so that we can wrap up over coverage of the Leopard draft. I'm your host, Rob Griffiths—no, not that guy —and here's my take on the overall draft. I think some of these team managers might be looking for new work next year, based on their draft day selections!
The overall draft
The draft board was diverse, offering more than 300 features from more than 35 separate categories, including the majors such as iChat, Mail, and Preview, and less prominent programs, such as Instruments, Front Row, and Imaging. When the dust settled, only 80 of the prospects were on their way to the major leagues, leaving a couple of hundred disappointed prospects headed to the minor leagues.
The number one feature in this year's draft was iChat, placing seven of its prospects into the majors—including the number one overall selection (Screen Sharing), and two more (Invisibility and iChat Tabs) in the top 20. A tense battle for the second most popular feature raged the entire 10 rounds, finally ending in a tie, with six selections each, between Finder and Time Machine. I'm giving Time Machine the edge, however, as they placed three of their selections (Back up Everything, Go Back in Time, Automatic Backup) in the top 10! Finally, iCal was close behind, just missing out on a three-way tie with five selections.
At the other end of the scale, prospects from Fonts, Instruments, International, and Networking all went home empty-handed—not a single one was chosen. One might think that things such as fonts and the ability to network machines together is important, and yet, that doesn't seem to be the case with these Macworld team managers. Really, not a single font or networking feature even rated a low-round selection. What's wrong with this picture? Do these managers even work in the real world?
Team-by-team analysis
In looking at how each editor drafted, their strategies were as varied as their personalities—when I could discern a strategy, that is. Some of the selections made were shocking, some were obvious, and many were simply… strange. Here now a look at one "interesting" selection by each of the managers, in alphabetic order.
Christopher Breen: With his fourth-round pick, Breen selected Photo Booth recording—OS X 10.5's ability to record videos created with the odd collection of backgrounds and effects found in Photo Booth. At the time, Breen explained his selection by stating that "My daughter is going to love this feature." We in the media have heard that excuse too many times to fall for it again. Expect to see a wide assortment of Distorted Breen videos hitting YouTube shortly.
Dan Frakes: Frakes took Safari's new Reopen Windows feature in the sixth round—it allows you to change your mind and open a window that you've just closed. This is a feature that should really only appeal to those who make mistakes regularly, or whom just can't seem to make up their mind. Neither characteristic is ideal in a team manager, so it might be a tough ride for Team Frakes this season.
Dan Miller: With his very first selection, Miller chose Safari's new Web Clip feature. Web Clip allows you to turn any portion of a web page into a Dashboard widget. While this feature is useful, is it really worthy of a first-round selection? With so many other key players still on the board, Miller ignored them all and reached for one that's mainly fun and visually interesting, but lacking any real depth. If this is indicative of his team's strategy, Team Miller fans could be in for a long and painful season.
Jason Snell: Snell selected the improved iCal interface in the fifth round—Apple promises a "cleaner look" for the calendar application. With so many functional features still available, Snell chose one that's all about looks, and nothing about performance. Sure, you can have all the looks in the world, but if you can't perform, you're still going to wind up on the bench. Let's hope the rest of Snell's team shows a more performance-oriented focus!
Jonathan Seff: With his seventh-round pick, Seff chose…a screen saver!? In all my years of analyzing mock drafts of operating system features, this is the strangest selection I've ever seen. Let's just move on.
Kelly Turner: Turner's second pick—the 11th overall—was iChat Invisibility. This feature makes you vanish from your friend's Buddy List window, yet you can still see them and their status. Is it just me, or does this remind you a bit of Patriot-gate, where New England's NFL team was spying on their opponents? What does this say about Turner's scruples as a team manager? What kind of team is she building if her second pick is an invisibility cloak?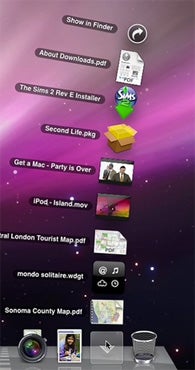 The selection of Stacks, one of the many changes to OS X's Desktop, did not impress our draft expert.
Philip Michaels: Like so many others, Michaels was swayed by image over substance, spending a third-round pick on on Stacks—that odd feature wherein clicking a folder on your dock presents a curved line of icons, arcing up into your desktop space. What's with that curve, anyway? Don't any of the designers at Apple have a straight edge? And more importantly, what functionality is Team Michaels gaining through this new feature?
Rob Griffiths: With his second pick, Griffiths went weird, selecting AutoFS, a new multi-threaded technology to mount and dismount network drives. Huh? In the second round, he chose something only a handful of people have heard about, fewer than that understand, and fewer than that even care about? That's like taking a backup punter from a junior college with your first selection—not only will people wonder what you were thinking, but they'll begin to question Griffiths' ability to manage his team.
He is devilishly handsome, however.
Now, not all the picks by all the managers were as silly as those I've highlighted above. As I look at each manager's overall draft performance, there were some clear winners who did a great job at filling their rosters. If I were a betting man—and I am—I'd put my money on these two teams for assembling the best roster of Leopard features.
The best and the worst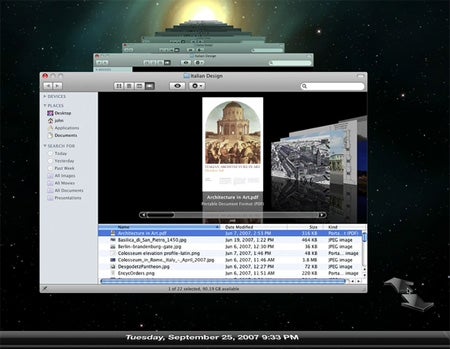 You can't go wrong picking features from Time Machine.
Dan Frakes: With all 10 of his picks, Frakes focused on functional selections with proven abilities on the field. Look through his list of picks, and you won't find a single "eye candy" feature on the team. Three picks from Time Machine mean he's got depth in the backup category, which will complement his ability to Search Shared Macs, enable easy Folder Sharing in the Finder, and take advantage of Spaces to help manage his team.
Jason Snell: Snell's picks reflect a focus on communications with his team—three of his picks (iChat Tabs, Multiple Logins, AAC-LD Codec) were from iChat. Boot Camp will help his team understand the competition by actually becoming the competition. The Apple TV-like interface on Front Row will make reviewing game film much easier, and Spotlight's Search by Filename feature will ease the troublesome task of searching the team's data files.
As for the rest… well, it could be a difficult 10.5 season for some of the managers, but it'll be fun to watch the chaos unfold starting this Friday!
That wraps up ESPM's coverage of the Leopard Feature Draft. Stay tuned for exciting action from the National Foosball League.
[ When not channeling Mel Kiper Jr., senior editor Rob Griffiths writes the Mac OS X Hints blog. ]