When Apple rolls out a major OS X update, it doesn't skimp on features, and Mac OS X 10.5 is no exception. When Leopard makes its debut this Friday, the latest version of OS X will sport some 300 new features and enhancements, with Apple offering a descriptive list of each and every one.
Of course, with great detail comes great confusion. Sure, you're familiar with Leopard's marquee features, but what about the nitty-gritty details in new additions like Time Machine or revamped favorites like iChat and Spotlight? And what about hidden features Apple has only addressed in passing.
We're here to help. We want to walk you through Leopard's sprawling feature set, so that you can discover which OS X changes should excite you, which ones merit a respectful nod, and which ones you can overlook. And to do that, we're holding a Mock Draft for Leopard's 300-plus features.
Anybody who plays fantasy sports—baseball, football, basketball, the other, better kind of football, and more—should be familiar with the idea of a Mock Draft. Fantasy gamers get together before the start of a season and go around the table, picking the players they expect to have stellar seasons. If it works for sports—and, increasingly, other realms of fantasy gaming—why shouldn't a Mock Draft be the perfect way to highlight our favorite features in OS X 10.5.
So we rounded up eight Macworld editors, handed them the list of 300-plus Leopard features, and told them to assemble a roster of the top additions and enhancements in Mac OS X. How they defined a top feature was up to them—maybe it was something that improved upon an existing OS X feature or maybe it added a new capability altogether. Editors had to formulate their own drafting strategy heading into our 10-round draft.
And strategy turned out to be important because once a feature was selected by one editor, it was off the board—no one else could pick it. That way, we figured, editors would be forced to prioritize the enhancements in OS X 10.5 that really mattered to them.
We began the draft by picking at random the order in which editors would make their selections. Here's a list of the participants in the order they made their picks in the first round of selections.
Philip Michaels, executive editor of Macworld.com
Rob Griffiths, senior editor
Jason Snell, editorial director
Dan Frakes, senior editor
Christopher Breen, senior editor
Kelly Turner, senior features editor
Dan Miller, executive editor of Macworld
Jonathan Seff, senior news editor
When we got to the end of Round 1, we flipped the selection order, with the eighth person picking first, the seventh person picking second and so on. When we got back to the top of the list, we flipped the selection order again. And so it went for 10 rounds until we had a list of 80 Leopard features drafted by our intrepid players.
Below you'll find a list of what each editor picked in our Mock Draft, along with the strategy they had going into this exercise and an explanation of the some of their top choices. And, just for fun, we also asked editor to name one Leopard feature they wouldn't pick, no matter how long our draft lasted.
Want to sound off on our selections? Take a gander at each editor's list—for more insight on the picks, check out Rob Griffith's draft analysis —and let us hear your picks and pans in the forum thread at the end of this article.
Philip Michaels
My strategy: I went into the draft with two goals in mind: 1) Grab the major enhancements to the OS X features I already use and 2) keep an eye peeled for organizational tools that will help me bring order to my cluttered Desktop. I'm sure there are plenty of people out there who are quite excited about all the under-the-hood additions to Leopard (see Griffiths, Rob), but I wanted to focus on improving the apps I already use to handle my daily to-dos.
My picks:
Screen Sharing in iChat iChat's Screen Sharing feature might seem like an odd choice for the first overall pick of the draft, especially with the rest of Leopard's 300-plus features there for the taking. But it's not so difficult to understand when you realize just how much I use iChat to stay in constant communication with far-flung editors and contributors. Right now, iChat's an ideal way to dole out assignments, check on the progress of a story, and bandy suggested edits back and forth; the prospect of also being able to collaborate directly on these projects via Screen Sharing makes OS X's built-in messaging client about as essential as an app can be for my needs.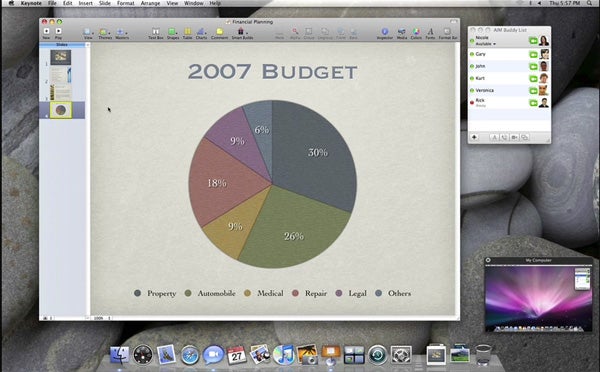 The No. 1 overall selection in our draft—iChat Screen Sharing.
Core Animation I realize my second-round pick of Core Animation flies in the face of my stated draft strategy to avoid features that had little to do with my day-to-day existence. Core Animation may be aimed squarely at developers, but I believe this Leopard addition will dramatically affect the look and capabilities of the apps we use on our Macs for years to come. So when it was still available at the end of the second round, I grabbed it before anyone else could get their mitts on it. Sometimes you go with the best available talent.
Stacks
Enhanced Find in Safari
Cover Flow in Finder If you watch the NFL Draft on television each spring, you're likely familiar with the scene that accompanies every New York Jets selection. Because the draft takes place in New York, the auditorium is jammed with Jets fans, who, more often than not, greet each of their favorite team's picks with a chorus of boos and catcalls. I can now sympathize with the beleaguered Jets front office, after my fifth-round pick of Finder's Cover Flow feature inspired howls of derision from my fellow editors. Let them mock me—rather than just being eye candy, Cover Flow, if properly implemented, has the potential to help me easily sort through files by offering at-a-glance views of every document I scroll through.
iChat Theater
Spotlight Application Launching
Stronger Encryption for Disk Images
Quick Print Preview
Autosave in Text Edit
What I'd never pick: About the time movie ticket prices spiraled north of $10 while the theater floors remained sticky, the refreshments stayed overpriced and unappetizing, and the rest of the audience continued to gab during the feature presentation, I stopped going to the local cineplex. So I don't really need a Movies Widget in Dashboard to tell me all about the mediocre blockbusters I have no intention of paying good money to see.
Rob Griffiths
My strategy: I decided to focus on the sleepers—those items that are key to my productive time with Leopard, and yet would probably be overlooked by the other people participating in the draft. I was positive the big, flashy players in the Finder, Dashboard, and Time Machine areas would be picked over early and often.
My picks:
Advanced Searches in Spotlight With the ability to search for phrases, as well as true boolean searches, Spotlight figures to become a first-class search tool. Given the rapid increases in hard drive space, the amount of stuff we keep is increasing at a similar rate. As such, finding things quickly and easily is of great importance, and that's why Spotlight's new advanced search features nabbed the top spot on my draft board.
Unix AutoFS Why give up such a high draft pick for this seemingly obscure technology related to networked volumes? Because AutoFS in OS X 10.5 is, quite simply, a revolution. AutoFS is responsible for the mounting and dismounting of network shares, and in Leopard, it will uses separate "threads" for these tasks. What does that mean in English? It means the end of the spinning rainbow of doom you see when you, for instance, click on a network share in the Finder, only to remember that you put the shared computer to sleep earlier.
Sandboxing
Updated OpenGL
New Folder of Options in Finder
Apple Dictionary
Workflow Variables in Automator
Resizable Text Fields in Safari
Archive Mailbox in Mail
Dashcode
What I'd never pick: I really don't understand all the fuss over the Dock's new Stacks. In OS X 10.4, we had stacks—they just didn't curve and lacked preview icons. But you could click-and-hold on any folder in the dock, and both see and navigate its structure via a pop-up menu. In OS X 10.5, that functionality is apparently gone and replaced with some odd pop-up arc of files and folders. Just what was so wrong with Tiger's docked folder behavior?
Jason Snell
My strategy: My approach was pretty simple—spread the love when possible (I could've picked four or five iChat features, easily) and try to hit the most important features of Leopard, even if that means picking features that have been available via downloadable hacks or add-ons or features that have been available for a year and a half in a public beta form. And I made sure to pick an Automator feature somewhere during my draft, because it's just so darn useful now that Automator supports variables and looping.
My picks:
Time Machine: Backup Everything Like picking Alex Rodriguez or LaDanian Tomlinson, isn't it obvious? The star of Leopard is Time Machine. The feature that will sell millions of gigabytes of external storage, Time Machine is destined to safeguard the data of Mac users who have never backed up regularly, so that when all is lost, it isn't. Sure sounds like a Most Valuable Feature candidate to me.
Boot Camp It's been a year and a half since Apple introduced Boot Camp in a pre-release beta version. But that doesn't lessen its importance. Boot Camp makes it okay for long-time users of Windows PCs to switch to the Mac with a fantastic fallback: the ability to boot into Windows XP or Windows Vista when you absolutely need to. Yes, most of them won't ever need Boot Camp. And yes, tools such as Parallels Desktop and VMware Fusion do Boot Camp one better by letting you run Windows programs within the familiar Mac OS X interface. But Boot Camp started that ball rolling, and it's still the fastest, most compatible way to run Windows on Mac hardware.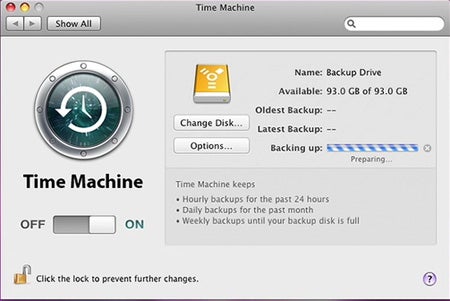 How can you hold a mock draft and not take a Time Machine feature with your top pick?
Tabbed Chat in iChat
Multiple Logins in iChat
Improved iCal Interface
Search by Filename in Spotlight
AAC-LD Codec in iChat
RSS in Mail
Workflow Looping in Automator
Apple TV-like interface in Front Row
What I'd never pick: Grammar Check—at last, the most useless feature ever added to Microsoft Word has been added to Mac OS X! With this feature, an infinite number of monkeys will analyze your writing and present you with useless grammar complaints while not alerting you to actual grammatical errors because computers don't understand grammar. Sure, it sounds great on a box—or a promotional Web site—but anyone who knows, knows that grammar checking is a sham. Just say no.
Dan Frakes
My strategy: I went into the draft looking for new features that will personally bring me substantial benefits, as well as for solutions to long-standing requests and needs from Mac users.
My picks:
Time Machine: Go Back in Time Sure, there are many good backup utilities out there, but the ability to see exactly what my hard drive looked like on a particular date, and to be able to use Spotlight to search for—and within—any document I've ever had, is groundbreaking. Even better, being able to quickly restore any file using an interface that looks and works just like the Finder means anyone should be able to use it. I'll still keep SuperDuper handy to maintain an updated, bootable clone of my hard drive, but if Time Machine delivers on its promises, this built-in feature of Leopard will replace Retrospect for my incremental, archival backups.
The virtual desktop feature Spaces went in the second round of our draft.
Spaces I've always been intrigued by the idea behind virtual desktops; unfortunately, I've never found an implementation that won me over. That may change with Leopard—as I noted in our first look at Spaces last year, Apple has taken what has traditionally been a power-user feature and attempted to make it easy to use and understandable. I'm looking forward to seeing if it will smoothly integrate into my daily workflow.
Spring-Loaded Dock Although this feature doesn't sound that exciting, it's one I've been wanting since the early days of Mac OS X. It just seemed so obvious—if right-clicking on a folder in the Dock showed you its contents, and if dragging an item over a Finder folder opened that folder so you could drag the item inside, why couldn't folders in the Dock pop open when you dragged something onto them? Now they can. But the feature isn't limited to folders; it also works with applications. For example, if you want to drag a picture into your iPhoto library, you just drag the image onto the iPhoto icon in the Dock; the app comes forward, and you can then drop the clipping in place. This is a feature I expect to use many times each day.
Time Machine: Restore Your Mac
Guest Log-In Accounts
Folder Sharing in Finder
Time Machine: Quick Look Before Restoring
Reopen Windows in Safari
Search Shared Macs with Spotlight
Boot Camp Assistant
What I'd never pick: Although I may come to appreciate the new application-window style, from what I've seen of the semitransparent menu-bar and reflective Dock, one of the first things I'll be doing with my Leopard installations is figuring out how to make the menu bar white and the Dock non-reflective.
Christopher Breen
My strategy: I split my picks between features that would help me bring order to chaos and those that simplify common computing tasks (or, in the case of the Mac's Speech capabilities, tempt me to finally use them).
My picks:
Quick Look I'm a pack-rat, not terribly organized, and less-than-creative about naming files, which means I have too much stuff on my Mac, in too many locations, with too many duplicated or similar names. It's for this reason that I depend on Spotlight and other search features to root out my files. However, because I use duplicate or similar names, in the past I've had to open files to be sure I have the correct one. This will be unnecessary thanks to Quick Look. Just choose a file, press the Space Bar, and I can easily see the file's contents.
Back to My Mac How many times have you banged away on your MacBook in a café or hotel room and wished you'd remembered to transfer a particular file from your desktop machine to your laptop? Me too. The Back to My Mac feature lets .Mac members easily connect to any running Mac they own via the Internet. It was possible before (and remains possible) through the Mac's sharing capabilities, but Back to My Mac should be far easier to configure and operate.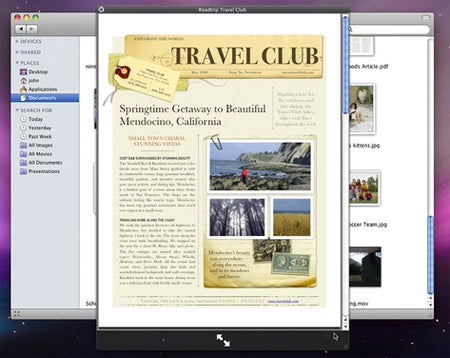 Quick Look, another first-round selection in our draft, figures to make finding files and documents a whole lot easier.
Recording in iChat As host of the Macworld Podcast I record a lot of remote interviews and use Skype to do it. Wonderful as Skype's voice quality may be, the application can be finicky—quitting unexpectedly and distorting voices. iChat, on the other hand, is robust and with a fast Mac and speedy Internet connection, can pull off audio and video conferences with aplomb. With iChat's improved sound quality, I may be spending far less time with Skype.
Video Recording in Photo Booth
Improved PDF Annotations in Preview
Application Binding in Spaces
Alex in Universal Access
Default Alarms in iCal
Merge All Windows in Safari
Tabbed Windows in Terminal
What I'd never pick: Apple describes Leopard's New Look as "an elegant, distinctive new look across the entire system. The semitransparent menu bar and reflective Dock frame your desktop picture. The active application window stands out with a deeper drop shadow and a distinctive toolbar color. One look at Leopard and you'll know you're in for something special."
From what I've seen of Leopard's distinctive new look, I'm not convinced that what I'm in for is all that special.
Kelly Turner
My strategy: Over the course of a day, I accumulate a lot of files—text files from writers, PDFs from the art department, press releases and photos from companies, screenshots for articles, and my own snapshots. And that's just a few of the most common sources of my Mac's clutter. So any new feature that helps me find the files I need, lets me alter the files quickly, protects the files from accidental mishaps, and lets me hide from people who may give me more work, is good news to me. Some of my fellow editors may mock me for giving almost a third of my slots to Preview, but if you want to work with PDFs and images without opening an Adobe program, there's much to love in Apple's announced changes for this underappreciated app.
My picks:
Time Machine Automatic Backup When it comes to backing up my data, I am my own worst enemy. I know it's important. But the task just never occurs to me until I've actually run into trouble. With Leopard's Time Machine I won't have to think about it at all. Even better, there's almost nothing to set up—or mess up. By taking the weakest link (me) out of the equation, my Mac is bound to live a happier and healthier life.
iChat Invisibility To some people, a red light on your iChat status means "do not disturb." To others, it means "Of course I'll make time for you ." Now I'll be able to keep tabs on my buddy list—for example to see if my boss has already left for the meeting—without inviting interruptions. As they say, out of sight, out of mind.

Time Machine figures to take the most unreliable element—the human one—out of the backup process.
Multi-Select in Quick Look
More Image Manipulation Options in Preview
PDF Manipulation in Preview
Preview's Instant Alpha Background Removal
Inline Editing in iCal
New Automator Actions
Sync Dashboard Widget Settings with .Mac
Mosaic Display for Picture Screen Savers
What I'd never pick: The feature list for iChat promises more smileys. The world really needs more?
Dan Miller
My strategy: Look for features with long-term potential, not necessarily near-term utility.
My picks:
Web Clip I stopped using Dashboard six months after Tiger came out, but Safari's new Web Clip tool could get me back in the habit. Web Clip lets you create customized Dashboard widgets from any Web content. Say you search for "Apple" on Google News. Hit the Web Clip button and select the results, and you'll have a live Apple News widget in Dashboard. It sounds very easy and very cool—and like I'll be hitting F12 once more.
UI Recording and Playback in Automator Automator is already an excellent way to turn repetitive system tasks into easily-launched workflows. But its interface—which requires you to systematically construct those workflows out of discrete "actions"—has scared off many potential users. In Leopard, they should have less reason to fear, thanks to Automator's new recording and playback abilities. The idea: Turn on Automator's recorder, do the things you want to your workflow to do, then stop recording. Those steps are recorded as a single action, which you can then save or add to as you wish. While other new Automator features (variables, looping) potentially make it more powerful, recording and playback should make it less forbidding.
CalDAV Group Scheduling in iCal
To-Dos in Mail
Parental Controls Time Limits and Bedtimes
Library Randomization
Data Detectors in Mail
iCal Office Hours
iLife Media Browser in Open Panel
Scriptable System Preferences & Applications in AppleScript
What I'd never pick: Custom stationery in Mail because e-mail stationery in general is for people with too much time on their hands. If you're going to expend the effort to customize that stationery, well, pal, maybe you need to find a hobby.
Jonathan Seff
My strategy: I went with features that simplify tiresome, costly, or annoying things in the OS. For me it's all about faster and easier ways to do common tasks.
My picks:
Live Partition Resizing in Disk Utility Partitioning is a great way to install another OS (think Boot Camp), to back up files, or to make a scratch disk for Photoshop or for video capture. The big problem is that in order to change your partitions to reallocate space to one or another, you always had to delete everything from your hard drive and start over again. With live resizing, you'll be able to adjust the space given to each partition without harming your data. This feature promises to be a huge time and energy saver for those of us who like to play around with partitions.
Instant Screen Sharing from the Finder For casual users, the $299 Apple Remote Desktop 3 software is overkill for controlling the screen of another Mac on your local network. In Leopard, Apple has added built-in screen sharing, which lets you control a Mac mini that has no display attached or create new playlists in iTunes running on your music server, for example—no additional software required. It's a power-user feature brought to the masses, and integrated into the Finder's new sidebar.
DVD Player Time Slider
Finder Sidebar
Time Machine's Do Not Backup List
Wikipedia in Dictionary
Collage for Picture Screen Savers
Improved Network Preferences Interface
Google Map Addresses in Address Book
Network Scanning Support
What I'd never pick: Address Book's Synchronize with Yahoo feature raises the alarming possibility that there are still people out there using Yahoo for mail. That can't be true—can it?