Apple usually makes no secret of what it considers to be the marquee feature of its major Mac OS X releases. The clue is usually right there on the box in which the update arrives.
Take Tiger. The box for the OS X 10.4 update featured Apple's X logo bathed in a spotlight—a clear sign that Apple thought the newly-introduced Spotlight search technology deserved top billing among Tiger's enhancements.
The same holds true for Leopard. This time around, the box features the X logo on top of a swirling cluster of stars. As if to further drive the point home, that galaxy-eye's view also happens to be the default Desktop background when you launch Leopard for the first time.
So why is this significant? Because the galaxy motif also appears throughout Time Machine, the name Apple has given to the new backup system it has built into Mac OS X Leopard. Designed to work with internal or external hard drives, Time Machine automatically creates time-based "snapshots" of your machine, allowing you to instantly retrieve files, folders, and applications that you may have deleted—or even just older versions of documents that you've since updated.
The major features
We covered Time Machine extensively when Apple first unveiled the feature in August 2006 and again following this summer's Worldwide Developers Conference. Time Machine remains fundamentally unchanged since those previews, but a quick overview of its features is surely in order now that OS X 10.5 has arrived.
Using a unique 3-D interface atop a cosmic outer-space background, Time Machine attempts to turn the complex and sometimes confusing world of backup and restore into a simple, visual operation. Backing up is simple: attach a drive of sufficient capacity. In fact, when you first attach an external hard drive to your Mac—whether USB or FireWire—Time Machine offers to use that as your back-up drive. Enable the drive to use with Time Machine, then wait for the initial backup to complete. Once that's done, Time Machine will automatically work in the background, creating backups of files as you modify your system.
When the day comes when you need something back, you launch the Time Machine application—Apple has added a Time Machine icon to Leopard's Dock—and simply move backward through time to find the files or folders you wish to restore. A timeline on the right side of the screen lets you jump to any given day; back and forward arrows in the lower right corner of the screen let you move among the changes made to a file or folder. A Restore button copies the selected files from the backup drive.
The 3-D Time Machine interface is quite polarizing—some love it, some hate it. It does, however, make the relationship between your files and folders and time quite obvious, which helps quite a bit when you're trying to restore files from your backup.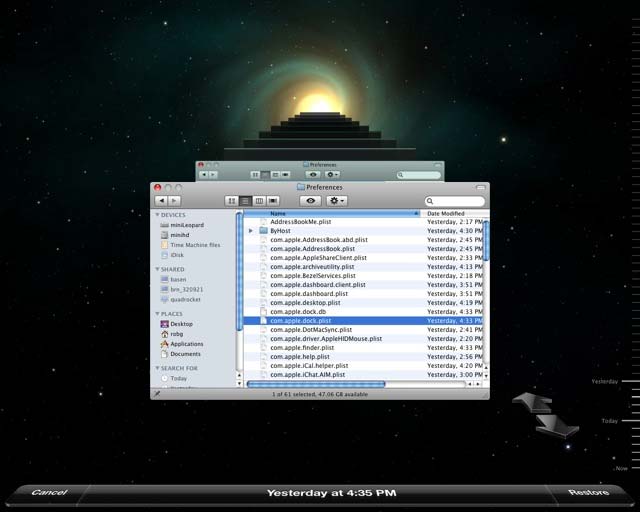 Time Machine incorporates other Leopard enhancements. Using Quick Look, you can scroll through retrieved files to make sure you've found the right version. And you can use Spotlight to find folders and files on your backup drive with a specific search string.
Some other Time Machine features that may interest you:
If Time Machine happens to be in the middle of a backup when you put your Mac to sleep, don't worry—the feature automatically stops and then resumes once you reconnect to your backup drive.
You're able to browse any Time Machine backup volume, even one of a different Mac, when you plug the drive into your computer—a useful feature for multi-Mac households.
Holding down the Control key and clicking the Time Machine icon in the Dock creates a new incremental backup, if you just can't wait for the automatic backup to take place.
Time Machine preserves access privileges associated with files on multi-user Macs.
What you may not know
Time Machine only seems to work with external hard drives attached directly to your Mac, and other Macs running Leopard. But you can't use any old remote server, and you can't attach Time Machine to your AirPort Extreme's shared volume, either. And be sure to schedule some time for Time Machine—that initial backup of all of your files is a doozy.
One of our favorite Time Machine features is actually apparent in the Leopard installation process: one of the offers in the Migration Assistant interface is to re-install the contents of a Time Machine backup. In other words, it's easy to put your drive back together from a Time Machine backup, so you can get back up and running in the event of a catastrophic crash.
And while most demos of Time Machine are focused on the Finder, it's important to note that applications can be made Time Machine-savvy as well. iPhoto, for example, works with Time Machine: when you click on the Time Machine icon while in iPhoto, you'll be presented with a 3-D interface into the history of your iPhoto library. You can fly back in time, scroll through the library until you found a mistakenly deleted photo, and then restore it to your present-day iPhoto library.
What we think
In my initial testing, Time Machine seemed to work quite well. After I finished my initial backup, I didn't notice any slowdowns in the typical usage of my machine due to Time Machine's background backup operations.
As a user, you don't have a ton of control over exactly how Time Machine operates. You can disable it, and specify certain locations that you do not wish to back up, but that's about all. One thing you will want to be sure of, though, is that you have a nice, large external (or internal) hard drive available for Time Machine—the more drive space you have available, the more versions of things you can keep. With a sufficiently large hard drive, you should be able to keep an extensive historical backup of your machine, enabling you to retrieve just about any form of any document you've modified.
Time Machine is perfect for nearly everyone—the only caveat being you will need a good amount of drive space to get the best out of it. Time Machine is not just for those who have accidentally deleted a file or lost work due to a hard drive crash. With its ability to store past versions of documents, it's also a great fit for anyone who needs to keep an audit trail, showing the iterations of a document from rough draft to final form.
One thing to keep in mind about Time Machine, however, is that the process isn't necessarily instantaneous. So if you create a file and then delete it a few seconds later, Time Machine won't have created a backup copy of that file. (While Leopard takes hourly snapshots of your drive, at the end of the day it collapses them into a single view for the entire day, so at that point your Time Machine backup is only good for tracking day-by-day changes.)
Still, version control is not really what Time Machine is for; instead, think of it as a really good insurance policy for all those priceless digital images, music, and documents that you store on your machine.
Great or wait? If you've got the drive space available—and seriously, go out and buy a big hard drive at the same time that you buy Leopard—Time Machine is a great idea that's been implemented quite well in Leopard. Yes, the cosmic 3-D interface may be a little cheesy—but the basic technology works quite well. Great.
[ Senior Editor Rob Griffiths runs the Mac OS X Hints Web site. ]