There's more to major OS X updates than introducing entirely new features such as Time Machine. Apple also takes the opportunity to freshen up existing applications, adding new capabilities or improving the way things get done.
Such is the case in Leopard with two OS X mainstays—Safari and Automator. The changes to former are fairly well known, thanks to a public beta; the changes to the latter have been overshadowed by some of the higher-profile additions to OS X 10.5.
Let's continue our tour of Leopard by examining what's new with both applications, starting with the built-in Web browser.
Safari 3
Of all the changes introduced by Leopard, the version of Safari that ships with the new OS may hold the least mystery. That's because Safari 3 became available as a public beta back in June, so most of its features are widely known. There's really only one big difference between the Safari 3 on Tiger and the full version Safari 3 included with OS X 10.5, and that's the Open This Page In Dashboard toolbar button. Using this feature, you can turn a portion of any Web page into a Dashboard widget. (More on that below.)
Safari 3 is an evolutionary upgrade from Safari 2. Still, the changes should make your browsing life easier.
The big changes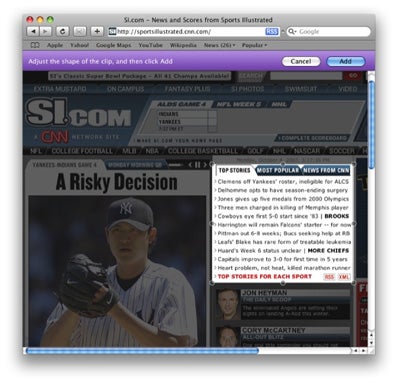 Safari 3 lets you turn highlighted sections of Web pages into Dashboard widgets with the new Open This Page in Dashboard toolbar.
Create Web Clips As I mentioned, you can now create your own Dashboard widgets from Web pages in Safari. The idea here is that you can use this feature to save yourself needless trips to your browser just to check a specific portion of a Web page for updates—checking sports scores on the right-hand side of this Yahoo page, for example. Just use this feature to turn that section of the Web page into a Dashboard widget, press F12, and you can quickly scan for updates.
The process is quite simple: click on the Open This Page In Dashboard toolbar button in Safari, and the page will dim, except for a white rectangle. Move your mouse until the rectangle is over the area you'd like to make into a Web Clip, then click the mouse button. When you click, you'll see a series of adjustment circles appear on the rectangle; drag these to fine tune the selection area, then click on the Add button.
When you click Add, Dashboard will open, displaying your newly-created widget. You can then click on the widget's info ("i") button to choose a theme for your widget.
And that's all there is to it—as long as you leave your widget open. Unfortunately, there's no way to save a user-created widget, so if you close the widget (by clicking on its "x" indicator), you'll have to start the whole process again.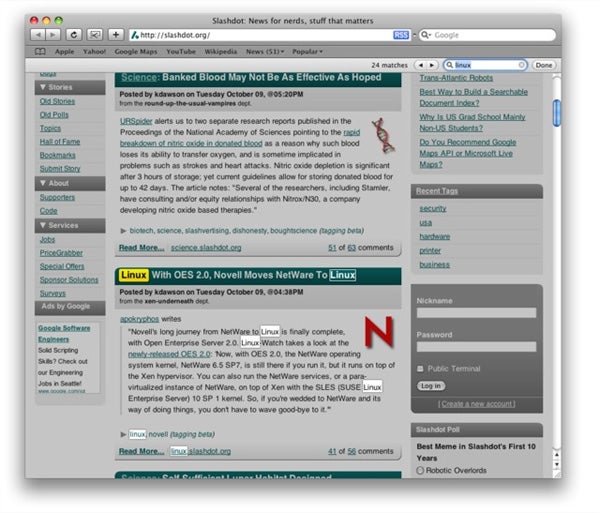 Highlighted search results make it easy to find what you're looking for on Safari 3 pages.
Improved Search Searching in Safari is now dynamic. Instead of searching after entering your entire search term, Safari searches as you type (after you press Command-F). As you type characters, Safari highlights all the matching terms on the page, reducing the list of matches as you type more characters. It also shows you all instances of your search term instead of making you cycle through them.
Bookmark Groups of Tabs You can now create a bookmark from a group of tabs, as you can with Firefox. For example, assume you've been browsing the Web for a couple hours, and realize it'd be great to have your current assortment of tabs (say six of them) available as a group for future use. All you need to do is select Bookmarks -> Add Bookmark For These 6 Tabs, and then name the bookmark.
Recover From Mistakes Safari's History menu now includes an Reopen Last Closed Window menu item. You'll say thank you for this handy feature every time you get overly aggressive with Command-W—no longer will you have to retrace your steps to get back to the page you were viewing. Instead, just use History -> Reopen Last Closed Window, and your last-viewed page will open up again.
Need to go even further back in time? Safari 3 also adds a Reopen All Windows From Last Session item as well. And yes, it does exactly what it claims to do—reopening all windows (and tabs) that you had open when you last quit Safari.
Prevent Mistakes Safari has a new feature aimed at stopping you from doing something silly: It will now warn you if you click the red close box when you have more than one tab open. (It will also warn you if you try to close a tab or window with text entered in a Web form.)
Make History Disappear If you don't like the thought that every page you've visited is saved indefinitely, you'll love the new settings in Safari, which adds the ability to auto-expire your browsing history over time via its preferences. You can choose to clear entries from the history file after a day, a week, two weeks, a month, a year, or manually.
What you may not know
There are other additions to Safari, of course. I covered some—including the ability to resize text entry boxes and rearrange tabs via drag-and-drop—in this video preview from June. Apple touts other features in the Safari section of its Leopard preview; these changes include Preview controls for PDFs built directly into Safari and the ability to turn any photo you find on the Web into your Desktop picture with just a click.
But again, Safari 3 has been out in the wild in beta form for four months now—apart from the now-operational ability to create Web Clips, there's little undiscovered territory here.
What we think
Safari 3 works as well as Safari 2, and its new features further enhance the browsing experience. Once you've used the enhanced find—which you'll notice in other OS X applications as well—there's no going back to the old style. Matches are easy to spot, and it's simple to jump from one match to the next. Creating your own Web Clips is useful as well, though it would be much more so if you could permanently store your creations. The warnings about closing multiple tabs and forms with text on them are welcome, as is the ability to have your history file erase over time.
Safari 2 users should enjoy Safari 3 even more. The improvements make an already very good browser that much better. If you use Firefox or any of the myriad other OS X browsers, you'll have to decide if the ability to create your own Dashboard widgets from Web pages is a compelling reason to switch over to Safari—most of this browser's other new features can be found in many other browsers.
Great or Wait? Those making the move to OS X 10.5 who weren't running Safari 3 Public Beta will find many new features to like in the OS's default browser. It's still fast, and the new usability features make it that much better. Great .
Note: When you purchase something after clicking links in our articles, we may earn a small commission. Read our affiliate link policy for more details.