The last time Apple rolled out a cat-themed OS X update, Spotlight was the star of the show. Introduced as part of OS X 10.4, the search feature used files' indexed metadata—creation date, body text, file kind, and size, for example—to quickly ferret out matching files.
While Spotlight showed promise, its performance often proved disappointing. In many cases its searches were too broad, producing hundreds or even thousands of results when you searched using common words and phrases. And while it was supposed to produce results as you typed, it would often hesitate after you'd typed a couple of characters and then eventually begin again as it caught up with the clacks of your keyboard.
Mac users upgrading to Leopard will find a different Spotlight waiting for them. OS X 10.5 refines the search technology in several significant—and welcome—ways. This revamped Spotlight can conduct phrase searches that actually produce useful results; it also supports a new feature in Leopard called Quick Look.
The big changes
Many Spotlight enhancements planned for Leopard were unveiled more than a year ago by Apple.
Let's start with phrase searches. When you conduct a query in your browser's Search field, one of the best ways to narrow your search is by enclosing your search terms in quotation marks. "Licorice Ice Cream," for example, produces far few results in a Google search than Licorice Ice Cream.
Leopard's Spotlight allows you to conduct these same kind of phrase searches. Additionally, with the help of metadata attributes, you can really narrow your results. For instance, type
	name:"	file name	"	
(including the quotes) and, finally, you can use Spotlight's Search field to search for exact file names. This was impossible under Tiger.
File name searching is even easier within the Searching window that appears when you type Command-F in the Finder. Just enter the file name you seek in the Spotlight field within this window and click on the File Name button.
In Tiger, there also wasn't a way to create a Boolean search—one that uses words such as AND, OR, and NOT to conduct conditional queries. With Leopard, you can now search along the lines of
kind:messages lizard NOT messages:salamander
to find messages that contain the word "lizard" but exclude any that also contain the world "salamander."
While Spotlight now narrows things down nicely, you may still see multiple results. One good way to see if you have the right file is to open a Searching window, perform your search, and select the file you believe you want to open and press the Space Bar. This engages Leopard's Quick Look feature, which we explore in greater depth in our article on changes to the Finder in Leopard. But briefly, Quick Look lets you quickly scan through the contents of a file, without forcing you to go to the trouble of opening it in its native application. It's a terrific time-saver and ideal for the at-a-glance nature of Spotlight searches.
While we're on the subject of the Finder, Finder windows sport a Shared entry in the sidebar, and those Macs that have Personal File Sharing switched on will appear beneath this entry. Spotlight can now search the contents of those shared Macs as well as your local computer.
Finally, Spotlight adds capabilities reminiscent of launcher apps. It's no LaunchBar, but it is useable as a limited launching utility.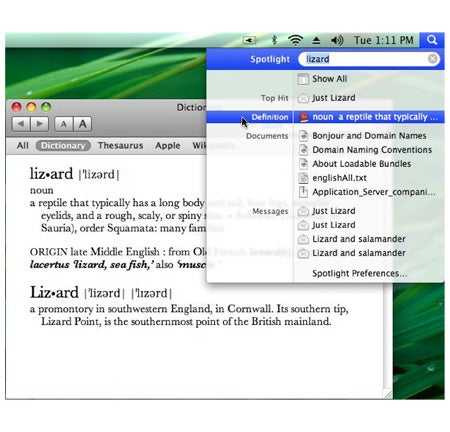 Type a word into the Spotlight search bar, and, among the results, you'll get a definition that, when clicked, will open the Dictionary.
By default, Spotlight will highlight applications as the Top Hit so it's a simple matter to type into the Spotlight field the name of the application you'd like to open—iPhoto, for example—and press the Return key to launch it.
What you may not know
Our past coverage of Leopard noted that in addition to supporting boolean logic and letting you search for exact phrases and date ranges, OS X 10.5's version Spotlight also allows calculations. We know a little bit more about this capability now—enter
123*456
, for example, and in the list of results a Calculator entry appears that reads
123*456 = 56088
. You can also type a word you wish to define into the Spotlight field; Spotlight will return a Definition entry in the list of results. Select that entry and press the Return key to open Dictionary and view the definition.
Here's another feature we haven't addressed previously: searching through system files. Under Tiger, Spotlight largely stayed out of areas reserved for the System—the contents of the System and Library folders, for example. Leopard allows Spotlight to enter these previously forbidden areas.
Apple's list of Spotlight features notes a Web history search feature, in which Spotlight indexes the names of any Web site you visit as well as the contents of the sites themselves. Searching for recently visited Web pages takes you back to Safari.
What we think
Spotlight's features work as advertised. The technology has largely become the utility many of us hoped it would be in Tiger. Better yet, unlike Spotlight under Tiger, this version of Spotlight is speedy. You should no longer type in the beginning of a search term only to have Spotlight pause after you've entered just the first few characters.
Spotlight remains a good tool for those Mac users who relied on the search technology in the past. The difference here is that those who turned to more advanced (and faster) search tools such as Devon Technologies' EasyFind may be tempted to return to Spotlight, as it's now usable for conducting more complex and thorough searches.
Great or Wait? With this release of Spotlight, Apple has signaled the all clear. Those who have stayed away from Spotlight due to its too-broad searches and uneven performance will be impressed with its Leopard implementation. Great.
[ Senior editor Christopher Breen fields troubleshooting questions in the Mac 911 blog. ]