Big crowds turned out at Apple Stores from coast to coast Friday to mark the release of Mac OS X 10.5, the OS X update known as Leopard.
In New York's SoHo neighborhood, even pouring rain and gusty winds didn't deter early adopters from queuing up. The sidewalk in front of the store and around the corner was a sea of colored umbrellas as about 200 people lined up to be among the first to purchase Leopard in North America. Those who hadn't prepared for the weather hunched under pieces of cardboard or just got wet, as people bustled past on busy Prince Street and wondered aloud what all the fuss was about.
A similar scene unfolded at the CambridgeSide Galleria Apple Store in Cambridge, Mass.—minus the rain—where the line, divided into three or four sections, stretched from in front of the Apple Store, all the way out the door of the mall and across the street. Security guards and even local police kept order while devoted users waited for Apple to open the doors, and Apple retail employees offered queuers bottles of water and encouragement.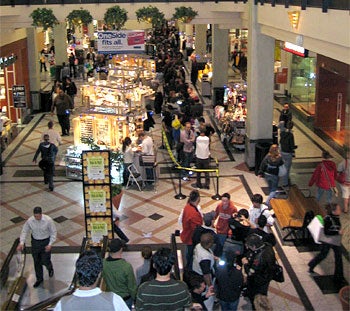 Long lines outside the Cambridge, Mass., Apple Store. (Photo by Dan Moren)
Boston electrical engineer Colin Dickerson was the first in line in Cambridge, having arrived at around 2:45 p.m. after working a twelve-hour shift the previous day. "It's become a tradition," Dickerson said, "I got the iPhone the day after release. I'm going to go home and stay up late learning all the features." In particular, he was looking forward to using the new Time Machine backup feature, though he said that upgrading to Leopard more about "all the features put together. Unlike Windows."
MIT students Brent Parham and Evan Berkowitz were holding down the second and third spots, having arrived shortly after Dickerson at around 3 p.m. "I was the first one in line at the Tiger launch," said Berkowitz, referring to the last major OS X update released in April 2005. "My last class was done by noon, so we grabbed some lunch and came over."
Berkowitz was also looking forward to Time Machine, explaining that he'd had a hard drive crash earlier in the year. "I only had a backup from a few months earlier. That won"t ever happen again."
The two MIT students conceded that they could have ordered Leopard online, but said that coming out to participate was fun. "You always meet interesting people," said Parham. "And there's free t-shirts."
Indeed, the first 500 shoppers in Cambridge were handed a black t-shirt, the front emblazoned with a black "X" against a star backdrop, while the back read "Add a new Mac to your Mac." As they entered the store, customers were greeted by enthusiastically cheering Apple employees, dressed in a motley assortment of leopard-print apparel, from ties to tights to gloves, rhythmically chanting "Go Leopard, go Leopard."
T-shirts were the main draw for the first person in line outside the SoHo store, a New York Mac enthusiast named Adam who said he arrived at 2:00 p.m. and was joined about a half hour later by other early adopters. Adam, who owns three Macs and frequents Apple Stores when the company launches new products, was not there to buy Leopard— he merely wanted the free T-shirt Apple was giving out to people waiting in line to purchase the OS.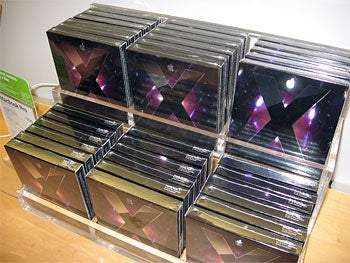 Shrink-wrapped boxes waiting to be opened. (Photo by Dan Moren)
"They're difficult to get unless you live in Cupertino and can go to the Apple store," he said, adding that he would purchase Leopard in about six months after Apple had "worked out the kinks."
Unlike Adam, others shivering in line said they were there to be among the first to get their hands on Leopard. Still, it wasn't just the OS that inspired people to wait in the rain. Douglas Packer, also of New York, said that although he was looking forward to using Leopard—particularly its new Time Machine and Spaces features—he was also was there "for the experience."
"Everyone's more excited about it, and being here with other people waiting makes it more fun than just a piece of software," said Packer, who works in video production.
Another user waiting to purchase Leopard who gave props to Time Machine was Evan Herman, also of New York. But he also said he was "probably the only person in line" excited about the Back to My Mac feature of Leopard, which makes it easy for users to set up the ability to remotely log in to a Leopard machine from anywhere.
Herman said this feature will make it easy for him to help troubleshoot problems on his parents' Mac, which he finds himself doing often enough on the phone anyway.
Herman switched from Microsoft Windows to a Mac three years ago when he left a position providing desktop support to PCs. He said he regularly joins the queue for major Apple releases and has stood in line for both the Tiger release of OS X and the iPhone.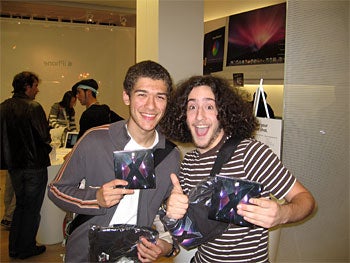 Ready to upgrade. (Photo by Dan Moren)
Back in Cambridge, Apple Store employees were directing Leopard purchasers through a cordoned off middle aisle of the store while allowing customers interested in seeing the OS in action to head over to where salespeople were waiting to assist them. The first shoppers emerged, clutching their white Apple plastic bags, only a matter of minutes after going in.
Laura Incutasciato, an art director, who was among the last in line when the doors in Cambridge opened at 6 p.m., filed into the store about a half an hour later. "It's worth standing in line for," she said. "Being part of the experience."
For Incutasciato, the anticipation had only been heightened by the fact that Leopard had originally been promised back in spring, before Apple delayed its release to focus on the iPhone. Her appetite whetted by Steve Jobs' June developers' conference keynote, Incutasciato said she was most looking forward to Spaces, but that Time Machine was also a big draw.
Leopard goes west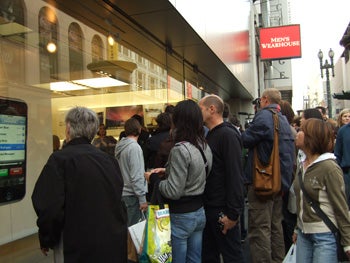 The crowd in San Francisco hopes to get a glimpse of Leopard. (Photo by Brian Chen)
The scene on the east coast repeated itself three hours later on the west, when Leopard went on sale at Apple Store locations in the Pacific time zone. At San Francisco's flagship Apple Store on Market Street, a couple hundred people lined up outside, waiting for their chance to buy Leopard.
So what inspires someone to wait in line when they could get the order the same operating system upgrade online and have it delivered to their door. Because "waiting for Fed Ex is boring," explained Tyler Howarth, a San Francisco State University student who was first in line at the Market Street location.
"I like meeting all these people," added Howarth, who was looking forward to trying out Time Machine as well as Leopard's updated version of iChat. "A lot of people come out here, and it's mostly for the experience."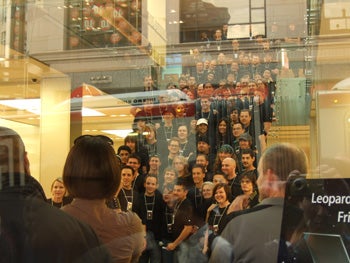 Behind the glass, San Francisco Apple Store employees mark Leopard's release before the store re-opens. (Photo by Brian Chen)
"It's something you do if you're a true Mac fan," agreed 16-year-old Michael Lee. "No other company treats its fans this well."
Further south in Los Angeles, Leopard's launch at the Grove Apple Store was a more glamorous affair—except much of the glamour was about 100 yards down the street at Victoria's Secret, where supermodel Heidi Klum was making an appearance to promote a new cosmetics line. In the end, Leopard drew a larger crowd than Heidi, but it was a close call. When the Apple Store's doors re-opened at 6:00 p.m. to the cheers and applause of store employees, more than 400 people filed in—a few more than the gawkers thronging the supermodel in the lingerie store.
Unlike the carnival atmosphere that surrounded the launch of Apple's iPhone in June, Leopard's L.A. premiere was more low key. Most of the people in line had iPod buds in their ears. A Grove security officer who would only identify himself as Richard N. said the iPhone launch was "a zoo."
"We had hundreds of people lined up at 6:00 a.m., and that was only because we wouldn't let anyone line up before then,' he said. But by 5:00 p.m. on Friday, there were only 30 would-be Leopard buyers waiting for the Apple store to reopen its doors at 6:00 p.m. Most customers waited until a few minutes before the doors opened to join the queue.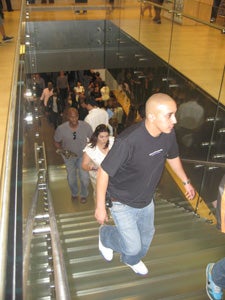 Los Angeles shoppers climb the stairs for Leopard. (Photo by Ben Boychuk)
Yuki Takara, a Japanese exchange student taking physics courses at Los Angeles City College, was first in the door. Like his counterparts elsewhere, Takara said he was eager to try Leopard's Time Machine back-up feature.
Richard Quema, 44, of Valencia, was third in line at The Grove Apple Store. He arrived with his friend Augusto Piccio, 20, around noon and took their place about 3:00. Quema, a pastor, joked that he is an Apple "evangelist" and Piccio was one of his first converts. Quema also said they really only came for the free t-shirts. But Quema left with the Leopard family pack and a new external hard drive.
Not everyone in line showed up for Leopard. Gary Williams, a UPS store owner in Hollywood, was in line to buy a new 24-inch iMac. "I picked quite a day, didn't I?" Williams quipped. Connor Saporta, who stood in line next to Williams, said he was only there to buy an iPhone. "I'm going out of town this weekend and I wanted the phone for the trip. I forgot this was today."
Don Lewis of Los Angeles said he definitely wanted Leopard. But he also wanted something else to tide him over in line. "It would be nice if they served drinks," he said. "I could use a martini right about now." Apple Store employees weren't mixing drinks, but they did hand out bottled water to patient customers. And Lewis was in and out of the store by 6:10, off to have that drink with a friend.
The events at Apple Stores throughout the U.S. were part of a global rollout of Leopard, which went on sale at 6 p.m. local time around the world Friday, beginning in Australia and New Zealand. Rain also plagued the Leopard launch in Tokyo, which marked the first place the OS went on sale at an official Apple Store, but didn't deter users from lining up ahead of the time there, either.
[ Associate editor Dan Moren reported from Cambridge, Mass. Elizabeth Montalbano of IDG News Service reported from New York. Assistant editor Brian Chen reported from San Francisco. Ben Boychuk reported from Los Angeles. ]
Updated at 10:25 ET to include reports from the San Francisco and Los Angeles Apple Stores.