At a Glance
Expert's Rating
Pros
Beautiful transitions and effects
Visualizer mode when you tire of the game
Cons
Incompatible with iPod nano, iPod classic
Outside of difficulty settings, there's no variation in gameplay
Our Verdict
Musika is the first iPod game from Sony, and it has an interesting heritage. It was created by Masaya Matsuura, the man behind the PlayStation classic PaRappa the Rapper, one of the first music games to really take the world by storm.
Musika basically tests your spelling skills as you're listening to music, and it's a really unique take on iPod gameplay. The titles of each song you listen to comprise a different "level" within Musika—they'll slowly scroll across the bottom of the screen. Across the top of the screen, letters, numbers and symbols will appear. They'll spiral in, appear in a shimmer, blow in like leaves—the number of different transformations is truly impressive, and really visually stunning. If you see a symbol you recognize from a song, you hit the center button. And if you're correct, you're awarded points. If you mistake a letter, number or symbol, you'll get dinged.
The trick is to continuously get the right letters—each time you do, your bonus multiplier will increase, as will your possible score. It's certainly possible to dig yourself a deep hole too, if you keep messing up, or if you don't identify a matching letter in time. You can hit left or right on the Click Wheel to skip the letter, number or symbol you're looking at and go on to the next letter if you wish.
Obviously, songs with a long title will score more points. "You Don't Know What Love Is (You Just Do As You're Told)" by the White Stripes gives you a lot more chances for big points than, say, "Big Time" by Peter Gabriel. So Musika tests your knowledge of your own music library (a bit, because it also displays the song title during each round). But it doesn't necessarily test your knowledge of a song, specifically.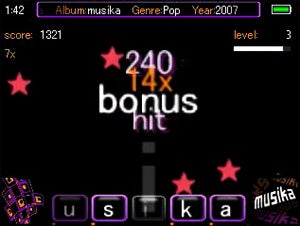 Order Out of Chaos Identify each letter which forms in Musika to score points, but make sure they're in the song title.
Ultimately, Musika features three difficulty levels—the difference is in the amount of time you have to react to each letter that forms or appears on the screen.
Musika's hypnotic visual effects have also been put to good use as a visualizer. If you're not particularly interested in playing with your iPod but just want to watch some pretty shapes and colors, Musika will definitely fit the bill—I'd love to see this appear as an iTunes visualizer, too.
Considering Musika is the same price as other games you can buy for your iPod, it's worth considering that you certainly don't get the same play value out of it that you would say, a Tetris or The Sims Pool. But all the same, it's unique and interesting in its own way.
Bear in mind that Musika was written to work with fifth-generation iPods only. If you've purchased a third-generation iPod nano or iPod classic, this game won't work for you.
The lowdown
Lovely to look at but lacking in gameplay, Musika is a nice bit of fluffy esoterica for fifth-generation iPod owners looking for something a bit different to occupy their time with when they're listening to their favorite tunes.
[ Senior news editor Peter Cohen reviews Mac games at Macworld's Game Room. ]