NBC Universal and News Corp. fired what both companies hope is the first shot across the bow of digital content giants like Apple's iTunes Store and Google's YouTube with the launch of a private beta version of Hulu, their long-gestating Web-based video platform. Positioned as a competitor to both online media stores and free video-sharing sites, Hulu is largely an attempt by content providers to exert more control over their own product, cutting out middlemen such as Apple.
But that's the big-picture view—what does it mean for people like you and me who just want to watch videos? While Hulu is just beginning to send out invites to its beta period, I got to take the service for a test drive this week to see how it works for a—shall we say— avid television watcher.
Killer content
In August, Apple and NBC had a very public falling out over pricing at the iTunes Store. The end result of this dispute is reflected in iTunes' current video offerings. New seasons of returning NBC shows like Heroes , The Office and 30 Rock are conspicuously absent from the store, and only a few new shows from the network's fall season are represented ( Chuck and Journeyman , both of which are produced by other studios).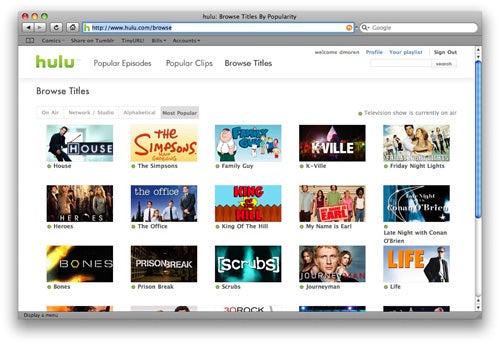 You'll find plenty of current programming from NBC Universal as well as Fox, though the overall number of titles is smaller than what you'd encounter on iTunes.
On Hulu, however, you'll find not only Chuck and Journeyman , but other new NBC shows like Bionic Woman and Life , new seasons from The Office and My Name is Earl , as well as television content from FOX and its subsidiaries, like FX. (In contrast to NBC, Fox continues to supply programming to iTunes.) In addition, there are clips from shows like Saturday Night Live and a very small selection of feature film content (about 10 titles). Hulu's also roped in some vintage shows like The A-Team and Alfred Hitchcock Presents (which are both still available at iTunes ). All in all, despite the exclusive nature of some of the content, the selection is far slimmer than what you'll find on iTunes.
One thing you won't find on Hulu is user-generated content—no stirring cover renditions of pop songs performed in people's bedrooms, funny clips of people's cats, or aspiring video bloggers. If that kind of thing is your bread and butter, you're better off sticking to YouTube.
The closest Hulu gets to social networking is to let other users view your profile, which includes whatever personal information you choose to share, along with your playlist and a history of videos you've watched; you can hide or remove selected videos if you don't want your friends knowing that you while away your hours watching Miami Vice reruns. Users can also subscribe to your playlist and history via RSS.
However, like YouTube, Hulu provides built-in controls for sharing videos. You can either e-mail the video to a friend or embed it in a Web page or blog post. E-mailing a clip will prompt the recipient to login to Hulu (or register if they don't have an account), but anyone can view video embedded on a page. In both cases, when you opt to share a video, you can scrub through it to choose the section of video you want to use as a preview.
Hulu is also intended as a video-delivery platform for partnerships with sites like MSN, MySpace, and NBC's own network Web site, though that functionality does not yet appear to be in place.
In your interface
Getting around Hulu is a pretty straightforward affair. The main page showcases featured content, along with the ability to add videos to a playlist (accessible at the top right of the page, next to your account info). Clicking on any video will jump you straight into the viewer, where the selected content will load. There are also options to view the most popular titles and clips or to browse the available titles, sorting alphabetically or by network/studio and filtering for titles that are currently on the air.
Buttons along the sides of the player invite you to share the video via e-mail, get information about what you're watching (mostly duration and a synopsis), switch to a full-screen mode, or pop the video out into a separate window. (You'll likely need to disable popup blocking in your browser for that to work.) There's also a nifty "Lower Lights" feature which dims the rest of the Web page, though it has no effect on other windows or apps you have open. At the bottom of the viewer is a timeline which lets you scrub through the clip and includes play/pause controls and a volume adjustment slider.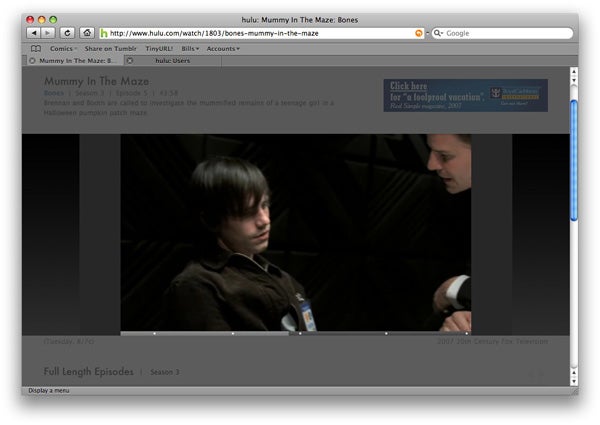 Hulu's player—note that I've engaged the Lower Lights feature to dim the rest of the Web page so that nothing distracts me from this episode of Bones .
The video quality of Hulu is actually very watchable; however, since it's being streamed, you will occasionally get blips and pauses in the video due to your network connection. On a couple of occasions, the video I was watching froze, and I had to reload the page to get it to play again. In a nice touch, though, Hulu remembers where you left off with a particular video and resumes playing at that point, even if you leave the browser entirely and come back later.
And now a word from our sponsor
The major difference between Hulu and iTunes comes in the moneymaking part of the equation. While iTunes relies on you paying $1.99 upfront for the TV programs you download, Hulu is totally free, reaping its profit by requiring you to watch ads. These spots are either 15- or 30-seconds long and, in most cases, sprinkled throughout the video, just like commercials on a traditional broadcast network. In a few instances, a video was presented with "limited commercial interruption" by a given company—a notice to that effect appears at the beginning of the clip, and the rest of the video is ad free, though I couldn't determine any rhyme or reason to which videos were ad-free and which were not.
Careful finagling of the timeline may allow you to skip over the ads, though clicking on the screen while an ad is playing will have little effect beyond taking you to the site of the advertiser. In an hour-long show, you'll find about four or five spots, which is certainly far fewer than conventional television.
Gently down the stream
When it comes to technology behind Hulu iTunes, you'll find another significant difference from iTunes: Hulu relies on streaming video via a Flash-based player in your Web browser instead of downloading a video file to your computer. Streaming video can, in theory, reduce piracy; rather than downloading a file that can be sent to someone else, streamed video can only be viewed in your browser. (In some cases, streaming video can be captured with additional software; as an intellectual exercise, I attempted to grab a Hulu video with Tasty Apps's Videobox, but it would only offer the option of capturing the ad at the beginning of the video.)
But streaming has major downsides when it comes to consuming content in the ubiquitous fashion to which many of us have become accustomed thanks to iTunes. It means, for example, that you can't download videos from Hulu to play on your iPod, iPhone, or Apple TV.
You can watch videos by connecting your computer to a television, if you have the appropriate cables, but you can't use OS X's Front Row, which makes it less convenient. And while it may not seem like a big obstacle in this age of pervasive wireless Internet, it's worth keeping in mind that you must also be online in order to watch the videos; there's no ability to download a file and watch it later, though, as mentioned above, Hulu will remember your place for you when you come back.
Final thoughts
At the end of the day, is Hulu likely to become your one-stop shop for Internet video? Not really. If you want to watch on your iPhone or your Apple TV, then Hulu's a non-starter. If it's user-generated content you're after, then YouTube is still king. And, of course, the elephant in the room is that options for obtaining video through less-than-legitimate means remain widely accessible, even in the face of ad-supported offerings like Hulu.
But, for the handful of content that Hulu features, users who gravitate toward acquiring their content through legitimate means might be willing to give of their hard-earned time for the chance to save $1.99 per episode on iTunes—if they're not put off by Hulu's ads or inflexibility toward where and when they watch such content.
[ Associate editor Dan Moren is co-editor at MacUser when not watching Bones while on the clock. ]