Camera accessories
Today's superslim cameras are easy to take just about anywhere. But traveling with them can mean exposing them to lint, loose change, and other mysterious gunk that collects at the bottom of most backpacks and purses. Sure, you can enclose your camera in a case, but most of those are awfully chunky.
Made Products' Always-On Wrap-Up ($20) isn't chunky. It covers your camera's sensitive controls in stretchy neoprene without adding bulk. Even better, you don't have to worry about keeping track of the case as you use your camera; it screws right into your camera's tripod mount. Simply unwrap it to grab your shot and then wrap it back up.
Of course, getting the shot is just the beginning. The vast majority of digital photos never see the light of day, because making prints involves either figuring out your Mac's printer controls or taking a trip to the drugstore. You can save yourself the hassle—and the gas money—with Hewlett-Packard's Photosmart A826 Home Photo Center ($250), which brings the convenience of kiosk printing right to your home. Simply pop in your memory card and use the printer's 7-inch touch-sensitive screen to choose the photos you want to print—no computer required. The extra-large screen also makes it easy to remove red-eye, correct colors, apply borders and card designs, and even write captions.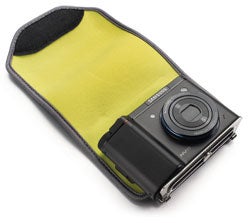 Always-On Wrap-Up
And if you're looking for a great way to send photo prints to faraway relatives or friends, look no further than Photojojo's Super Premium Mailable Photo Frames ($5 each). These sturdy cards come in five chic designs that match any decor. Simply slide a 4-by-6-inch photo into the plastic sleeve, write your message on the inside, and then pop it in the mail. An attached ribbon turns the back of the card into a convenient stand.— Kelly Turner
Camcorders and video accessories
Choosing the right camcorder just got a bit trickier. With Apple's Final Cut Pro 6.0.1 and iMovie '08, Macs can now support camcorders that use hard-disk drives or flash-based storage instead of tape. That means Mac users have a lot more camcorders to choose from. More options are always nice, right? Maybe so, but they can also be confusing. To make choosing a camcorder simple, think about your budget and the kinds of videos you shoot.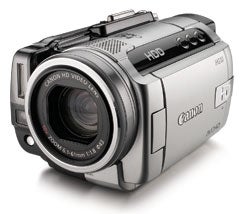 Canon HG10
Serious, tech-savvy videographers will love the Canon HG10 ($1,099). It's Canon's first hard-disk camcorder to use AVCHD (Advanced Video Codec High Definition) technology, which captures and stores full 1,080i high definition video. Bonus features include instant autofocus, a 2.7-inch multi-angle wide-screen LCD, and a 24p cinema mode. This camcorder not only eliminates the need to buy tape, but also brings an end to the days of constant rewinding and fast-forwarding.
If the HG10 seems attractive, you should also consider Panasonic's AVCHD camcorder, the HDC-SD1 ($1,000). With three CCDs, the HDC-SD1 is designed to reproduce colors very accurately, even in low light. The main difference between the HDC-SD1 and the HG10 is that the HDC-SD1 doesn't use a hard disk. Instead, it stores video and images on SD or SDHC cards. Therefore, the HDC-SD1 is not only small, but also weighs less than a pound. It's a great tool for making casual home videos and the occasional YouTube short.
The HDC-SD1 is small, but the Sanyo Xacti VPC-CG65 ($400) is as small as camcorders get. This standard definition, miniature camcorder doubles as a 6.37-megapixel digital camera and fits in your pocket. You won't need tapes, either, because the VPC-CG65 stores its files on inexpensive SD or SDHC memory cards. The VPC-CG65's decent picture quality and supercompact size make it good for beginners looking to immortalize their vacations.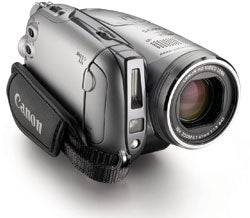 Canon HG20
Despite the new Mac compatibility of tapeless camcorders, some buyers would rather wait before jumping on a new technology. Not to worry: tape-based MiniDV just keeps getting better. Die-hard tape fans should find plenty to like in the Canon HV20 ($1,099). Equipped with a 10x optical zoom lens and a 2.96-megapixel CMOS (complementary metal oxide semiconductor) image sensor, this consumer-level HD MiniDV camcorder is widely regarded as the best of its kind. The HV20 captures stellar video in both low-light and normal-light conditions (especially when you turn on its 24p cinema mode). If you don't have an HD display, the HV20 gives you the option to shoot in standard definition, so your good old boob tube won't go to waste. Whether you're just shooting home videos or you have serious cinematic aspirations, the HV20's ease of use and excellent video quality will make you happy you tried it.
But even great camcorders may leave something to be desired when it comes to recording sound. Filmmakers and YouTube stars alike know that the microphones built into most camcorders just aren't good enough.
Røde Microphones offers a speedy, affordable solution with its VideoMic ($149). Lightweight and powered by a 9-volt battery, this shotgun mike can slide onto any camcorder that has a standard camera-shoe fitting and can plug directly into a stereo minijack. For its price, the VideoMic delivers about as close to professional audio as you can get.— Brian Chen
Grab bag
Once you've shot your video, it's always nice to have a portable way to show it. If you haven't made the leap to the iPhone or the iPod touch, take a look at the Archos 605 WiFi WiFi (30GB, $300; 80GB, $350; 160GB, $400). This portable video player has a 4.3-inch 800-by-480-pixel screen; plays video in WMV, MPEG-4, MPEG-2, and H.264 formats; plays music in AAC, WMA, MP3, and WAV formats; displays photos in JPG, BMP, and PNG formats; and even displays PDFs. As its name implies, the device also has a built-in Wi-Fi connection, so you can stream your edited movies from your Mac to the player.— Dan Miller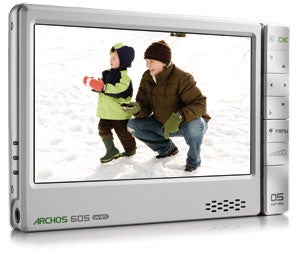 Archos 605 WiFi
Shortly after Apple started building iSight cameras into many of its computers, the company stopped selling the stand-alone iSight video camera. If you have an older Mac and want a camera for video chats and other impromptu filming, Logitech's QuickCam Pro for Notebooks and QuickCam Pro 9000 ($100 each) can help. They've got Carl Zeiss optics, a 2-megapixel sensor, and autofocus (so you don't have to move back and forth trying to make yourself look less fuzzy), and they clip neatly above your laptop's screen. The devices' included software doesn't work with Macs, but the hardware itself is compatible with OS X 10.4 and later, as well as with iChat and other Apple programs.— DM
[ Brian Chen is an assistant editor for Macworld . Dan Frakes is a senior editor for Macworld and the senior reviews editor for Playlistmag.com . Dan Miller is the executive editor of Macworld . Dan Moren is an associate editor for Macworld . Kelly Turner is a senior editor for Macworld.]