Bags
For the environmentally responsible mobile Mac user with panache, Monsoon Vermont makes a line of colorful laptop bags and totes made out of recycled plastic trash (which has been collected, the company says, by scavengers in Indonesia). The Laptop Bag ($90) is trimmer and lighter than most, though with plenty of padding and pockets for your stuff. The Tough As Nails Tote ($45) isn't specifically designed to carry a laptop, but it's big enough to hold pretty much anything.
If you don't require a full-fledged bag but still want to be environmentally correct, check out TightJacket laptop sleeves ($25) in faux tiger fur and other unusual prints. Like any sleeves, these will protect your laptop from scratches and from inadvertently opening in your shoulder bag, but they don't have any padding. The green angle? The company makes its sleeves out of unused bolts of spandex (most of which it buys from swimsuit manufacturers), which would otherwise end up in a landfill. One by-product of TightJacket's unique sourcing strategy is that many of its sleeves are one of a kind.
There are, of course, plenty of new bags in a more traditional mold. Logitech's Kinetik 15.4 Backpack and Kinetik 15.4 Briefcase ($100 each) are great for anyone who travels rough. The laptop cases have hard outer shells and padded inner sleeves that cradle your MacBook, they sport plenty of internal pockets, and they come in both briefcase and backpack forms.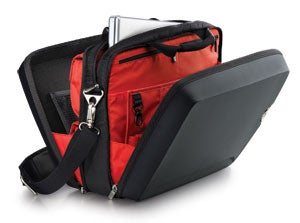 Kinetic 15.4 briefcase
For a truly professional appearance, you can spring for the sleek look of leather. MacCase's Premium Leather Collection (bags, $200; sleeves, $90) includes sleeves, shoulder bags, and iPod cases in black, red, or beige. You can buy them individually or in coordinated combo sets.
If you're tired of the wimpy shoulder strap that came with your laptop bag, you could solve the problem with the Skooba Superbungee Strap ($26), from Skooba Designs. It's a heavy-duty replacement strap with a ring of bungee cord built into the shoulder pad; that cord acts as a shock absorber. The back of the pad is covered with air-filled cells to soften the load even more. The strap is available in five color combinations and adjusts to fit pretty much anyone.— Dan Miller
Power supplies
If you travel with your Mac, iPod, or any other electronic gizmo, you know that keeping the batteries charged can be tough. Fortunately, five new gadgets can help you keep your batteries full and ready to go.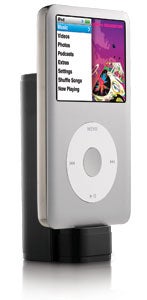 Energi to Go Portable Power for iPod
Tekkeon's myCharger ($25) lets you take one charger for all your mobile gadgets. It has seven adapter tips that'll let you charge iPhones, iPods, BlackBerries, and mobile phones from LG, Motorola, Samsung, and Sony Ericsson. Along the same line is Iogear's Gear Juice – Mobile Pocket Power ($50), which comes with six interchangeable tips to fit a wide variety of mobile devices.
If all you need is to keep your iPod running, you should look into Energizer's Energi to Go Portable Power for iPod ($30). The pink-bunny people have created an external battery pack with two AA batteries that can theoretically provide 35 to 45 hours of music playback on your full-size iPod (it supports fourth- and fifth-generation models), and even more on the iPod nano.
In the building-a-better-mousetrap category, there's DLO's Power Bug for iPod ($25). Of course, Apple sells its own wall charger for the iPod. But the Power Bug for iPod is cheaper and smaller than Apple's $29 iPod charger, and it has a status light that glows green or red to indicate power status. DLO also sells the Power Bug for iPod shuffle ($23).
Are you tired of lugging around a rat's nest of power and other cords for your laptop, iPod, phone, and more? KangaRoom Storage offers the Travel Cord Organizer ($30), a handy travel tote with separate compartments for all your chargers. Even better, the organizer has a holder designed to fit any standard 8-inch power strip (the company sells one of its own for $13). Plug the strip into the wall and your chargers into the strip, and you can charge everything without unpacking a thing.— Dan Miller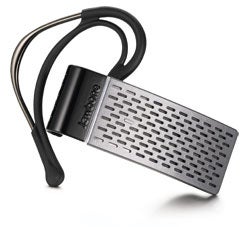 Jawbone Headset
iPhone accessories
Of course, if you want to carry your iPhone around au naturel (the phone, not you), that's your business. But because of its price, you may be concerned about everyday scratches and dings, and you probably want some form of protection. Fortunately, there are plenty of options for keeping your iPhone safe and sound without adding too much bulk to the handset's elegant profile.
Zagg's Full Body Shield for the iPhone ($25) is made with Invisible Shield film, a transparent, virtually indestructible adhesive film that will keep your iPhone scratch-free but won't interfere with your operating the touch screen. NLU Products' BodyGuardz for Apple iPhone ($25) is a pair of transparent films that will keep the front and back of your iPhone as pristine as on the day you took it out of the box. If you're looking for something that will protect your phone and give it a distinctive look, you might consider GelaSkins for iPhone ($15). These adhesive films for the back of the iPhone come in dozens of colorful and eye-catching designs and include downloadable matching wallpaper for your phone.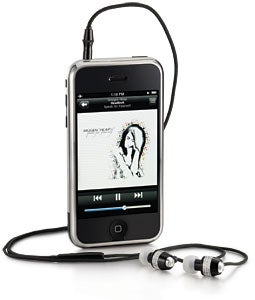 V-moda's Vibe Duo
The earbuds that come with the iPhone are perfectly fine for some people, but many of us want alternatives. If you're mainly looking for a way to improve your calling experience, take a look at Aliph's Jawbone Headset ($120). This slick Bluetooth headset comes in black, silver, or red and sports military-grade noise-canceling technology to make your phone calls crystal clear. If you need something that handles music as well, check out V-moda's Vibe Duo ($101). These wired canalbuds are fully compatible with the iPhone's recessed audio jack and feature a built-in microphone to let you take phone calls, too—and, like Apple's earbuds, they include a simple remote control on the headphone cable.
If you'd rather simply use your existing headphones with the iPhone's pesky recessed headphone jack, you can do that with the help of Belkin's Headphone Adapter for iPhone ($11); be warned that the adapter is a bit on the bulky side. Shure's Music Phone Adapter ($50) takes that idea a step further by not only letting you use your existing headphones but also adding a microphone and controls that allow you to both make and receive phone calls.
For people who spend a lot of time on the road, keeping an iPhone powered up is also a concern. The Ultra Slim USB Travel Charger ($12) is extremely light and compact, with a fold-up plug that allows you to easily slip it into a small pocket. The device not only juices up your iPhone, but also charges all of your other USB gadgets. And if you're traveling abroad, you don't have to worry about straying off the beaten path thanks to Griffin Technology's PowerBlock travel ($35). Because of its multiple adapters, it will connect pretty much anything that charges via USB to power outlets from Aruba to Zimbabwe.— Dan Moren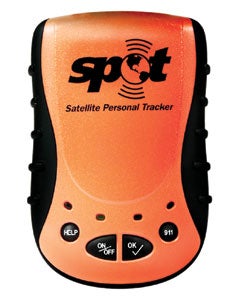 Spot
Grab bag
If you or somebody you care about is heading off to the wilderness, you should know about Spot ($150 plus service fees). It's a satellite-based emergency beacon that lets you send emergency requests to 911, or messages to family and friends to let them know you're OK, from almost anywhere on the planet. It also lets family members (or whomever you want) track your whereabouts via Google Maps. Spot is smaller than traditional emergency beacons, and it's less expensive to boot.
The road is the riskiest place to take your electronics, which is why zReturn has come up with its lost-and-found system for gadgets. You affix a zReturn tag to each of your mobile devices, and then register those tags online; six tags cost $13. Whoever finds the missing item can log into the zReturn Web site and send you an anonymous message that he or she has found your goods. You can then arrange for their return.— Dan Miller
[ Brian Chen is an assistant editor for Macworld . Dan Frakes is a senior editor for Macworld and the senior reviews editor for Playlistmag.com . Dan Miller is the executive editor of Macworld . Dan Moren is an associate editor for Macworld . Kelly Turner is a senior editor for Macworld.]