If you love the look of pictures taken with the Holga —those cheap, plastic cameras made in China—but don't want to deal with the oh-so-last-century idea of film, check out Holgamods' Holga Body Cap.
Randy Smith, the man behind Holgamods, has taken the lens off a stock Holga and grafted it onto a Canon body cap that fits all of the Canon D-SLRs, including the Digital Rebel series, the EOS 5D Digital, the new EOS 40D Digital, and even the top-of-the-line EOS-1Ds Mark III (it would probably fit any of the more modern Canon film cameras as well).
The result is pure plastic goodness without the darkroom. Like the Lensbaby (another of our favorite toys), the Holga Body Cap isn't an automatic lens. You'll need to shoot in manual mode, and set the shutter speed accordingly, but it's a lot of fun, and you end up those dreamy, variable-focus images that tell everyone you're just a little bit off-kilter. And it's light and compact enough to fit in even the smallest camera bag.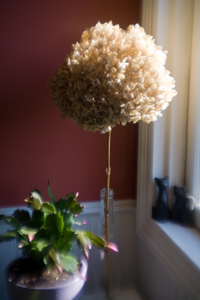 In the few days that I've been playing with my Holga Body Cap, I've noticed that it gives me a soft, Ortonesque glow with many images (like the one at left), while still retaining that defocus effect at the edges of the frame. My only complaint is that I wish that Randy included a protective rear cap for when the lens is not in use. Since the rear element of a lens tends to be a dust magnet, you want to make sure that both ends are covered when it's in your bag or coat pocket. (You can use the cap that came with the lens on your D-SLR, but if you aren't really organized, they tend to disappear.)
The Holga Body Cap is $40.85, slightly more than a Holga, but half the price of the Original Lensbaby. Yes, it is a cheap toy—in every sense of the word—but it takes unique pictures, and there's something extremely satisfying about working on a RAW image shot by your Canon-Holga monster. Before long, I'm sure that we'll be seeing Holgamod-based high-dynamic range (HDR) images on Flickr and other places.
Randy makes them one at a time, so you might have to wait a week or two, but it's worth it, especially if you're looking for something to jump-start your creativity. And you get to take your fancy-pants, expensive digital camera down a notch or two while you're at it. Sweet.