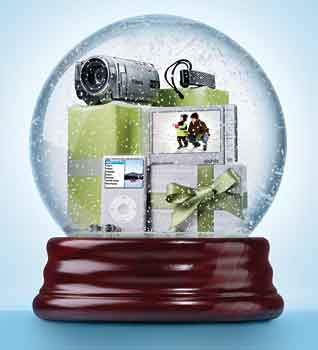 Photography by Peter Belanger.
Some people find buying gifts easy. Without anguish or pause, they seem to intuitively know just what to get for everyone on their list. But most people aren't like that. For them, matching gift to recipient can be like doing a jigsaw puzzle in the dark.
We're here to shed a little light on the problem. In the pages that follow, we've collected 49 Mac-compatible gadgets, in three broad categories: digital entertainment (speakers, headphones, and the coolest way to watch movies from your Mac), photography and video (including some of the hottest new camcorders and great accessories for digital photographers), and travel (from laptop bags and sleeves to iPhone adapters and headsets). Within each category, you'll find gifts at various prices, making it that much easier to find the right gift at the right price for each recipient (even if the recipient is you).
The result, we hope, will aid the shopping challenged—or at least give you some excellent ideas to slip onto your wish list.