At a Glance
Expert's Rating
Pros
Operation even without batteries
In-line volume control
Plenty of adapters and cables
Comfortable fit
Cons
No microphone for in-game voice chat
Muddy sound quality without batteries
Our Verdict
Headphones with active noise-canceling circuitry are nothing new; Bose's QuietComfort line have been the stock and trade of frequent airline passengers (typically the well-heeled folks in business and first class) for years. Now the technology is making its way into more consumer-oriented products, like Able Planet's LoSt-CaUzE Gaming Headphones, which retail for $150.
I guess that as a gamer I'm supposed to be impressed with the fact that Rafik "LoSt-CaUzE" Bryant, a pro gamer who's won Quake 4 championships, and who I'd never heard of before getting these cans, endorses them. Frankly, I couldn't care less, and if anything, I find his shift key-challenged name to be an irritation to type. The bottom line is that the technology stands or falls on its own merits. The proof of the pudding, as it is said, is in the eating.
Able Planet has crafted a very comfortable pair of headphones with a padded bar across the top and lots of cushioning on either side. They're big cups that cover your entire ear, and are very, very comfortable to wear (if a bit insulating – I find perspiration building up after wearing these for a while).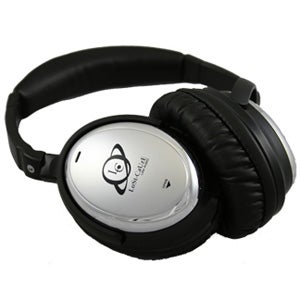 Big Cups Able Planet's LoSt-CaUzE headphones feature active noise cancellation that blots out white noise like fans, motors and jet engines.
The headphones don't have a built-in cable. Instead, the left cup has a 3.5mm jack on the bottom; you use an included 3.5mm-to-3.5mm cable (one end has a right-angle plug on it) to jack into your laptop, iPod or other source. I like this setup. For one thing, it's one less cable to get tangled up in my bag. (I can just put it in a pocket instead.) For another, it minimizes the risk of the headphone cable getting damaged, requiring me to send the whole unit out for repair. There's also a volume slider on the cable, which is a good thing.
These are active noise-canceling headphones, meaning they have microphones built in to each cup and circuitry inside that helps to filter out extraneous noise. They're also very insulating, which helps to reduce outside noise as well; the downside, as I said, is that they also warm my ears. The noise-canceling technology is powered by a pair of AAA batteries. (A pair of alkaline batteries are included; you can use rechargeable batteries, but Able recommends regular disposable alkalines for optimal life.)
For $150, you also get a very snazzy hard-shelled carrying case and a few extras, such as an airline headphone adapter (which splits the stereo mini plug into two mono plugs to fit the strange connectors you find on some planes) and a 1/4-inch adapter suitable for use with home audio gear. An extension cord is also provided so you can get a few more feet away from the device you're listening to.
The headphones will work whether you have the active noise canceling turned on or off, so you can use these "passively" if you want. But you'll find that the headphones provide much better clarity when they're active—the "unclarified" audio is muddy and indistinct, and for gaming, especially gaming that's dependent on carefully listening for positional audio cues, that's an absolute no-no. Able sells more expensive cups that provide a wider dynamic range and other advanced capabilities. Yeah, you can spend a lot more on headphones with active noise cancellation, that's for sure.
The cups pivot 90 degrees on the headband, making them "collapsible" into their case. They also pivot up and down, so you can find a fit that works for you. A surprising omission for headphones that are designed specifically for gamers, though —there's no microphone included, so these aren't suitable for using in in-game voice chat. Then again, that makes them a bit better for walking around outside with your iPod.
Able says you should be able to get about 35 hours out of a set of batteries, and that sounds about right, based on my experience. When the charge gets low enough, the green LED activity light on the left cup will dim out; you have about 30 minutes of listening time before it'll go dead. Fortunately the case has a zippered mesh pocket big enough to hold a spare set of batteries (along with the cables and adapters).
The bulky dimensions of these headphones don't make them likely to displace my earbuds of choice, my Future Sonics Atrios, for when I'm traveling; for me, it's infinitely easier to stick a pair of earbuds in a shirt pocket than it is to pack a set of bulky cups. But around the home and office, where I'm subject to a lot of fans, chatter and other background noise, the LoSt-CaUzE headphones are an excellent choice. Ultimately, though, I'm a bit mystified at what makes these specifically suitable for gamers, outside of Bryant's endorsement.
The Bottom line
Able Planet's LoSt-CaUzE Gaming Headphones work great and cost less than many competitors; they just lack a microphone, which many gamers need for in-game voice chat.