Hello again from the Caribbean! This is the second of two reports from MacMania 7, the latest installment in a series of Mac conferences that take place aboard a cruise ship on the move between various exotic ports of call.
In my previous dispatch, we had already visited Half Moon Cay in the Bahamas and Aruba in the Netherlands Antilles. Since then we've logged well over 1,000 nautical miles and visited even more ports, and onboard we've spent a lot of time talking about Macs and talking with our fellow Mac users.
On Wednesday our destination was another Dutch possession, the island of Curaçao. The island seems to be much wetter than Aruba, and it was definitely a warm and humid day. Our visit to Curaçao coincided with my daughter's sixth birthday, so we splurged on a visit to the Curaçao Dolphin Academy so that we could all spend some time in close proximity to the dolphins. Suffice it to say that they are much, much bigger in person than you might expect from seeing them on TV.
Thursday was our second "sea day," in which we make no stops in ports and instead spend much of the time in class sessions scattered throughout meeting rooms on one of the ship's main levels. Apple's Janet Hill spent the day in two marathon sessions—all morning on iLife, and all afternoon covering iWork. Derrick Story, our resident photography expert, was also working incredibly hard on Thursday in three sessions covering Apple's Aperture, Adobe's Photoshop Lightroom, and ways of integrating Photoshop into the workflow of users of Aperture, Lightroom, or iPhoto.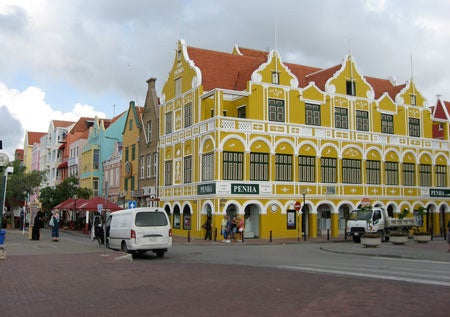 Is it Caribbean or Dutch? If it's Curaçao, it's both!
On both Wednesday and Thursday, New York Times columnist David Pogue detailed the ins and outs of Mac OS X Leopard, and told audience members about some of his favorite Leopard tips and tricks. (David's been a busy guy this cruise, since between sessions he's frequently rushing back to his room to continue working on his forthcoming book, Mac OS X Leopard: The Missing Manual . The man's got Leopard on the brain.)
Friday was the big day for this cruise: the main destination, the Panama Canal. Early in the morning we motored south into the first of three locks that would take us into Gatun Lake in the center of the canal. I've been inundated with Panama Canal trivia on this cruise, and now I'm going to spread some of it into the wider world. For example, counter-intuitively, to travel from the Atlantic to the Pacific in the Panama Canal, you must travel in a southeasterly direction. More interesting is that the lake at the heart of the Canal is man-made, and as a result of damming the river that creates it, it's some 80 feet above sea level. So for ships to get through the Canal, they must pass through three separate locks, which use lake water to float ships up to lake height. On the other side of the canal, ships must pass through three more locks to get back down to sea level.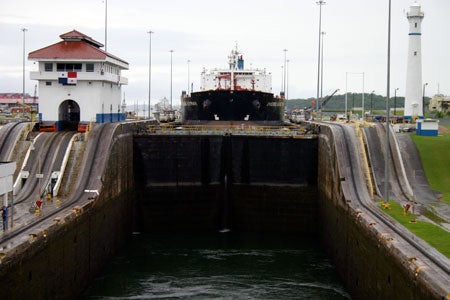 The Canal's locks lower ships out of the lake and back down to sea level.
In any event, this cruise doesn't pass through the entire canal—we are bound to return to where we started, in Ft. Lauderdale, Florida. So after a few hours floating in Gatun Lake, we returned through the locks and ended up back in the Atlantic. Many cruise-goers took the opportunity to be ferried off the ship will in the lake for various Panamanian activities, and then caught up with us at the port city of Colón.
On Saturday we spent the morning and most of the afternoon docked in Puerto Limon, Costa Rica. Again, plenty of cruise-goers braved a steady tropical rain (it is called a rain forest for a reason) to explore Costa Rica's natural beauty, soggy though it may have been. In the evening, we convened back on the ship for a cocktail party, where we sipped drinks and watched the rain fall as the sky grew dark and the MS Volendam pulled away from the lights of Costa Rica.
On track for Ft. Lauderdale, Sunday and Monday were both full "sea days," more intense information for all the Mac users aboard. (According to Neil Bauman of Insight Cruises, our group numbers about 150. Roughly one-fifth of the ship's passengers are either affiliated with MacMania or the ship's other concurrent conference, Shakespeare at Sea, sponsored by the Oregon Shakespeare Festival. I have refrained to ask the Shakespeare types if they've seen the Shakespeare episode of Doctor Who , which for me is a remarkable bit of self-restraint.)
In any event, on Sunday Randal Schwartz spoke about how he's integrated his iPhone into his traveling life, and Apple's Sal Soghoian gave the fourth and final Leopard presentation of our voyage. I tended the ship's Ingenious Bar, handing out advice, chatting with conference participants, and even helping a Shakespeare enthusiast with a nagging iPhoto Library problem. On Sunday afternoon, Sal Soghoian and I joined forces for a solid two-hour Q&A session in which our group of cruisers peppered us with tough questions about Apple and the Mac. In the interest of preserving Sal's honored standing within Apple, I tried to field all the questions about what Apple's going to do next and about what Apple did wrong in Leopard so that Sal didn't have to. David Pogue and Mac author (and, as it happens, Shakespeare aficionado) Robin Williams capped the evening off with special presentations in the ship's movie theater.
Now, not to brag, but on Sunday night a few of us were really, really lucky. My wife and I were invited to dine at the table of the Volendam's captain, Fred Eversen. Along with us were Neil and Teresa Bauman of InSight Cruises, two representatives of the Oregon Shakespeare Festival (including a 92-year-old patron!), and MacMania 7's special celebrity guests, Oscar-winning actor Richard Dreyfuss and his wife Svetlana. Isn't being invited to the Captain's Table something that only happens on The Love Boat ? It turns out that if you're very, very good, and very, very lucky, you might one day hope to get an invitation. (This is my fifth cruise and Neil Bauman's 50th, but this dinner was a first for both of us.)
Suffice it to say that there's only the best for the Captain. The food was amazing, the service was as attentive and fantastic as I've seen in my life, and as far as I can tell an excellent time was had by all. I know this sounds like a no-brainer, but if you ever get invited to dine with the captain, do it. As to how you get the invitation to the table, that one I can't help you with. I'd like to think he loved my previous blog, but the presence of an Oscar winner might have helped a bit too.
That brings us to Monday, our final day, which is wrapping up as I compose this. This morning I gave a 90-minute presentation to a packed room on the topic "Apple Does Video," which was a primer about how to get video off your hard drive and DVDs and into your iPod, iPhone, or Apple TV. I told them about the wonders of HandBrake and Techspansion's VisualHub, and we even took a few digressions into the ethics of ripping DVDs, the ethics (and/or lack of same) of BitTorrent, and much more. It's the first time I've given that particular presentation and from what I heard afterward, it was well received, which is a relief.
And that's it from the MS Volendam , cruising ever closer to Florida and the end of our 10 excellent days. Stay tuned for a little more from me, including a segment on the next Macworld Podcast and—with any luck—an installment of the Macworld Video. Until then, thanks for reading! We had a great time—wish you were here. Maybe next time?
Mac Mania 8, produced by InSight Cruises and Macworld, is coming next November. Mac Mania 8 is sailing to the Eastern Mediterranean, including Italy and Egypt.