For beginning Web designers who wish to leave behind the confines of simple, template-driven apps like Apple's iWeb (part of the $79 iLife suite), Karelia's $49 Sandvox, and Realmac Software's $49 RapidWeaver, the software you're most often told to buy is Adobe's $399 Dreamweaver and either Fireworks ($299) or Photoshop ($649).
However, many times, you're not quite ready for the tools the pros use, don't have the need for high-end stuff, or you simply don't have the budget to invest. Don't worry, though, the Mac development community has your back. (I'm assuming here that you would rather start from the layout side, rather than the HTML coding side, where you'd use code-based editors like Bare Bones Software's BBEdit or Panic's Coda.)
Nvu
The first thing you'll need to get started is a Web editor. There are plenty of options out there besides Dreamweaver, including Adobe's older Web editor,
GoLive
, which is still available. I would start, though, with
Nvu
, a great WYSIWYG (what you see is what you get) editor, especially if you want to get your feet wet in the world of Web design. Nvu is open source, and free, so it's difficult not to at least consider looking at it.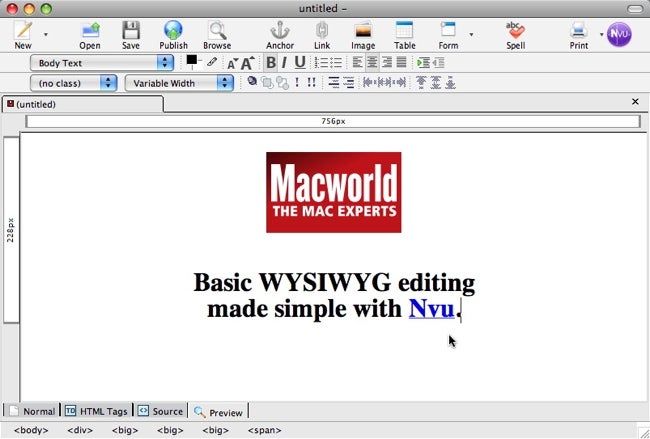 Nvu is based on Mozilla's open source Gecko, the layout engine that drives the Firefox Web browser. Nvu offers full support for HTML, Javascript, CSS, and XML. Basic site-creation tools are available, as well as an integrated FTP application to upload your site when you're done, but Nvu lacks many of the bells and whistles you'll find in commercial applications. While some will see this as a shortcoming, I tend to look at it as a bonus. By learning the basics first, you'll get a much better understanding of how Web pages work, and the tools you'll need to take you to the next level.
Freeway Express
If you're looking for a little more power from a commercial vendor that has more history under their belt, turn to
Freeway Express
by Softpress. Designers who currently work in the print design field will feel right-at-home with Freeway's WYSIWYG editor tools, right down it's use of master pages and rulers.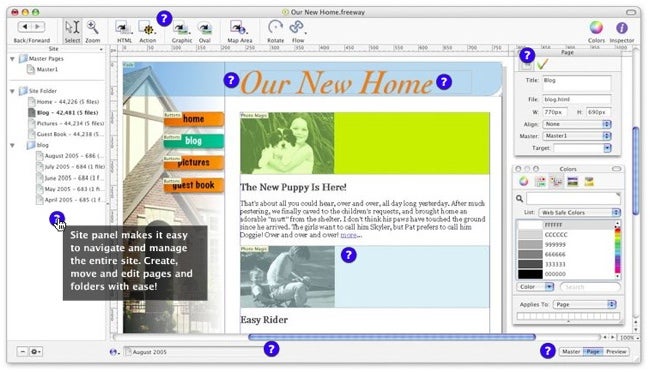 Freeway is a huge step up from Nvu as far as WYSIWYG editors goes. You build your layout by moving objects and text around on the page, add links, and can even apply image effects like blur, sharpen and more to your images (with full transparency support). Getting images, audio and video into your layout is easy with iPhoto, iTunes and Extensis Portfolio integration, and of course drag-and-drop is fully supported as well. One of the coolest features is the ability to apply graphic filters on text on a character level, while still maintaining edibility within Freeway. That's because Freeway doesn't actually create the image and apply the graphic filters until you publish the site, leaving you with more time for experimenting with your design rather than switching back and forth between applications and waiting for FTP uploads.
Freeway Express sells for $89 for the downloadable version and $109 for the CD. If you're looking for a full-featured Web editor, Freeway is an excellent first step. Softpress also offers Freeway Pro, which ads numerous features for $249 ($289 on CD). Downloadable demos are available for both products.
In my follow-up later this week, I'll introduce you to some helpful tools you can use to design your site, as well as track your site's popularity—all which will work with whichever Web editor you choose.
[James Dempsey runs the Creative Guy blog, which offers tips, tricks and opinion on a variety of Mac OS X and design topics.]