Editor's Note: The following article is reprinted from PCWorld.com.
E-books have emerged from the shadows with Amazon's launch this week of its $399 Kindle e-book reader and service.
I've found e-books intriguing for a while now, as they could be easier to tote, easier to store, and easier to read than their paper brethren.
The concept of Sony's Reader, the first significant contender in this market, was solid, but its hardware didn't impress me. Though Amazon's Kindle design is even less splashy, its usability touches are enough to make me consider using an e-book reader.
Amazon integrated a 3G cellular radio into the Kindle and uses its new Whispernet EvDO service to wirelessly transmit e-books to the Kindle. You don't need a PC to make a purchase: Just browse the Kindle store and download your reading material. Notably, no service charges or contracts are involved–Amazon covers all of that in the background.
Kindle: The iPod of e-books?
Can Amazon do for the fledgling e-book market what Apple did for the digital music market? Perhaps.
Amazon doesn't sell just books, but books are certainly perceived as a cornerstone of this Web retailer's business. If you're looking to buy a book, logically you might turn to Amazon; competing e-book approaches don't have that advantage.
So who will the Kindle appeal to? Folks who are ready to take their reading digital. Avid readers who are running out of shelf space for their books. Commuters who are tired of wrangling newspapers while getting ink on their fingers.
Who will stay away from the Kindle? Travelers who want to read on an airplane during takeoff and landing, when you can't use electronic devices. Readers who enjoy a good book in the tub or at the beach. People who aren't already comfortable with digital gadgets. And mainstream shoppers will certainly find the Kindle's high price a turn-off.
For some buyers, though, the price won't be a deterrent. The conveniences I've cited may be enough to sway them, or perhaps the Kindle's integrated wireless networking and no-PC-required approach may be appealing. Maybe they'll appreciate the savings over buying physical books. Despite the Amazon reader's bland design and the fact that this first-generation device leaves some room for improvement, the Kindle and its corresponding service have succeeded in rekindling my interest in reading e-books.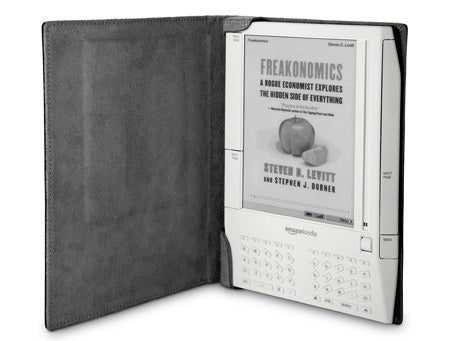 Amazon's Kindle e-book reader
Unassuming, functional design
The Kindle, which is larger than the average paperback book but not as thick, won't wow anyone with eye-catching good looks. It's a boxy rectangle of white plastic with a matte finish (though it comes with a leather cover). A 6-inch electronic-paper display from E Ink covers the top portion of the device; a keyboard dominates the bottom quarter.
The keyboard, with its rectangular keys set mostly at an angle, is easy to use. A rubberized surface on the back of the device makes it comfortable to grasp. The Kindle supports up to 2GB SD Cards, but unfortunately the slot is located beneath the removable back plate and is not readily accessible.
What caught my attention, though, is Amazon's attention to detail in other respects. The unit's thickness tapers from left to right, making it easy to hold. The taper dovetails with the angled Next Page button that runs the full length of the display along the right side; the rocker-style design makes moving forward a page easy, no matter where your hand is holding the device. This is an important detail if you're reading a long novel, since poor design leads to muscle fatigue.
The other navigation buttons are conveniently situated around the display. The Previous Page button runs down two-thirds of the screen on the left side, while a second Next Page button takes up the lower third. (This arrangement is useful for lefties and righties alike who want to mix up their repetitive page-turning motions.) Beneath the Previous Page button is a small Back button and a rubberized scroll wheel.
Logical layout
I found the Kindle's design finger-friendly; the buttons flowed logically as I navigated the device. I also liked the scroll bar/select wheel combination, whereby you scroll to menu options by using the wheel, and then push the wheel in to select options.
You can also push the wheel in to call up a context-sensitive pop-up menu. For example, when you're shopping in the Amazon store, the menu offers to take you to Home, the Kindle store, Top Sellers, New & Noteworthy, Recommended for You, and 'Save for Later' items. I particularly liked that last option: I could pick things I stumbled on in the course of browsing, and bookmark them to find them again before proceeding with another purchase.
When you're at the Kindle's Home screen, the pop-up menu offers to send you to the Kindle store, check for new items, change the device settings, and manage content, moving items from the Kindle's 180MB of user-accessible memory to an SD Card and back again.
This menu also offers "experimental prototypes&38221; that include a basic, text-friendly Web browser and a background MP3-music player. Curiously, Amazon presented the latter at launch as a feature, not a prototype. While reading, you can use the Kindle's select wheel to highlight a passage or choose where to make an annotation. You can then e-mail a highlight to a friend or access your notes—stored as text files—via the Kindle's USB connection.
A few quibbles
Sometimes the Kindle was slow, as the device lagged behind my button presses. In those cases I'd overshoot the menu or options entirely. Still more times I encountered a lag or a flickering fade-in effect as I transitioned among menus and changed pages. The lag wasn't so onerous that I couldn't use the device, but it was annoying—and it became very pronounced when I tried to virtually flip ahead several pages at a time.
The screen has a gray, indistinct quality that resembles the appearance of newspaper. The monochrome screen supports four levels of grayscale. I had no issues reading the display under a multitude of circumstances, including in bright lighting and while riding a Long Island Railroad train. Since the display lacks a backlight, however, the surface wasn't readable in dim lighting.
The text was mostly clear, though a few characters had jaggies. A button on the keyboard lets you switch among six different font sizes. One important note for those who require large-print text: The biggest size is actually larger than the text I saw in a large-print book I had on hand.
The navigation software is fairly straightforward, but occasionally it doesn't do what you'd expect. For example, the Home screen shows you the user guide and your content. You can sort that content by books or periodicals, or by most recent, the title, or the author. You can't search on these parameters, which is annoying if you're hunting for Harry Potter books but not a set of critical essays on Harry Potter.
Another glitch: After I made a purchase, I could not return to the page I'd last been browsing—incredibly irritating when I was in the midst of 17 pages of search results.
Downloading e-books
Shopping for e-books via the Kindle store is similar to being on the Amazon site. Books take less than a minute to download, and their prices vary; new releases and New York Times bestsellers cost $10. The Kindle store offered 90,000 titles at launch.
You can browse or search for book, magazine, newspaper, or blog content at the Kindle store. When you find something you like, select the item to see further details, including a description, the sales ranking, customer reviews, the print length, other titles that customers bought, and the list price for the paper version of the book. As I noted earlier, you can't refine your searches; even more frustrating is the fact that you can't limit your search to items in the category you're browsing.
Another frustration: Kindle provides an impressive collection, but it's still not comprehensive. For example, I could find travel guides for plenty of locations, but not a single guide for Tokyo. That's too bad, since a device like Kindle could be a godsend to tourists: Who wants to schlep bulky guidebooks around?
Once you find a title you want, you click on Buy and the e-book downloads to your device automatically. You can continue shopping or read other content already on your Kindle. If you purchase something by accident, you can cancel your order immediately.
If you're browsing Amazon on your Mac, you can also initiate your purchase there and send the e-book to your Kindle: Amazon clearly shows when it has a Kindle version of a book for sale. You could also have the title sent to your PC and then transfer it to your Kindle via a USB connection. Unfortunately, as of yet Amazon offers no special deals for buying a physical book and an e-book together.
While an e-book file can reside on both your Mac and your Kindle, you can't read it on your Mac. You can't send an e-book to someone else, either; they have to buy their own copy. Though Amazon doesn't limit the number of copies, the title is tied to your Kindle device.
Amazon archives your purchases on its servers. If you lose or delete an e-book, you can download it again. That's nice forethought—invariably, Kindles will get lost or broken, or you simply may need to delete something on the fly to make room for an eleventh-hour book purchase you made just before your next flight.
While you're reading a book, you can look up words in the built-in dictionary, highlight a passage and store it locally or send it to someone, and annotate passages. The last page you read automatically becomes a bookmark—the part of the text that appears when you return to that title.
Beyond books
The Kindle's Web browser is handy for quick news, weather, or Wikipedia lookups. Not as useful is the Kindle's stab at daily relevance with its newspaper and blog delivery, in which Amazon charges you for services available for free via a Web browser.
Granted, once you subscribe, the company delivers the daily blog content to the device so you can read it on the go (or in the air), but the arrangement still feels like nickel-and-diming of customers.
You can subscribe to 11 newspapers, 308 blogs, and a handful of magazines. Choices include the New York Times , the Wall Street Journal , the Houston Chronicle , the San Jose Mercury News , Time , Fortune , the Atlantic Monthly , Le Monde , and Slate. Amazon delivers the content to your Kindle so you can read it on the go. By contrast, Sony's Reader provides blogs and RSS feeds for free.
Every Kindle comes with a customizable e-mail address, which allows you to e-mail Microsoft Word, plain-text, HTML, JPEG, GIF, PND, and GMP files—for 10 cents a pop. You can't read files directly from the SD Card, as they need to be converted to a Kindle-friendly format. I lament the lack of Adobe PDF and direct file support—those features would have been a real boon to users, and they're already available on Sony's Reader.
One last plus: Kindle can also play audio books from Audible.com; competing e-book readers don't have this option.