As promised in the first installment, here's another batch of Leopard tips, each quite short and covering something you may not have yet discovered on your own. And although one requires Terminal, it's a very simple command, so it shouldn't be too fear-inspiring.
Modify user-created smart folders
After you've saved a search in 10.5, you can access it in many ways, including the very-convenient SEARCH FOR section of the Finder's sidebar. However, what if you want to edit the saved search after you recall it? You can do so, but it's not obvious how—Option-clicking the search name in the sidebar doesn't work, and there aren't any Edit options when you look in the Finder's menu, or the saved search's contextual menu.
So how do you do it? After activating your saved search, click the Action icon (shaped like a gear) in the Finder's toolbar, and you'll find Show Search Criteria in the drop-down menu that appears with your mouse click. As far as I can tell, this is the only way to edit a saved search, so don't remove the Action icon from your toolbar.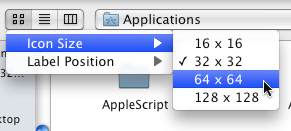 Change icon view options in open and save dialogs
Here's a new feature for those who prefer working in icon view. When you see an open or save dialog in OS X, you can now change the displayed icon size—as well as the position of the text labels—through a convenient though oh-so-hidden menu. As seen in the image at right, you'll find this hidden menu hiding behind the icon-view icon in the save or open dialog's toolbar. To make the menu appear, you must click-and-hold on this button; control-clicking will not work. In addition to the icon sizes, you can move the icon labels from the bottom to the right using the Label Position menu item.
Keep in mind that changes made in this dialog apply to all applications , not just the one you're changing them from within. The settings are also permanent, and will stay as you set them across logouts and restarts.
Remove the stripes from list view
Here's the tip that requires two commands in Terminal, but they're both quite simple and you may think they're worth the bother—or not. One of the new additions to 10.5's Finder is an alternating white and blue striped pattern in list view. Personally, I like this quite a bit, as it makes it easier to track across wide windows without losing your line. Some, however, don't feel that way. If you're one of those who dislike the stripes, here's how to remove them. Open Terminal and type this command:
defaults write com.apple.finder FXListViewStripes -bool FALSE
Press Return when done, and…nothing will seem to have happened. But in order to see your handiwork, you need to tell the Finder to restart. You can do this in myriad ways, but since you're in Terminal already, just type killall Finder and press Return. Finder will relaunch, and if you open a list view window, you'll find it now looks just as plain and white as it's 10.4 predecessor.
If you desire to return to the ways of the stripe, just repeat the long defaults command above, but change FALSE to TRUE, and remember to restart the Finder again.
Stay tuned for more from the innards of OS X 10.5…