TransGaming Technologies had been making noise about its Cider technology since 2006, but 2007 was the year in which the developer really put the Cider press into action. As a result, by year's end we had a dozen new games for the Mac—the majority of which came from their original publishers. It's an impressive start for the technology—and for the company, which is promising that the best is yet to come.
Cider is a translation-layer technology that has only become possible with Apple's switch to Intel-built processors. An outgrowth of TransGaming's Linux technology, Cedega, Cider makes it possible for a Windows game to run on an Intel-based Mac, without requiring installation of a copy of Windows. The promise, TransGaming says, is faster delivery of Mac games to market than has been possible in the past.
We first reported on Cider back in August 2006, when TransGaming was just starting to outline its Mac plans. But things really began to take off this past January. Since then, TransGaming has helped create Macintosh versions of Heroes of Might and Magic V from Freeverse; Myst Online: Uru Live, GameTap Lite, and GameTap Deluxe from GameTap; Harry Potter and the Order of the Phoenix, Need for Speed Carbon, Battlefield 2142, Command and Conquer 3, Tiger Woods PGA Tour 08, and Madden NFL 08 from Electronic Arts; X3: Reunion from Virtual Programming; and Eve Online from CCP Games.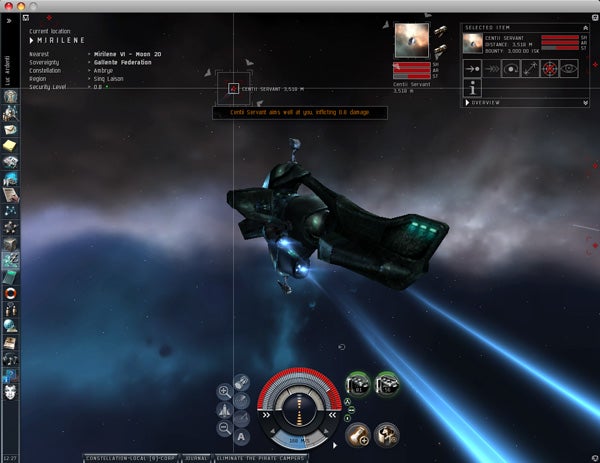 Without TransGaming's Cider translation-layer technology, games like CCP's EVE Online would probably not have made it to the Mac as quickly as they did—if they even arrived at all.
Very few of these games would have seen Mac releases if their makers had had to rely on the old way of doing things, which involved finding a Mac game conversion company to license, develop, and publish a Mac version of the game.
Cider isn't perfect. It leaves users of PowerPC-based Macs, who still number in the millions, out in the cold, even with machines that can still run just about everything else they need. And for the most part Cider games don't run on MacBooks or Intel-based Mac minis because of those systems' weaker integrated graphics. Cider games also run a bit slower and may have slightly more demanding system requirements than their Windows counterparts. But at the very least it's a step in the right direction.
What's more, says TransGaming's CTO Gavriel State, it's a means to an end: to promote the Mac as a viable platform for gamers and game publishers. "It's the classic chicken-and-egg problem," says State. "In order for game publishers to support the Mac with native game development, there have to be people buying games, and in order for gamers to recognize the Mac as a viable gaming platform, there have to be games available for them to buy."
Cider helps game publishers with little or no Mac native experience get their feet wet, and it provides Mac gamers with top-tier titles they wouldn't have otherwise. To that end, 2007 was a huge year for TransGaming, and 2008 promises to be even better.
[ Game Room columnist Peter Cohen selected the top Mac gaming products of the year in our Game Hall of Fame feature. ]