Digital photography is an incredibly popular topic. Beyond the Mac itself, it's clearly the number-one topic of interest among Macworld readers in print and online. Every year we publish several large collections of photo-related advice, not to mention our regular Digital Photo column.
When you add it all together, that's an avalanche of great information. But adding it all together — various articles spread across dozens of magazine issues, web stories, and the like — is an impossible process. And of course, by the time you've collected two years' worth of stories, the oldest ones are now two years out of date.
That's why, two years ago, we decided to find a way to package up huge amounts of information on various topics and distribute them, in print and online, as a series of books. You can now buy Macworld Superguides about the basics of Macs for new users and switchers, the iPhone, iTunes and the iPod, and Apple TV. And these books aren't just some thrown-together collection of reprinted old articles you've already seen in Macworld and on Macworld.com in the past. Our editors pick the very best material, reorganize it, and update it, creating a great series of in-depth guides.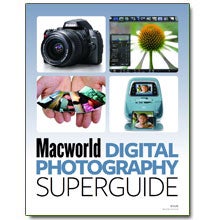 Back to digital photography. Our first Superguide book, two years ago, was on the subject — and a whole lot has happened in that time. Two versions of iPhoto and a slew of low-cost, high-quality cameras later, the digital photography world has moved on. And so today I'm proud to present our latest Superguide book: The second edition of the Macworld Digital Photography Superguide, which features material from an all-star cast of writers led by photo experts Ben Long and Derrick Story.
This 90-page book covers it all, and brings it to you all in one place. If you're shopping for a new camera this holiday season, you'll find useful advice about picking the right camera. Once you have a camera, the book will help you take better pictures via a great collection of shooting tips and tricks. After the shooting is over, we'll help you bring out the best in your photos. We've got tips to help you print your pictures yourself or use an online photo-printing service. We've even got sections to help you organize your photo library and back them up so that you don't ever lose precious images. And we've got suggestions for fun photo projects that go way beyond prints, calendars, and screen savers.
There's a lot of stuff in those pages. If you're interested in a PDF (suitable for viewing in Preview or Adobe Reader), you can buy one and download it immediately for just $12.95. Or you can get it as a high-quality, full-color book for $24.99. Don't want to download the PDF? You can also get it mailed to you on CD-ROM for $15.
And if you want to see more before you pony up your hard-earned cash, I completely understand. So we've created a 924K downloadable sample from the book for you to check out, just to give you a taste.
We think this book is a great resource for every Mac user who loves their digital camera — or plans to love it once they've bought one! We look forward to your feedback, as well as suggestions for what e-books we should publish in the future. You can send both to ebooks (at) macworld dot com.
( Click here to get complete buying information about the Macworld Digital Photography Superguide. )