Dominey Design has released SlideShowPro for Lightroom, a $25 plug-in that lets you create highly customized, Flash-based Web galleries from your Lightroom photo collections.
The plug-in works within Lightroom's Web module and offers more than 60 options for building interactive slide shows. You can adjust almost every aspect of your galleries, including image placement and size, the colors of buttons, backgrounds and other elements, and the inclusion of metadata in captions and overlays. And, since it's all embedded within Lightroom, you can save your settings as a template, and use Lightroom's FTP capabilities to update your galleries quickly. There's even a full-screen mode for viewing slide shows, and, if you don't mind getting your hands dirty (by mucking with some XML code), you can showcase multiple albums and add audio tracks to your galleries.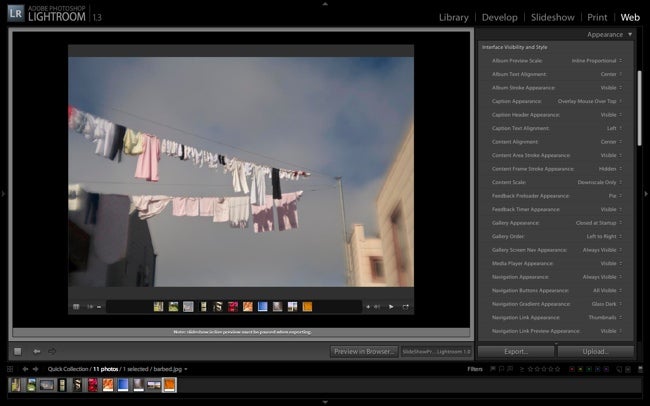 This is the third version of Dominey's Flash-based tool, joining a $29 version for building galleries from within Adobe Flash, and SlideShowPro Director, which is a host-based content-management application for creating and managing albums and galleries, priced at $29 per domain. I've been using both apps for a year or so, and I really like them. Unlike the Lightroom plug-in, the other SlideShowPro offerings do require some manual coding to generate galleries, but, thanks to Dominey's well-written documentation, you don't need to be an XML vet to get things done. (If you already own SlideShowPro for Flash, you can purchase the Lightroom plug-in for only $10.)
Airtight galleries in Lightroom 1.3
If $25 is too steep, it's worth noting that Adobe added three of
Airtight Interactive's
free Flash-based photo viewers—SimpleViewer, PostcardViewer and AutoViewer—to Lightroom 1.3's Web module. While Airtight's viewers aren't as flexible as the ones found in SlideShowPro, they are quite nice in and of themselves, and they are free.
Airtight also offers a Pro version SimpleViewer for $45, if you have Flash.
Both Dominey Design and Airtight have sample galleries you can view from their Web sites, or you can check out galleries I have built with SlideShowPro, SimpleViewer and PostcardViewer.