At a Glance
Expert's Rating
Pros
Handles roll and sheet-fed media up to 24 inches wide
Great print quality
Speedy
Cons
ICC profiles not named correctly
Build quality feels cheap
Documentation could be better
Our Verdict
Despite Canon's dominance in the professional digital camera market, the company has not replicated that success with its pro printers. It's not for lack of trying: Canon has released at least four high-end printers over the past two years, but they generally come up short when put up against comparable printers from Epson or Hewlett-Packard. With the release of the imagePROGRAF iPF6100, however, Canon is finally closing in on its peers with a printer that offers excellent print quality and good print speeds at a competitive price.
The $3,495 iPF6100 is one of two new wide-format printers from Canon, both of which use the same 12-ink printing architecture. The iPF6100 prints on roll paper up to 24 inches wide, although like many roll-fed units it can take sheets one at a time, from 8 by 10 inches up to poster paper at 20 by 30 inches in size. Its sibling, the $1,995 imagePROGRAF iPF5100, which just started shipping, has a maximum print width of 17 inches, and includes both roll support and a paper tray for loading sheets. Both printers can handle paper up to 1.5mm thick.
Basics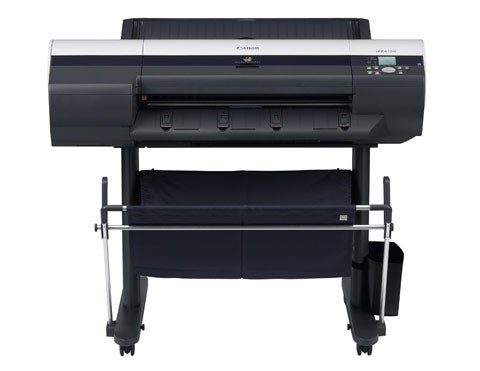 The iPF6100 uses 12 individual, pigment-based ink cartridges: cyan, photo cyan, magenta, photo magenta, yellow, black, matte black, red, green, blue, gray, and photo gray. It uses 11 of the inks when printing, opting for either the matte or the stock black ink (often referred to as photo black ) based upon your chosen paper type. If you're printing on glossy or semi-gloss photo papers, the iPF6100 uses the photo black ink; it uses the matte black when printing on smooth-finish, matte, and fine-art papers. The gray and photo gray are designed to produce enhanced black-and-white images, as those similar inks found in Epson's Stylus Photo R2400 and Stylus Pro 3800( ) printers do.
As is the case with most wide-format printers, the iPF6100 is a large, heavy unit, but it is quite easy to set up. You'll need two people to get it out of the massive box and onto its stand, but you can be up and running in a little over an hour, thanks to the printer's clear quick-setup guides and its large LCD screen, which offers helpful, step-by-step instructions for loading paper and ink.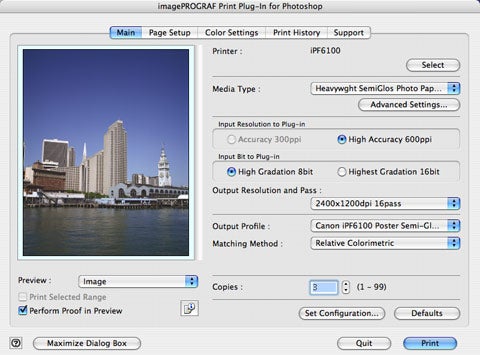 The printer has both USB 2.0 and Ethernet interfaces, and once you get it up and running, it's largely plug-and-print. The discs come with a print driver, online manual, and a well-designed plug-in for printing directly from within Adobe Photoshop (versions 7 through CS3). The plug-in bypasses the Mac print driver, and supports the printing of 16-bit images directly to the printer. (Prior to Mac OS X 10.5, Apple's print architecture only supported the printing of 8-bit images.)
Consistent color, better images
Last year, when I looked at Canon's first professional-level 17-inch printer, the imagePROGRAF iPF5000 ( ), I felt that its prints were not as sharp and true as those printed on the top-level Epson printers, such as the Stylus Pro 4800. This was largely an issue with the profiles that Canon shipped with the printer. You needed to tweak them, or create your own profiles, to get the best possible prints, but there were still some issues, such as bronzing, that caused some people to dismiss the iPF5000.
Since that time, Canon has been hard at work. The company says that it has improved a number of problem areas in the iPF6100 print engine, and all of those tweaks have been designed to improve print quality. For example, the black and gray inks have been reformulated to provide better coverage and scratch resistance; the print head has been redesigned, producing a tiny 4-picoliter droplet; and improved screening routines resolve detail much more finely than the iPF5000's print head.
This all means significantly improved print quality. Last year, iPF5000 prints regularly came in at the bottom in our jury testing, but this year, prints from the iPF6100 often tied or beat prints from the top Epson and HP printers. Color fidelity was excellent, and fine detail, especially in the shadows, was reproduced exceptionally well. Black-and-white images were neutral, and looked good on every paper type I printed them on.
Going beyond the quality of the photos, the iPF6100's print speed is quite good as well. Using the mid-level quality setting, which was more than adequate for most images, the iPF6100 printed an 8-by-10-inch image in 1 minute, 30 seconds; a 16-by-20-inch image took 3 minutes, 36 seconds; and a 24-inch square photograph took 5 minutes, 36 seconds to print. (In contrast, the 24-inch square image took 7 minutes, 57 seconds to print with comparable quality on similar paper on my HP Designjet Z3100 Photo.)
Minor annoyances
While the iPF6100 makes some significant strides over previous Canon printers, there is still room for improvement. The biggest issue is that many of the iPF6100's ICC profiles don't match the names of the papers that Canon sells, which means that you have to guess which paper goes with which profile. For example, the roll of Heavyweight Satin Photographic Paper sent to me by Canon was listed in the printer's settings when I loaded it, but not in the print driver. Instead, there were three different types of semi-gloss photo papers to choose from, and I had to print sample images with each profile to figure out which one came out closest to my image, and then put a note on my monitor to remember which profile was for which paper.
In addition, the documentation, while much better than that of the iPF5000, could still be better organized and presented. There are also a few places where the iPF6100's plastics feel flimsy and cheap, which is something we hate to see in a printer of this class.
Fitting into the market
In the wide-format market, the iPF6100 is up against Epson's $2,995 Stylus Pro 7800—whose replacement, the 7880 is just starting to ship—and HP's Designjet Z2100 Photo ($3,395) and Z3100 Photo ($4,095) printers. The iPF6100's print quality and speed are comparable to all of these printers, although Epson says that the 7880 has a wider color gamut than its competitors (we haven't yet tested this model). With the Epson printers, however, you have to physically swap the photo and matte black inks when you want to change paper types.
HP's Designjets, while more expensive than the iPF6100, produce stunning images and have a much stronger set of features, including integrated profiling, thanks to their built-in X-Rite i1 colorimeters. The Z3100, with 12 inks, is the best wide format we've tested under $5,000, and would be our first choice; but the reality is that, in this quickly changing market, you can get a printer from Canon, Epson, or HP that will produce excellent, long-lasting prints.
Macworld's buying advice
The imagePROGRAF iPF6100 should put an end to talk that Canon can't compete in the professional photo printer market. With a better ink formulation and an improved print head, this 12-ink printer produces excellent images on both glossy and fine-art media. Canon needs to clean up its profile management, but overall, the iPF6100 is a very good printer that fits in well in a competitive market.
[Rick LePage isMacworld's editor-at-large.]