This week, we've recognized the memorable games of 2007 and a significant technology that bolstered the Mac game market. But dwelling on the past year is so yesterday—forward-looking Mac gamers want to know what they can expect the rest of this year. I'm happy to oblige.
So here's a quick look at what some of the major game makers—and a few smaller operations—have planned for 2008 and how it might affect your gaming options in the coming year.
The Unreal world
Epic Games, which makes, the Unreal game engine, has promised that both Unreal Tournament III and Gears of War are Mac bound. What Epic hasn't said is who will publish those games on the Mac.
However, you don't exactly need to be a Myst-level puzzle solver to make a fairly educated guess about the would-be publisher's identity. Destineer Studios' MacSoft has published previous Mac versions of Epic's offerings. I'm sure you can draw your own conclusions there.
Speaking of MacSoft, the company promises a few big announcements to start the year that should re-solidify its reputation as a top-tier publisher of hardcore Macintosh games.
Are you ready to rock? With Guitar Hero III arriving on the Mac, you had better be.
Aspyring releases
Aspyr Media's Neverwinter Nights 2 remains was dangerously close to release; its imminent arrival will give fans of the role-playing game something to cheer about. Other Aspyr titles have already hit the market— Guitar Hero III is arriving in time for Christmas. Look for it to hit retail shelves next week in the form of a hybrid version that includes the PC and Mac together on one disc, bundled with a guitar controller.
You'll have to wait a little while longer for other Aspyr releases, however. Quake Wars: Enemy Territory, a team-based first-person shooter, isn't expected until early 2008.
Multiplayer madness
CCP games shipped Eve Online in November—too late for Game Hall of Fame honors, alas. In the first few months of 2008, expect the massively multiplayer online game (MMOG) set in outer space to get an overhaul with Trinity, a new expansion pack.
Mac users are already able to access Trinity at the same time as Windows users in the form of new content and new game logic. A Premium graphics package will follow later in the first quarter of 2008, giving this already stunning game a positively amazing new look.
MMOG news on the Mac doesn't end there, either. Blizzard Entertainment is prepping another expansion pack, called Wrath of the Lich King, for its long-running game World of Warcraft. And perhaps more important, Blizzard is preparing to resurrect its most beloved real-time strategy-game franchise, StarCraft, with StarCraft II.
Other news of note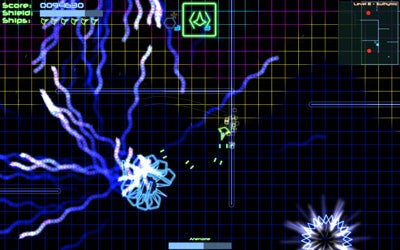 Neon Tango is a retro-style arcade shooter with a Geometry Wars twist.
Plenty of smaller Mac game publishers have promised to continue plying us with fun time-wasting diversions. Freeverse is sharpening its skills with the Geometry Wars-style abstract shooter Neon Tango, and has other tricks up its sleeve for the year.
PlayFirst, the evil genius behind the popular Diner Dash series, is promising to continue its line of fun casual games. And Ambrosia Software has fun lined up for Mac gamers, too—as the inclusion of SketchFighter 4000 Alpha in the Game Hall of Fame indicates, Ambrosia's about more than just utilities.
More to come?
Keep in mind, these are just the gaming developments we know about—more titles and development work is doubtlessly bubbling beneath the surface and will emerge as 2008 progresses.
Or to put it another way, a year ago, we knew about the planned releases of Aspyr's Prey and Blizzard's Burning Crusade expansion pack, and we had a pretty good idea that TransGaming's Cider technology would bring new games to the Mac. But we had no clue that Electronic Arts would announce direct support for the Mac platform or that id Software would demo a Mac-friendly game engine —both of those events happened midway through 2007.
The lesson, as always: Twists and turns are inevitable in the world of Mac gaming. But half the fun is getting there.
[ Game Room columnist Peter Cohen is already saving up his pennies for that World of Warcraft expansion pack. ]