Our December 2007 issue included a round-up of seven point-and-shoot cameras. Our favorite of that bunch was the Samsung NV11 ( ). Our jury found its overall image quality to be very good and its color quality to be superior. It had amazing battery life, taking more than 1,200 shots before we needed to recharge the battery, and as the reviewer David Becker said in his review, "[the NV11 is] an excellent choice for an all-around camera that's fun to use and equally accommodating of beginners and advanced shutterbugs."
The review also notes that the NV11's design is a bit different from most point-and-shoot cameras, with its bulging lens and multi-buttoned Smart Touch control system. Another design difference, that seemed too subtle to mention in the article, has frustrated some users who, in turn, wrote in to us to detail the problem.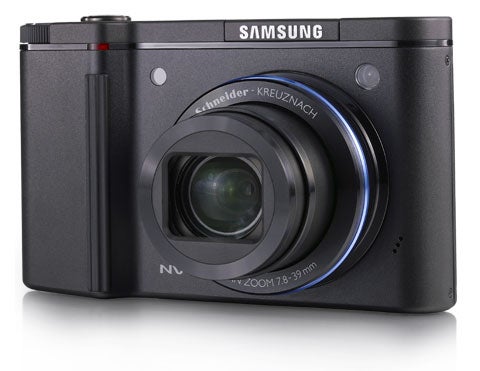 Samsung's NV11 camera
The USB connector used to attach the NV11 to your Mac is located on the bottom of the camera. When you connect the USB cable, a message appears on the camera's LCD asking if you'd like to connect the camera to a printer or a computer. If you want to transfer images to your Mac, use the Smart Touch buttons to choose Connect to Computer. The camera is recognized by iPhoto and no additional drivers need to be installed.
But here's where the bulging lens design of the NV11 factors in—people aren't inclined to set the NV11 lens-side down. (In fact, in all of the illustrations in the manual, the camera is laying down lens side up.) And if you lay down the camera with its lens pointing upward before connecting the USB cable, you'll never see the message on the LCD asking you to choose your connection type. When you unplug the camera, the message disappears, so you might not ever know that the message every existed.
If you're having similar problems, try holding the camera with the LCD facing you as you insert the USB cable. Select your connection type and then lay the camera down, lens-side up.