At a Glance
Expert's Rating
Pros
Innovative hardware design includes built-in spectrophotometer
Easy to create and add ICC profiles
Handles roll and cut-sheet media to 24 inches (44-inch model also available)
Great software utilities
Excellent print quality
Quad-tone black-and-white print capabilities
Our Verdict
For the past decade, Epson printers have sat at the pinnacle of the professional photo market, their hallmark being top-notch print quality, solid performance, and archival print life. In the past year, however, Epson's two primary rivals—Canon and Hewlett-Packard—have released competitive printers in an attempt to challenge Epson's leadership. One of those printers, HP's Designjet Z3100 Photo Printer, has, in our opinion, surpassed any offering Epson has shipped to date. It rolls high-quality, long-lasting prints and a smartly designed feature set into one of the most innovative and easy-to-use printers to come our way in a long time.
Out of the box, into the room
The Designjet Z3100 is a wide-format printer, coming in 24-inch and 44-inch versions, and, as such, it's a large unit. But from the moment you open the Z3100's crate, it's obvious that HP's engineers were thinking about usability. The printer is packed upside down in the box: you first build the stand, which is at the top of the box, then affix it to the underside of the printer, and roll the printer out of the box and onto the floor. The process takes about 30 minutes.
The rest of the setup is similarly simple. The cartridges snap easily into place. You connect the printer to your Ethernet network or to your Mac via USB, and then install the driver software, which is as well thought out as rest of the package. The driver is integrated with a utility that manages all aspects of the printer, from adding custom paper types to checking supply levels and more. As was the case with HP's Photosmart Pro B9180 ( ), the Z3100 print driver lets you automatically add custom paper types—the Z3100 can accept roll and cut-sheet media up to 1.5mm thick.
The printer uses 11 pigment-based inks: magenta, light magenta, light cyan, yellow, red, blue, green, photo black, matte black, gray, and light gray. An additional cartridge contains a gloss enhancer, which is used for printing on glossy or semi-glossy photo papers. The enhancer helps reduce the unsightly gloss differential effect, where areas of an image with no ink applied have a different reflectivity than areas with ink (this is often referred to as bronzing ).
Like most pigment-based printers, the Designjet Z3100 uses photo black ink when printing on glossy papers, and matte black when printing on smooth-finish and fine art papers; the printer automatically uses the black ink appropriate for the paper chosen. The Z3100, however, goes one better than most of its competitors when printing black-and-white photos on matte-finish paper: it uses both black inks and both gray inks, giving you, in essence, a quad-tone print with an expanded tonal range. On a paper like Hahnemühle's Photo Rag, for example, I got some of the best black-and-white prints I've ever produced with an inkjet printer.
The calibration advantage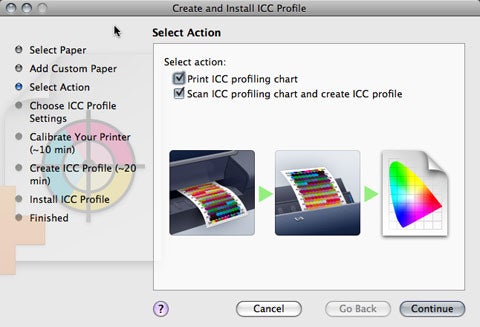 Most professional photographers want to use their own custom ICC profiles with a printer of this caliber. This often means either buying sophisticated profiling systems (and learning how to use them) or contracting with a service that will create custom profiles for you. With the Z3100, HP has made it drop-dead simple to create your own profiles on the fly, by embedding an X-Rite i1 spectrophotometer (which measures light intensity) into the printer. All you have to do to create an ICC profile is fire up the HP Printer Utility and select Create and Install ICC Profile, and the printer will take the currently loaded paper, print a calibration chart, scan it using the i1, and build the profile for you. You can even print the chart, let it dry overnight (which many experts recommend when building a profile), and scan it in the next day.
Even better, the next time any Mac on your network prints to the Z3100, an update notification is presented in the print driver, and a quick click of a button will add the new profiles and any new paper types. You can also see how long it's been since a certain paper has been profiled, and get an alert when it's time to build a new profile, if you like to regularly update your paper profiles.
Quality and performance
With its 11 inks, the Z3100 has a nice wide color gamut capable of generating excellent prints on all media types, and the detail and color accuracy of the Z3100's prints are as good as those from any of Epson's or Canon's most recent pro printers. And, with the two gray inks, black-and-white prints come out extremely neutral on all paper types. When we placed Z3100 prints in front of a jury alongside prints from Canon's imagePROGRAF iPF6100 ( ) and Epson's Stylus Pro 3800 ( ), viewers could not reliably discern which printer produced which image, a testament to the strides that HP (and Canon) have made with their latest round of printers.
While performance is often secondary to quality and efficiency when choosing a wide-format printer, the Z3100 has quite respectable print speeds. At the standard print quality setting, the Z3100 produced a 16-by-20-inch print in 5 minutes and 20 seconds; a 24-inch square image in 7 minutes and 57 seconds; and a borderless 24-by-36-inch print in 11 minutes and 27 seconds. Ink management was quite good as well; we printed more than 200 images, most larger than 16 by 20 inches, before we had to replace any ink at all. (The 130-ml replacement ink cartridges are approximately 57 cents per ml, which is very good for a wide-format printer.)
Macworld's buying advice
It's rare that a product—even a very good one—balances function, innovation, and performance, but that's what Hewlett-Packard has done with the Designjet Z3100 Photo Printer. The ease of use, excellent print quality, and smart design touches have been combined into one of the best professional printers I have ever seen.
[ Rick LePage is Macworld 's editor at large. ]