It's been a funny year for the iPod. On the one hand, until Apple released new iPods in September, the iPod lineup had gone largely untouched for two years. The full-size iPod (with video) had stayed pretty much the same since its introduction in September 2005. The 2006 iPod nano was basically a moderately updated version of the 2005 original. Only the iPod shuffle had seen a dramatic overhaul—albeit an entirely aesthetic one.
Yet the iPod juggernaut still rumbled on: Apple sold more iPods in 2007 than in any year before. And those two years of design stability meant accessory makers could develop products knowing they would work with most of the iPods out there.
As a result, although we didn't see that many unique or groundbreaking iPod accessories in 2007, we did get improved offerings in many accessory categories. With that in mind, we've sorted through all the products we saw in 2007—or, to be more accurate, products released and available for purchase between November 1, 2006 and November 1, 2007—to find our favorites.
The result: 17 speakers, headphones, and other iPod add-ons that make up our third annual Playlist Plays of the Year recipients. The pace of change in the iPod market may have slowed down, but there's nothing staid or run-of-the-mill about these products.
Speakers
According to market-research firm NPDMP3-player speakers—which are predominantly speakers that work with the iPod—outsold home speakers for the first time in 2007. Long-time accessory vendors released more models than ever, traditional audio manufacturers entered the iPod-speaker fray, and scores of new companies jumped at the opportunity to make a few bucks. We saw several new takes on iPod speakers that wowed us, as well as a number of impressive traditional models.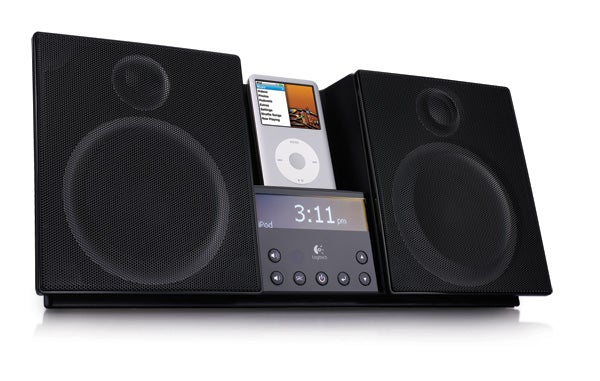 Logitech's AudioStation
Portable Speakers: For lightweight listening on the go, Altec Lansing's $150 inMotion iM600 (

) impressed us more than any other 2007 offering. Besides being the best-sounding system that can still fit in a carry-on or backpack, the iM600 includes an FM tuner, a built-in rechargeable battery, a useful remote control, and a sturdy build.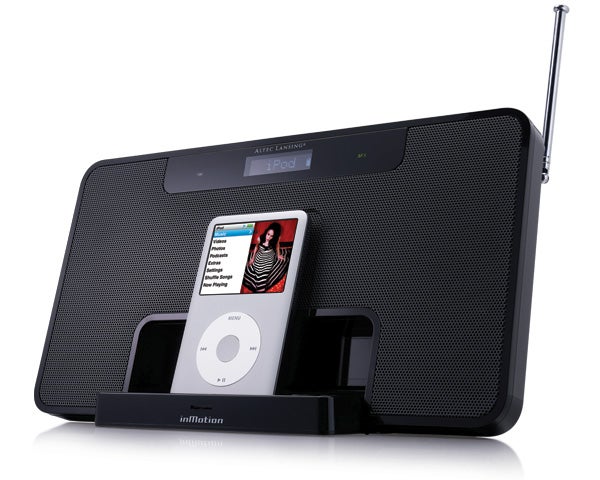 inMotion iM600
Computer Speakers: If you're in the market for traditional "computer" speakers, which connect to any audio source with a standard audio-output jack, Acoustic Energy's $200 Aego M (

) is tough to beat, sonically or structurally. Tiny, metal-alloy-body satellites and a large, real-wood subwoofer provide exceptional sound quality; a variety of high-quality connection cables, as well as 16-foot speaker cables, are included. We've never heard sound this good for $200.
Headphones
Upgrading from the default earbuds is one of the best investments an iPod owner can make. In 2007, we saw a deluge of new and improved headphones, both in-ear-canal headphones and noise-canceling models.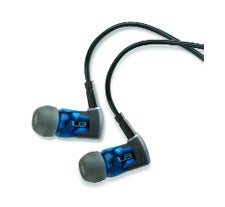 Ultimate Ears' triple-fi 10 headphones
In-Ear Canal Headphones: If cost is no object and you spend most of your music time listening to high-quality music files, Ultimate Ears' $400 triple-fi 10 set the bar for in-ear-canal headphones in 2007. With three separate drivers—for bass, midrange, and treble—in each ear, the triple-fi 10 is essentially a universal-fit version of Ultimate Ears' custom-made in-ear monitors and provides top-notch sound quality and noise isolation. Although not quite as comfortable as last years' winner— Shure's E500PTH —the triple-fi 10 costs $100 less than Shure's flagship model.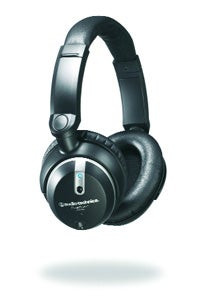 Audio-Technica's ATH-ANC7 headphones
Accessories and Cases
Not every great iPod accessory needs to extend the music player's capabilities into bold new realms. Sometimes, it merely completes the sentence, "My iPod's great, but I wish…" As for cases, the challenge remains finding a way to protect the iPod without adding too much bulk or spoiling its svelte figure. We found a few offerings that were up to the challenge.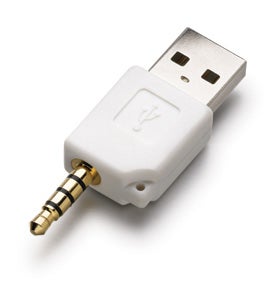 Incipio's IncipioBud for second-generation iPod shuffles
iPod accessory: SendStation's $29 Dock Extender (

) delivers a substantially better iPod experience in a tiny package. Like the IncipioBud, it's little more than a pair of plugs—a male dock-connector plug on one end, a female dock-connector port on the other. But if you want to use a dock-cradle accessory without removing your iPod from its protective case, it's all the tool you'll need. Plug the top of the Dock Extender into your encased iPod's dock-connector port, then plug the bottom part into a dock-cradle accessory—an included adapter for Apple's Universal dock design keeps your iPod from wobbling.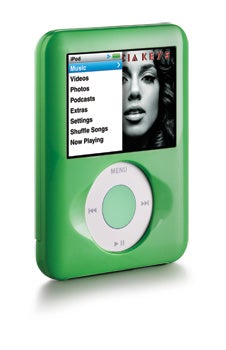 SwitchEasy's Biscuit case
Second-Generation iPod nano Case: If you've still got the old-model nano, iSkin's $30 Duo for 2G iPod nano (

) eliminates the "silicone skin or hard case" debate by combining the best of both worlds. A silicone sheath covers the nano, and a plastic faceplate snaps onto the outside for added protection without compromising the nano's sleek profile. Included are a number of useful accessories: a Universal dock adapter, a dust cover for the nano's bottom openings, a lanyard, and a swiveling belt clip.
Special Plays
Some iPod accessories stand out from the pack. Here are four that caught our eye in 2007, thanks to their eye-catching appearance, stellar performance, unique approach to delivering music—or some combination of all three qualities.
The Zeppelin: High-end British audio vendor Bowers & Wilkins—B&W to most audio fans—entered the iPod speaker market in 2007 in style. The $600 Zeppelin is sure to get plenty of attention for its design alone: a curvy, pill-shaped package with black mesh on the front and shiny chrome in back—a look not unlike a certain portable media player—with a unique, iPod-docking arm in front that lets you wrap your hand around the iPod to operate it, just as if you were holding the iPod in your hand.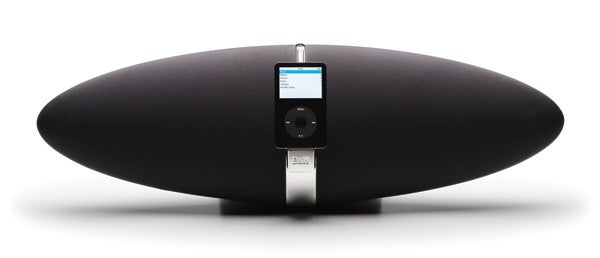 The Zeppelin from Bowers& Wilkins
But the Zeppelin also sounds great: B&W has stuffed many of the company's home-speaker technologies, as well as five drivers and three amplifiers, inside the sleek enclosure. A matching black-and-chrome, pebble-shaped remote rounds out the package.
Go + Play Although more transportable than portable, Harman Kardon's $350 Go + Play is nevertheless a system you can take from place to place thanks to a stylish, sturdy, stainless-steel handle and battery- or AC-powered operation. But don't call it a boombox: the most interesting-looking iPod speaker system on the market, the Go + Play's bug-eyed, metal speaker grills conceal high-performance, two-way speakers with dual-action woofers that produce the best audio quality, top to bottom, of any carry-able iPod speaker system we've heard.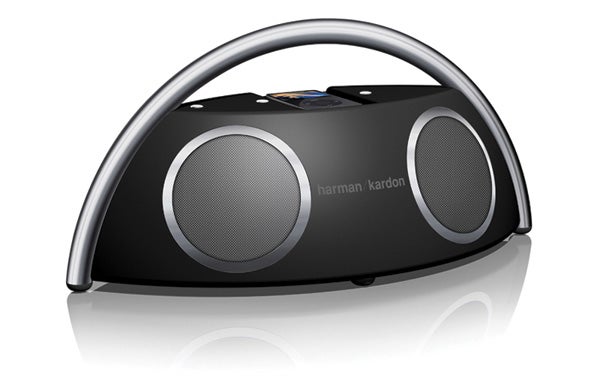 Harman Kardon's Go + Play
We also liked little touches such as a pop-open compartment for the system's rangy radio-frequency (RF) remote. In fact, the Go + Play sounds and looks good enough, and works well enough, that it can double as an excellent desktop stereo system, as well—which makes its price tag seem much more reasonable.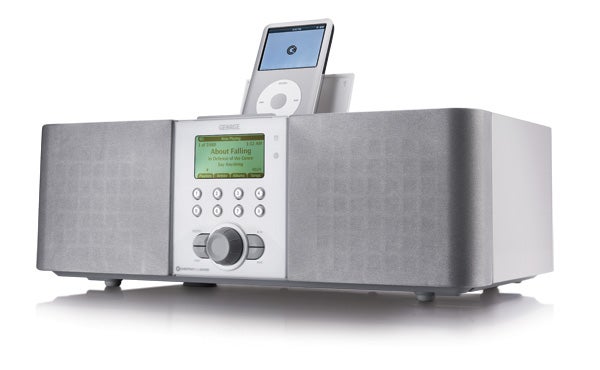 Chestnut Hill Sound's George
The George connects to your computer via USB, allowing you to add new features via software updates. The hardware is upgradeable as well. For example, an HD Radio module is in the works, and the system's front mesh grilles, wrap-around side panels, and top panels can be removed and replaced with different colors and finishes.
Evolve Griffin Technology has taken a unique approach to the dilemma of how to get music from the source to remote locations. With the $300 Evolve , each speaker is a standalone, rechargeable unit. When placed on the main base, a speaker recharges and pairs with the base; you can then move it up to 100 feet away, where it will play for up to 10 hours. A pair of speakers can be set up in left/right or mono mode, and you'll soon be able to purchase additional speakers that can be paired to a single base.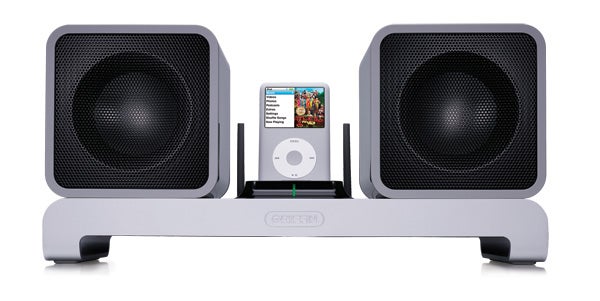 Griffin Technology's Evolve
An RF remote lets you control playback even if you're in a different room than the base. Although the Evolve's sound quality isn't the best on the market, the convenience just may be.
[ Senior Editor Dan Frakes is the senior reviews editor for Playlist. Associate editor Dan Moren is the co-editor of MacUser. Philip Michaels is executive editor of Macworld.com. ]
Note: When you purchase something after clicking links in our articles, we may earn a small commission. Read our affiliate link policy for more details.