For someone who was known as "the quiet kid," I seem to spend an awful lot of time talking on one podcast or another. And because I do, I've become increasingly picky about the microphone I use.
I've tried (and discarded) just about every headset mic thrown my way — I just can't pull rich baritone FM-radio goodness from these things. I've tried a couple of USB mics but find the gain a little weak and some of that same thinness of tone. The mic built into my iSight camera or laptop? Yeah, sure….
No, I return time and again to real microphones, generally those that I liberate from my band's supply cupboard. Of those I've used the rock-standard Shure Beta SM-57 and Beta SM-58 and while I generally like their tone, I'm spoiled by my current choice, the vintage AKG-414. The thing's sound is transparent and it's tough enough to hammer nails.
Problem is, when I want to use that mic I have to also use an audio interface, and not just any audio interface. The AKG-414 requires power to work (48 volts, to be specific, known as phantom power ) so that interface has to supply that power. Not all do.
At home I have an Edirol UA-700 USB audio interface that works nicely — along with phantom power it has a compressor and other effects built in. But when I have to podcast on the road it's a pain to lug it along.
Which leads to this: Thank you CEntrance for your MicPort Pro. This is a $125 (street) XLR-to-USB mic preamp that supports 24-bit/96kHz audio, provides phantom power, bears a headphone jack, and includes two knobs — one for controlling mic gain and the other for adjusting the volume of headphones plugged into it. About the size of a roll of quarters, you plug your microphone into one end, and string a USB cable from the other to your computer. No drivers are necessary, the Mac OS (10.4 and later) and Windows XP and Vista recognize it automatically.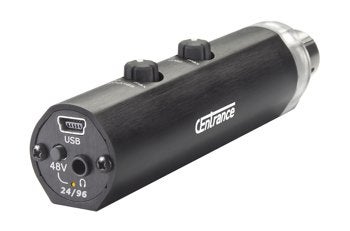 I've used the MicPort Pro with my 414 for a couple of podcasts and it's performed like a champ. Gain is plenty hot (I can drive the mic into distortion by cranking the gain knob all the way up), headphone volume can be adjusted to painful levels, and I don't detect any delay (latency).
For podcasting on the road (or even at home) this is an uncomplicated and welcome solution.