If you design Web sites for a living, or you're a prolific blogger with a lot of domains, you likely want to get a better grip on how popular they are and who's linking to them. Rage Software's Domainer 1.1 ( ; $40) makes doing so easy.
Domainer allows you to track your Web domains in several ways. Enter a domain name and Domainer displays, in a pop-up window, that domain's registration and expiration dates, along with information such as the Registrar, FTP username and password, and DNS information. You can track an unlimited number of domains.
Once you have your domain information entered, the main viewing area displays a preview thumbnail of the selected Web site, along with the site's description (as provided by the site's META tags). Next to the summary are several brightly colored, Web-2.0-style boxes that display information about your site's popularity.
First up is your Google Page Rank. This rank is important, as it determines how high your site appears on the results list when people search on Google for content you offer. In Domainer, your page rank appears as a number between one and ten—the higher the number, the better your rank.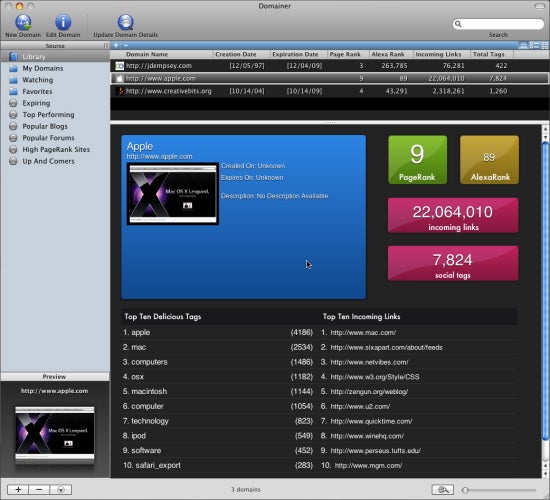 Next is your AlexaRank. This is similar to Page Rank, but rates your site's popularity based on how often people using the Alexa Toolbar software visit your site and how many people link to your site. Unlike Page Rank, lower numbers are better here.
The Incoming Links display provides you with the number of pages on the Web linking to your domain as determined by Yahoo Site Explorer. I consider this to be a more accurate representation of your site's popularity than Google or Alexa rankings, because Yahoo's link rating is based on hard numbers—the more incoming links, the better—rather than a ranking formula.
Social Tags tells you how many times your site appears in Del.icio.us bookmarks. (If you aren't familiar with Del.icio.us, it's the most popular social bookmarking site on the Web, allowing users to bookmark sites they come across and to tag them with keywords relevant to the subject matter. Once tagged, users who subscribe to those keywords will see your site listed on their personal Del.icio.us page.) The Top Ten Delicious Tags list, at the bottom-left, shows you the most-common tags used for your site, along with how many times your site has been tagged with each. This is valuable information you can use to improve your use of keywords and increase your overall rankings.
Finally, at the bottom-right you're given a list of the Top 10 Incoming Links. This list can be helpful in determining the best places to send update information, or to help you choose with whom to partner in promoting your site; I was surprised at some of the sites linking to my personal domain.
Domainer is also useful for keeping track of domains you don't own. For example, you can monitor competing Web sites to see how your site measures up. You can also track domains you may wish to purchase in the future: Simply add the domains to the list and all the information described above is right there for you to keep track of. And by selecting a domain and choosing the Sync With iCal command in the File menu, that domain's expiration date is added to your iCal calendar so you can try to snap it up.
Once you've entered all the domains you wish to track, you can add a Smart Group to the source list to automatically group domains by tag, expiration date, page rank, or any other information available in Domainer. This makes it easier to compare the statistics of a number of domains.
Despite its usefulness, Domainer isn't perfect; I'd like to get a little more for my $40. For example, integration with Google Analytics would be a great start, as would compatibility with other similar services such as Mint. I'd also like to see Feedburner support to track the popularity of RSS Feeds, and it would be useful if Rage could integrate Domainer with a Whois search engine (such as the one provided by InterNIC ). I'd also like to see intergration with registrars such as Network Solutions and GoDaddy so you could actually register domains right through Domainer.
Adding simple explanations of the various statistics Domainer displays would also be helpful for users. For instance, what are PageRank and AlexaRank, and how can you improve them? Rage could even provide links to reputable search-engine-optimization sites that offers tips for improving your site rankings.
Overall, as someone who maintains my own Web site, I really love Domainer. It sports a beautiful Mac OS X interface; its features are simple to use; and what it does, it does superbly. If it were a bit less expensive, or offered more functionality for the price, it would have my unreserved recommendation.
Domainer 1.1. requires Mac OS X 10.3.9 or later.