At a Glance
Expert's Rating
Pros
Time-saving features
Batch support
TiVo support
Includes disc labeling software
Easy-to-use interface
Multiple conversion options
Cons
May not be worth it to those familiar with freeware products
Our Verdict
Roxio's Popcorn 3 uses the same core engine and many of the same interface techniques adopted by its big brother, Toast Titanium ( ), the 800-pound gorilla of CD and DVD burning software for the Mac. At $50, Popcorn costs $30 less than Toast does, and it caters to a more specific audience: those users who simply want to transform video so that it works on different devices, rather than those who need all the heavyweight capabilities of the heftier Toast product.
If you have a personal media player like an Archos handheld device, video iPod, Sony PlayStation Portable (PSP), multimedia-capable BlackBerry smartphone, or one of the myriad other devices that can play video, chances are you've sought a way to convert the video you already own to something that can work on these gadgets. There certainly are enough solutions out there, ranging from freeware products like Handbrake ( ) to the $23 VisualHub ( ). Popcorn fits the bill for people who feel more comfortable buying a commercial application.
Popcorn features some of the same interface elements you can find in Toast Titanium, and it uses the same core video transformation engine found in Toast, too. What's missing, of course, are the disc burning capabilities. What Roxio has substituted instead is a wide range of preset output options—for the Apple TV, for example, or for the Xbox 360, PlayStation 3, PSP, iPhone, or other devices. And, like Toast 8 Titanium, Popcorn 3 adds support for TiVo—if you have a TiVo digital video recorder (DVR), you can use its networking feature to send shows over to your Mac and have them ripped to different formats using Toast. It's a supremely easy-to-use and—thanks to some clever automation support—convenient solution. You can have Popcorn grab the latest episode of Heroes as soon as your TiVo records it. For example, you can have it ripped overnight, and it will be waiting for you in iTunes the next time you sync your iPod. That way, you can watch it on your iPod when on the way to work or during your next business trip.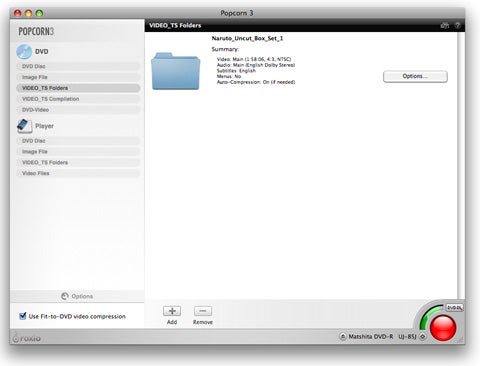 The application's video conversion quality has been improved in this release. You don't get results quite as dark or artifact-ridden as those I saw in Popcorn 2 ( ), although I did experience one or two stalled conversions. (Oddly, when I went back and tried to convert them again, the videos worked fine.) There's also a built-in Media Drawer that makes finding movies on your Mac a snap. And, thanks to a long-standing close relationship between Roxio and Elgato, Popcorn 3 works great with videos recorded using Elgato's EyeTV 2 ( ) DVR software. Also dovetailing with Elgato, Popcorn 3 has support for Elgato's H.264 Turbo, a USB device that acts as a video coprocessor, lowering your own CPU's load when it's converting video (and, in the cases of slower Macs, speeding up the process too).
What Popcorn doesn't allow you to do is to rip content from a copy-protected DVD, such as a movie you might rent from Blockbuster or purchase from Best Buy. That's a Digital Millennium Copyright Act no-no, and while there are ways around such copy protection, you won't get any help from Roxio. It is worth noting, though, that you can rip any unprotected VIDEO_TS folder with Popcorn. Popcorn also won't work with the copy-protected videos you've bought from the iTunes Store, for what it's worth.
If you've ripped various VIDEO_TS folders to your hard drive, Popcorn 3 also includes a batch feature, which lets you convert all of them together and burn them onto a single recordable DVD for backup. You can create custom DVD menus and use your own pictures as the background images. You can even create Director's Cut compilations, excising the extra stuff from DVDs you've ripped, like language tracks, special features you don't care about, and more.
A version of Disc Cover, from BeLight Software, is also included (marked as RE, for Roxio Edition). This lets you create your own disc covers and disc label artwork.
Macworld's buying advice
Popcorn 3 is a solid upgrade to an already useful application for Mac movie enthusiasts looking to get the most out of their video entertainment. TivoToGo support, EyeTV and H.264 Turbo support, batch features, and Director's Cut capabilities only scratch the surface of this powerful video conversion tool.
[Senior news editor Peter Cohen keeps his finger on the pulse of Mac gaming in Macworld's Game Room.]
Editor's Note: An earlier version of this review misidentified a video-conversion product from TechSpansion. The correct name of that product, VisualHub, now appears in the article.