Among technology companies, Apple is often perceived to have something that the likes of rivals Dell, Microsoft, and Hewlett-Packard lack—that indefinable element of cool. Apple carefully cultivates a specific image for itself, and a cornerstone of those efforts is its advertising, especially the 30-second spots that air on television.
"Apple has long history of exceptional advertising, starting with 1984," said Ross Rubin, director of analysis at NPD Group, referring to the iconic Super Bowl commercial that introduced the Macintosh to the world.
Hoag Levins, executive producer of AdAge.com, agrees, calling advertising a "core pillar" of Apple's strategy: "It's bringing in new people to Apple products."
And these days, there are plenty of Apple products for that growing audience to consider. In the past year, Apple has added another major product line—the iPhone—to its existing Mac and iPod offerings. While all three of these product areas share common qualities—namely, style and ease of use—Apple and its advertising agency take very different approaches to get that message across.
Despite their differences, Apple ads have in common at least one major advantage over many competitors' commercials: regardless of whether you love or hate the spots, you'll likely remember them, and that's the first step to building a successful image.
Hello, I'm a Mac
Apple's current campaign for the Mac, "Get a Mac," conveys just as simple and straightforward a message as the name would suggest. It's a deliberate attempt to appeal to the vast majority of computer users who, as Apple sees it, are using a Windows machine either because they aren't aware they have an alternative, or because they're nursing some erroneous preconceptions about Macs.
The ads, which first began airing in May 2006, feature actors Justin Long and John Hodgman as the Mac and PC, respectively—anthropomorphized versions of the long-warring computer platforms.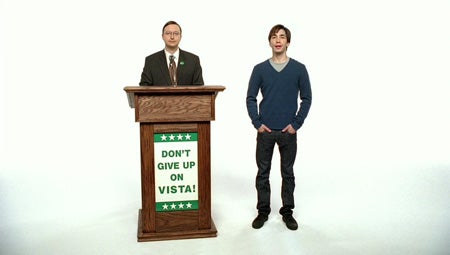 Aside from a brief shot at the end of the spots, you won't see any actual computers in the "Get a Mac" ads. And there's a good reason for that—computer features are hard to show off in a small space in 30-second segments. Instead, Apple illustrates features by putting the characters into humorous situations. For example, when the PC sports a leg cast due to someone tripping over his power cord, it gives the Mac a chance to bring up the detachable MagSafe adapter.
The result: The ad spells out the Mac's advantages in a way that's both accessible and memorable for the average user. "Apple has had a strong focus on retail and the consumer since Steve Jobs returned," Rubin said.
Because of the "Get a Mac" campaign's reliance on dialogue, Apple has also localized them for other markets. Both the U.K. and Japan now have their own version of the "Get a Mac" ads, with native actors and situations tuned to the nuances of those cultures. It's all part of the attention to detail that Apple knows it needs in order to compete globally.
"The new Mac and PC ads are one of the best campaigns of all time," Levins said. "It's an extraordinary advertising event."
iPod + iTunes
Whereas the "Get a Mac" ads focus on the Mac's features, the advertising campaign for the iPod is more about style than substance. The iPod already has a large pool of both PC and Mac users, and most people know what an iPod is and what it does. Nowadays, the device is so popular, it's become a commodity.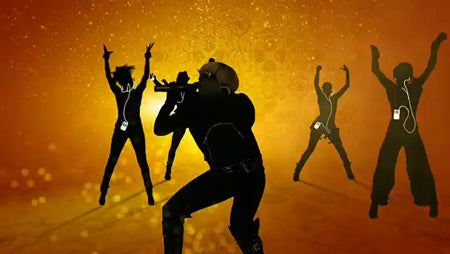 Instead, Apple is looking to convince those in the target audience either that they need an iPod or—as is more and more often the case—that they need a new iPod. The campaigns, which have been around in one form another since 2003, show iPods as fun and hip; in one of the most iconic spots, anonymous silhouettes dance to the beat of some popular new song. Even as the ads have incorporated more recognizable musicians—this ad with Mary J. Blige,for instance—the silhouettes remain. "The stark images of the iPod dancers have really burned themselves into your brain," said Levins.
Music is an integral part of the iPod campaign, even when the improvements Apple is touting are video related. For instance, the spot for the third-generation iPod nano didn't use a movie or a television show to display its new video prowess, but rather a catchy music video featuring Feist.
Note: When you purchase something after clicking links in our articles, we may earn a small commission. Read our affiliate link policy for more details.