At a Glance
Expert's Rating
Pros
Smooth navigation with Apple Remote
Supports a multitude of media formats
Includes impressive Internet-based features
Cons
Some quirks in video playback
Performance can be sluggish
Initial setup instructions could be more thorough
Our Verdict
As its name implies, MediaCentral 2.6.3 is an application that centralizes the media on your Mac in a streamlined, cohesive menu, allowing you to turn your computer into an entertainment center. When you first launch MediaCentral, you will probably be reminded of Apple's Front Row, which serves the same purpose. The main difference between the two is that MediaCentral allows you to access all of your media, while Front Row limits your video and music selection to files in your iTunes Library. MediaCentral also appears to imitate Front Row's menu design, but Front Row is still slightly more stylish and attractive.
If you regularly rip DVDs or download media from sources other than the iTunes Store, you'll appreciate the freedom you get with MediaCentral to browse through and access all of your media. I found some quirks in video playback and performance when testing the program, and I didn't find the user manual to be very helpful with initial setup. But overall, I found MediaCentral to be well designed, intuitive, and fun to use.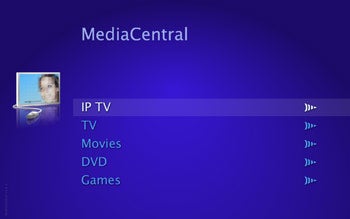 The ideal setup for MediaCentral is to install the application on a Mac that you dedicate to your entertainment needs; you'd then connect that Mac to a television or display. In my testing of MediaCentral, I connected a 1.83GHz Core 2 Duo Mac mini to a ViewSonic VX2245vm ViewDock display using a DVI-to-HDMI cable. While I found this setup to be simple, I was disappointed that MediaCentral's user manual didn't include information on adapters or video cables you'd need to connect your Mac to a television; the steps to do so aren't common knowledge.
Getting started with MediaCentral is easy enough. While launching, MediaCentral automatically scans your hard drive and links to your music, videos, photos, and Flash games; you can then begin browsing through the menu and selecting your media. If your hard drive is bloated with media, this process could take several minutes, since MediaCentral scans for new media each time it loads.
If your Mac is connected to the Internet, you can take advantage of MediaCentral's Internet-based categories—IP TV, Radio, and Skype. The IP TV category, which I was especially impressed with, contains links to video podcasts you can view from several major Web sites; if the category doesn't include a video podcast you subscribe to, you can simply add the stream file to the MY IP TV folder (you can't add files via the program's interface). Similarly, the Radio category gives you access to a list of Internet radio stations to listen to, which you can also customize to your liking. MediaCentral's fully integrated Skype feature stands out as somewhat odd, seeing as telephony isn't exactly a form of entertainment media like the rest of the features, but it's convenient for placing or receiving calls over the Internet.
MediaCentral also can work with a TV tuner for watching ATSC (free, over-the-air) broadcast television stations. This requires plugging in a USB TV device compatible with MediaCentral, such as Miglia's TV Mini Express. After making the proper configurations and programming a list of channels, you'll be able to watch and record TV programs. Fortunately, MediaCentral's user manual carefully walks you through this setup procedure.
You can use your Mac keyboard or your Apple Remote to navigate through MediaCentral. The application does a very good job of integrating the Apple Remote; in MediaCentral's preferences, you can set the Play button to launch MediaCentral. From there, you can use the remote to move up, down, backward, and forward. When playing a video or song, you can also use the + and – buttons on the remote to adjust volume.
Overall, I had a pleasant experience using MediaCentral. With a light amount of media installed on my Mac, MediaCentral worked smoothly and quickly at playing music, watching videos, viewing photos, and playing games. However, another Macworld editor tested MediaCentral on his 1.83GHz Intel Core Duo MacBook, and the program ran sluggishly even though his library only contained 3.5GB of videos and music.
I encountered one minor issue in video playback. When playing videos shown in the 4:3 aspect ratio, I noticed small color bars on the sides of some of the videos, sometimes revealing parts of MediaCentral's blue menu. The bars were small enough to ignore, but they still detracted from the movie-viewing experience. Wide-screen videos, however, didn't suffer from the same issue.
Macworld's buying advice
Giving you immediate access to virtually every media file on your Mac, MediaCentral 2.6.3 makes Apple's Front Row pale in comparison. The application does a fine job at organizing and presenting your media, and its Internet-based features are truly impressive. However, MediaCentral's goal—to give you access to all your media in one place—can feel stifled as you add more media to your library and experience sluggish performance. With some improvements to video playback and performance, and some revisions to the user manual, MediaCentral has the potential to be a powerful piece of software that will turn your Mac into an entertainment center.
[Brian Chen is an assistant editor at Macworld.]