Intel offered a sneak peek of some of the products it will showcase at next month's Consumer Electronics Show in Las Vegas at a press briefing in San Francisco Friday. And while most of the tidbits offered up by Intel executives had a decidedly PC-centric bent, there were a few items of interest that hinted at the direction Mac hardware could take in 2008.
Unlike the names of PC and electronics makers—Asus, BenQ, and Lenovo were among the companies mentioned in passing at Friday's briefing—Apple was never explicitly mentioned by anyone affiliated with Intel. But the chip maker is the sole supplier of processors for Mac hardware. And while past Intel press events have featured nary a mention of Apple, the processors unveiled there have a habit of finding their way into Mac hardware—consider the July 2006 unveiling of the Core 2 Duo processors that wound up in updated Apple laptops later that summer.
Laptops again figure to be the most likely Mac beneficiary of the announcements previewed by Intel Friday. The chip maker previewed an update to its Centrino chipset.
Dubbed Santa Rosa Refresh, the forthcoming update offers improved graphics and takes advantage of Intel's new, next-generation 45 nanometer Hafnium-based Hi-k Core 2 Duo mobile processors. Intel expects the new mobile chips, code-named Penryn, to bolster both performance and battery life in systems that use them. Intel says it will introduce the Santa Rosa Refresh update in January.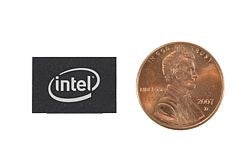 Intel introduced the original Santa Rosa chipset this past May. Elements of that chipset—namely a faster frontside bus and more RAM capacity—were subsequently introduced into the MacBook Pro and MacBook lines as well as the latest iMacs.
Also Friday, Intel unveiled a new product—a solid-state drive a little bit smaller than a fingernail. The 12-by-18-by-1.8-millimeter Z-P140 PATA Solid-State Drive will be available to hardware makers in 2GB and 4GB capacities, though Intel executives pointed out that the Z-P140 can use up to four memory chips for a total of up to 16GB of quick booting, low power drive space. Intel says the drive is part of its proposed Menlow platform for mobile Internet devices and ultra mobile PCs.
The company will reveal more details of its plans next month, when Intel CEO Paul Otellini delivers a January 7 keynote at CES. A little more than a week later, Apple CEO Steve Jobs will do likewise at Macworld Expo in San Francisco.