At a Glance
Expert's Rating
Our Verdict
[Editor's note: The following review is part of Macworld's GemFest 2009 series. Every day until the end of June 2009, the Macworld staff will use the Mac Gems blog to briefly cover a favorite free or low-cost program. Visit the Mac Gems homepage for a list of past Mac Gems.]
I'm a technology writer and avid Mac user, so third-party software is an essential part of my work. To verify this, you need look no further than my e-mail inbox, which is littered with licensing and registration information for hundreds of applications that I've accumulated over the years. I'd made a practice of hoarding them up in a separate mailbox, which made them easier to track. However, that was far from the ideal solution. AppShelf is just what I've been looking for.
When you launch AppShelf for the first time, it mandates that you create a master password, which it then asks for upon every subsequent launch. If you frequently let other people use your Mac and are concerned about the theft of your application licenses, this is an important addition for you. It would, however, have made more sense to allow the option to disable the master password.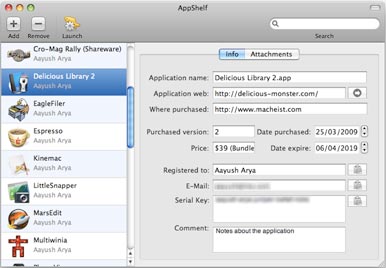 The interface consists of a list of applications in alphabetical order on the left and the details for the selected application on the right. It's worth noting, however, that AppShelf doesn't automatically scan your application folder and add your installed applications to its list; they have to be added manually. A toolbar at the top houses a couple of buttons to add or remove entries and another to launch the selected application. There's also a helpful search field that makes it easier for those with exceptionally large collections to get to a particular application.
The registration details screen stores information such as the application name; software developer's Web site; the purchased version, date, and price; and the registered name, e-mail, and serial key. As mentioned earlier, you can also attach license files for those applications that require them simply by selecting the Attachments tab and dragging them in.
The only thing that AppShelf doesn't offer is a way to sync its data between multiple Macs via MobileMe or any other method. Even with that little caveat, though, AppShelf remains a simple and intuitive application that does the job it sets out to do with aplomb. If you need to track licenses and registration information for a large number of applications, AppShelf is a great way to do so.
Want to stay up-to-date with the latest Gems? Sign up for the Mac Gems newsletter for a weekly e-mail summary of Gems reviews sent directly to your inbox.
[Aayush Arya is a journalism student from India and regular contributor to Macworld. His online haunts include his blog, Penned Thoughts, and his Twitter feed .]