Okay my musician friends, it's time for me to play the role of Santa's little helper. In this holiday-themed article I will be recommending some of my favorite gear. As you'll see, I haven't yet had a chance to write about all of this gear, but I've used it all.
Gibson Les Paul

It just wouldn't be right if I didn't start off with my favorite guitar of all time—Gibson's Zakk Wylde "Bullseye" Les Paul. This guitar is just an animal, with EMG 81 and 85 humbucking pickups that let you talk through your guitar like nothing else will.
That's not to say the guitar doesn't clean up well; it does. Like most Les Paul models, it's versatile, smooth and a joy to play. If you get one of these, everyone in your neighborhood will be jealous.
Red Monkey Guitar Strap
If you have ever strapped on a Les Paul for any amount of time, you'll recognize the importance of a nice guitar strap.
As musicians we often spend so much money on our gear and then scrimp where we have to—often times that is on what we consider to be miscellaneous items. However, carry around a Les Paul for six hours or so and you'll feel like you're carrying around a 50-pound back of bricks.
After getting some advice last year from a very good guitarist that a lot of my shoulder problems were because of my strap and the way I hold my guitar, I decided to investigate. Looking at some of my guitar hero's wide leather straps, I was able to find out where he got them: Red Monkey Designs in Los Angeles.
The guys at Red Monkey were great to deal with and I picked up a black 3.5-inch wide handmade strap. If you go to the shop, they will measure you and then make the strap from the specs.
My shoulder problems are now a thing of the past.
Virtual Instruments
There are a lot of really good virtual instruments available for Mac users, but many of them are very complicated too. That doesn't always fit with my wish of just plugging in and being able play.
When I started using Cakewalk Studio Instruments, I was impressed with the realistic sound and how easy they were to use. You get a drum kit, bass guitar, electric piano, and string section as separate plug-ins that work in GarageBand, Logic and other audio workstations.
Unlike many virtual instruments, you can just hit a button and start playing, which is a great feature for those times you don't want to lose your inspiration.
Apple Loops
I talked about my favorite Apple Loops in a recent article. If you want loops using real instruments and real people playing, you have to take a look at Beta Monkey Music, Bandmateloops and Big Fish Audio.
Between these three companies, you will find any instrument you ever need for a composition.
Digital Audio Workstations
GarageBand is a great app, there is no doubt about that, but when you need to move up, where do you go? I have two DAWs that I use regularly, Logic Studio and Cubase 4.
Both are production quality workstations and both have recently been updated with lots of new features. Like most software, it will depend on your personal work habits to determine which one you like the most, but you really can't go wrong with either one.
Yamaha keyboard
I am not a keyboard player, but I have started teaching myself how to play. I'm no Elton John, but I'm getting there, very, very slowly.
For Mac users there is more to the keyboard than just playing the keys. We can use the keyboard to control virtual instruments and trigger events in songs. I started using Yamaha's PSR-S900 a couple of months and have been very impressed with the quality of that unit.
Again, for me a lot of what I do comes down to sound quality. Out of the box and not being that experienced, the Yamaha rig let me get right down to business, which is exactly what I wanted to do.
Pocket Pod
Perhaps the most-requested article idea I've had is audio interfaces for the Mac. I've been working hard on getting it done, but there are a lot of units out there that I want to discuss.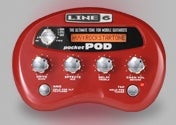 For now, I have draw your attention to one of the smallest, coolest little devices out there, Line 6's Pocket Pod. I must admit I chuckled a little when I opened the box: it's so small that I couldn't possibly see how this thing could give me any kind of decent tone.
The Pocket Pod includes over 300 presets, 32 classic and modern amp models, and 16 cab models. And it literally fits in the palm of your hand.
It doesn't matter if you're an experienced guitarist or just starting out, this thing will help you beef up your sound, especially when you're just playing around.
I'll have a larger article on audio interfaces for the Mac in the coming weeks.
Variax guitar
I took at the look at the Variax modeling guitar last month, one of the coolest instruments I've run across.
There are 25 Variax guitar models built-in, ranging from a 1960 Fender Telecaster Custom and a 1952 Gibson Les Paul Goldtop to a 1959 Martin D-28 and a 1935 Dobro Alumilite. And the Variax allows you to program alternative tunings that can be changed on the fly, while you're playing.
Guitar amps
There are a lot of great amp makers out there and I've had the opportunity to try out quite a few. A couple that I've written about recently that deserve some consideration are the Peavey JSX Head and the Randall MTS.
The Peavey JSX is a three-channel amp—Clean, Crunch and Ultra. The Clean channel gives you controls for volume, bass, mid and treble, while the Crunch and Ultra channels have controls for gain and volume, bass, mid and treble EQ, and include a FAT switch for boosting your sound even further. The amp also has a master volume control, which really gives you a lot leeway to crank up the channel volume to get the most out of the tubes.
The Randall MTS takes a different approach altogether, and one I really came to like. Randall went modular with the MTS Series. That means you can slide out the tone control circuits (often known by its more technical term, guts) and replace it with another module that is based on a different circuit—often with completely different tubes—which gives you a completely different tone.
Sennheiser Wireless Guitar System
I've plugged my guitar into amp for as long as I've been playing. I tried wireless systems in the past, but they just seem to take too much away from my tone, leaving it kind of empty sounding.
However, I just started playing with the Sennheiser ew 372 G2 wireless system and my old thoughts about wireless are gone. I plugged into this unit figuring that I would be disappointed, but I was blown away.
I played it through my amp, the PA system, with plug-ins, every way that I could think of and it held my tone no matter what I did.
The Sennheiser system has 1,440 tunable UHF frequencies; I just picked the first one and went for it. I walked two floors above the unit in my house and it never lost connection once and the tone never faltered. I recorded everything to be sure.
I think I'm done with cables.
Monitoring your sound
I've tried out a couple of systems to monitor the sound coming from my studio setup.
The first are the KRK VXT8. These are 120-Watt monitors with a huge sound and all the controls you will need to hear your mixes the way you want them to be. The backside of the monitor includes switches for system-level adjust, ground lift, clipping indicator, auto mute and HF (high-frequency) adjust.
If the KRK's have too much power for your needs, you can always try out the EXO from Blue Sky, a high-end audio company that knows sound.
The system has a nice big subwoofer and a separate bass control, so you can pump it up if that's the sound you are looking for. The EXOs are suitable for a lot of different situations from everyday listening to monitoring your GarageBand songs.
Mixer
I've covered a lot of material today, but what about mixing your sound? The mixer I've settled on recently is the Yamaha MG166-CX USB.
I like the Yamaha for several reasons. It's compact, which is important for my studio; it has the inputs on the topside of the mixer, so I can plug things in easily; and I can plug it right into my Mac.
There are many different ways to plug in a mixer to your Mac and I've tried many of them with varying results. The Yamaha mixer, responded right away for me, the controls were where I expected them to be and it worked every time. (For those of you who have tried mixers, you know this isn't always the case).