I've been keeping this one to myself for ever so long—mainly because I'm pretty sure that were this service to become widely known it would attract the attention of the music industry's legal hounds—but, what the heck, it's the holidays. Consider it my little gift to you and yours (unless you and yours become so much meat and gristle for said law dogs, in which case, I wave a sympathetic nog in your direction).
That little gift is SeeqPod, a music search and discovery service. It works this way: Grab your iPod touch or iPhone (or your computer, if you like), and travel to SeeqPod via your web browser. Here you'll find four entries: Search, Discover, Popular Artists, and Popular Playlists.
When you tap Search a search field appears. Type in the name of an artist, album, or track you'd like to look for and tap Search. A page of results will eventually appear. Tap one of the results and an MP3 version of the track will stream to your device. The links you tap are sometimes dead so won't play.
When you tap Discover and enter an artist's name, tracks by other artists that SeeqPod believes would interest you appear in the results screen. Again, tap an entry to listen to it.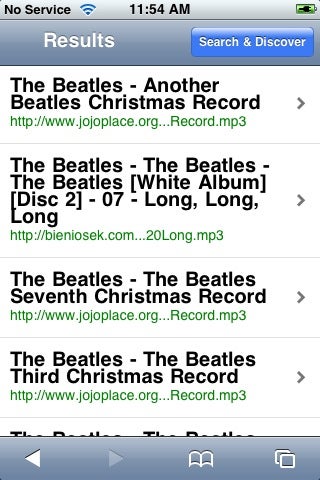 Tapping Popular Artists reveals the A – Z screen. Tap one of the letters and artists whose names begin with that letter appear in the succeeding screen. Tap an artist's name and a list of available tracks appears in the next screen.
Finally, tap Popular Playlists and the next screen shows By User Name and By Playlist Name. You can probably guess what tapping on these entries does. Okay, maybe you can't guess all of it. Playlists don't play from one track to the next. You have to tap each song on a playlist to hear it.
So, streaming music—much of it you actively seek by title, artist, or album—delivered for free to your Internet-connected iPod touch, iPhone, or computer. Very cool.
SeeqPod isn't the only service doing this kind of thing. Although it won't work on an iPhone or iPod touch because the streaming media isn't in a format compatible with these devices, Dizzler can just as easily stream music and video to your computer. Also worth a look.
Legal? These places claim they're simply conduits for freely available content and therefore not responsible if someone posts copyrighted material and their search engines pick it up.
Ho ho ho?
Beats me, all I know is that they're an easy way to dial up and discover music. While they're still around I'm going to take advantage of them. You might wish to as well.