While we here at Gadgetbox's volcano-top lair are unarguably proponents of gadgets of all shapes, sizes, uses, and creeds, we are firmly opposed to the superfluous gizmoetry that is more and more encroaching upon the world. So though there's plenty of worthwhile gear you might choose to bestow upon friends or family this gift-giving season, today we feature a handful of products that you may want to think twice about before stowing under the tree.
A much better solution, however, is to use our selection below as a jumping-off point for getting that elusive present for the hard-to-shop-for mortal enemy in your life. Because, you know, there just isn't enough thought put into those gifts for the archrivals that keep you on your toes—balanced precariously on a tightrope over a pit of lava swimming with special heat-resistant sharks, of course.
No business like snow business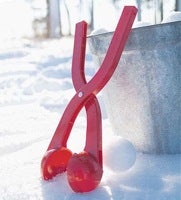 I'm hardly an old fogey, but there are some things that, to my mind, are far better accomplished by the tools we were given by nature. No need to invent new tools, right? I mean, I know it's what sets us apart from the apes and giant salamanders, but come on: a snowball-maker?
When I was a boy, we made snowballs with our bare hands. Little Jimmy Mulligan down the street lost two fingers to frostbite, but he was the best snowball-packer on the block and I tell you this: he'd never have stooped so low as to use tongs to create one of his ice-cored slushball masterpieces. An ice cream scooper? Maybe in a pinch. Maybe.
What it says to your nemesis: "You're so incompetent, you can't even make a snowball without a $9 plastic contraption." Plus, while they're busy creating perfectly spherical snowballs with this thing, you can pelt them mercilessly with the baker's dozen of handmade ones you've made in the meantime.
[via Gizmodo]
Colossal MP3 player is large and…that's it, just large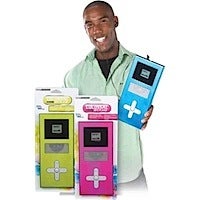 Apple may control the lion's, tiger's, and bear's shares of the MP3 player market, but there are certain dark, hidden niches in which the iPod line cannot even hope to compete. I mean, the shuffle is among the smallest, most compact players on the market—but what of the flip side? Where's Apple's entry in the comically huge media player segment?
Perhaps Apple has decided it's wiser not to even compete with the likes of the Colossal MP3 player. Following in the footsteps of such legendary groundbreaking products as the Colossal Calculator, the Colossal MP3 Player offers 256MB of flash memory, a monochrome LCD display, and an enormous cross-shaped control pad, itself roughly the size of an iPod. Plus, it'll fit perfectly into your shoulder bag—assuming that it's otherwise completely empty.
What it says to your nemesis: "Your clumsy paws and pea-brained intellect are incapable of using something as simple as an iPod. And your fashion sense was left somewhere in the '80s. When you lived in the land of the giants."
C'mon baby, light my fire (remotely)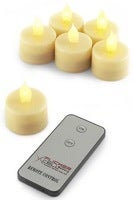 Look, I know fire's dangerous—but that's the fun of it. I'm not a fan of those fake LED candles, even the ones that flicker "realistically." Come on, fire was a gift from Prometheus at the first Christmas or something—the guy's spent the last eternity getting his liver chewed out by an eagle for giving it to us, and you want to be all "Hey, Pro, baby, hate to break it to you, but we've got fake fire now. Good luck with that whole bird thing!"
As if that's not bad enough, now we add a remote starting feature to fake candles? Yes, because nothing sets the mood like digging around for yet another remote control on your crumb-ridden futon. For the ultimate in dorkiness, you'll want to figure out how to get this working with the universal remote of your choice—may I recommend the Logitech Harmony 1000?
What it says to your nemesis: "You cannot be trusted with real, house-burning-down fire. You know what, come to think of it, you probably shouldn't even attempt to operate a fake candle except from a safe distance."
[via Red Ferret]
With less than a week to go before Christmas, it's coming down to the wire to pick up those last minute gifts for your own felonious foes. If we manage to survive the annual December 25th madness, we'll see you next week for the—gasp—last Gadgetbox of 2007.