At a Glance
Expert's Rating
Pros
Nice design
Excellent macro mode
Good interface, good video quality
Cons
Slight but correctable color cast
Weak flash
Easy Auto mode doesn't really work
Detail problems
Our Verdict
Years ago, Nikon was one of the first major companies to come out with a high-quality point-and-shoot camera for the serious photographer. That camera, the Coolpix 900, had a 1-megapixel sensor and cost around $800. Eleven years later, you can pick up Nikon's 8-megapixel Coolpix L19 for around $100. Aimed squarely at the snapshot shooter, the L19 is a great alternative to a mobile phone camera.
The L19's compact, sturdy design is easily pocketed, while its handgrip and controls layout make for simple one-handed operation. The 2.7-inch LCD screen is good enough that you shouldn't have a problem viewing it in daylight, though it can show streaking artifacts when used in very bright light. Like other cameras at this price, the L19 lacks an optical viewfinder.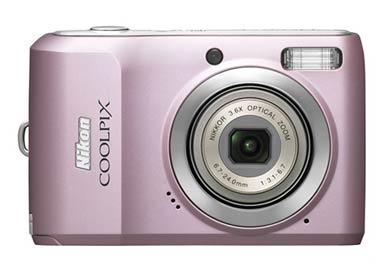 As with all snapshot cameras, you'll predominantly use the L19 in auto mode. Nikon has actually included two auto modes: a standard auto mode that makes all critical exposure decisions for you, and an Easy Auto mode that attempts to identify your shooting conditions and automatically switch to an appropriate scene mode. In most cases during testing, the Easy Auto mode didn't do a particularly good job of identifying the scene, so you're usually better off with standard auto mode.
Auto mode is very capable, with fast, accurate autofocus that performs very well in daylight or night shoots. The metering is also very good, though it occasionally overexposes; sometimes it has trouble with bright highlights, and other times it has trouble with bright reds, which can get blown out to a supersaturated red that lacks detail.
Like most point-and-shoots, the L19 includes lots of scene modes, which tailor the camera's decision-making to specific situations. This Coolpix doesn't include as many modes as other cameras I've tested, but its more refined set is a little easier to work with, because the assigned situation for each mode is more obvious. The most useful scene mode is the Night Portrait mode, which allows you to shoot flash portraits at night without rendering the background completely dark.
In general, flash performance on the camera is weak, with flash pictures often exhibiting a strange color cast and poor exposure.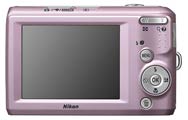 The L19 has face detection that automatically identifies faces and focuses on them, as well as smile detection, which is supposed to automatically take a picture when the subject smiles. As with other cameras' smile-detection feature, the L19's doesn't really work.
Nikon has crafted a nice interface for the L19. You can change modes with a single button on top of the camera, and quickly invoke playback mode using a dedicated playback button.
As with many Coolpix models before it, macro shooting is a standout feature on the L19. The camera can get incredibly close to a subject when in macro mode, producing sharp, impressive results.
Image quality
Like its competitors, the L19 is hobbled by a low-quality lens that has trouble rendering fine detail and often produces strange, mottled color. That said, if you'll mostly be viewing your images on a computer screen or on 4-by-6-inch prints, the L19 will yield good results.
Jury tests
| | |
| --- | --- |
| Image Clarity | Good |
| Color Quality | Good |
| Flash Quality | Fair |
Scale = Superior, Very Good, Good, Fair, Poor
The L19 offers ISO settings of up to 1,600 and does surprisingly well at higher speeds, producing images with more noise, but not an unattractive noise pattern.
Color casts are a bit of an issue with the L19's images, but they're not terrible and are easily corrected in iPhoto.
The L19's video camera is decent, offering good image quality with 640 by 480 resolution at 30 frames per second with sound. The camera, when recording video, is sometimes a little slow to change its metering as you move the L19 around, which means shadow areas can stay dark too long, and bright areas can end up overexposed for a while. The ability to shoot movies in macro mode is particularly cool, and a lot of fun.
Specifications
| | |
| --- | --- |
| Resolution | 8 megapixels |
| Zoom/Focal Length (35mm equivalent) | 3.6x/41mm to 145mm |
| Battery Type | 2 AA |
| Media Slots | 1 (SD, SDHC) |
| Size (W x H x D) | 3.8 x 2.4 x 1.2 |
| Weight | 4.6 oz |
Macworld's buying advice
The Coolpix L19 is a good camera for a hundred bucks. If you can afford a little more, you'll get better image quality, but if budget is a primary factor, then this is a great alternative to a camera phone.
[Macworld senior contributor Ben Long is the author of Complete Digital Photography, fourth edition (Charles River Media, 2007). More of Ben's work can be found at Complete Digital Photography.]