At a Glance
Expert's Rating
Pros
Widescreen support
Mac and PC multiplayer support
Updated roster
Cons
Buggy initial release
No MacBook support
Steep learning curve for gridiron newbies
Our Verdict
It's been years since there's been a good gridiron game for the Macintosh. And not coincidentally, that last good one was Madden NFL 2000. Electronic Arts (EA) is back in the Mac game business after more than a decade (the last Madden game was ported by Aspyr), and one of the six titles it's brought forth is Madden NFL 08, the latest version of the storied franchise that features the play-by-play commentary of John Madden.
Madden NFL 08 hasn't really set the PC gaming world on fire, because it's mainly an updated and rehashed version of the 07 product. That's not a bad thing—the 07 release was well-regarded. It's just that while the franchise got an overhaul to run on newer platforms like the Xbox 360, Wii and PlayStation 3, PC gamers were left underwhelmed by the changes. But it's been many, many seasons since Madden made its last appearance on the Mac, and this is a totally different gaming experience.
The game features a sharp user interface and a soundtrack of popular music hits. It's all the production value you'd expect from the glitz and glamour that today's NFL seems to demand. You have the whole roster of NFL teams, stadiums and players to choose from, and you can play current or historic teams. You can also create your own teams, players, and even populate the stadiums with custom fans if you'd like, using built-in tools.
Once you're on the field, you have a few different options as to how you'll control the game. If you have a game controller you can use it; if you prefer to use the mouse and keyboard (or just the keyboard), that's your choice as well. Playing on my MacBook Pro, I opted for the keyboard route, as the mouse method rather extensively utilized right-clicking, which is awkward to do with the Apple trackpad, and I didn't feel like using an external mouse.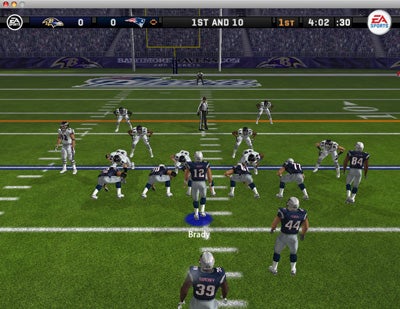 Gameplay itself is fast and furious. You have an extensive playbook of built-in plays to call from (you also have options there if you want to build your own playbook of favorites), and once you're on the field playing either offense or defense, you'll be able to control key players during each play to try to make a difference.
The visual realism of the game is fantastic—stadium lights glimmer off helmets, and in the cold weather, you'll see the misty breath of players on the field (water will even bead up on the "camera lens" if it's raining). You have fairly extensive control over graphic and video elements for the game; Madden NFL 08 even supports widescreen displays natively, so you can use the full expanse of a 17-inch display on a MacBook Pro or a 20-inch iMac screen. And like other games that use TransGaming's Cider technology to play on the Mac, Madden NFL 08 supports a windowed mode (you hold down the Command key and press Return), though I wouldn't recommend trying to run any other applications while you're playing. Anything that demands the CPU's attention is going to slow the game down—dramatically, in some cases.
If you're familiar with how Madden plays on the consoles or on PCs in years past, there are a few augmentations here that are probably worth noting, such as a new "read and react" system that lets you, as the quarterback, scan the defensive line to recognize strengths and weaknesses, allowing you to call an audible play to take advantage or bolster your defenses. An enhanced "Hit Stick" feature lets you take down your opponents more forcefully than before when you're playing defense, tripping up the legs of a receiver, for example, or shaking the ball loose to cause him to fumble. EA says AI has improved, too, but you'll still catch computer-controlled players doing some painfully stupid things. Sort of like real life. Maybe the AI is better.
Let me be frank here: Madden NFL 08 isn't for someone with only a passing interest in gridiron football, or someone who doesn't know or care about the game. Football is a technically intricate game with sometimes bizarre and confounding rules, and Madden NFL 08 doesn't really do anything to mitigate that; this is a sports game for fans of the game. It's also a sports game that presumes people who are playing it today are familiar with the franchise, which may not be the case if you've limited your experience specifically to Mac gaming. But in the end, I'm just happy to have Madden back on the Mac.
A patch released by EA a few weeks after the game began shipping is vital, as it fixes a Leopard-related menu display bug that made the game pretty much useless on the system I tried to play it on. It also includes an updated roster for multiplayer gaming online. You can grab that file from Macgamefiles.com; it extracts as a .TAR archive into an application that will patch the copy of Madden you install from the DVD. So please make sure to grab it before you start playing. It also lets you play online against Mac and PC opponents alike, using EA's own online service, which is free.
As I noted, Cider made this game's Macintosh release possible. That means that this won't run on PowerPC-based Macs, and it also means you're going to need a Mac with a discrete graphics card. Forget about it if you're a MacBook user, unfortunately—you really need the graphics you'll find in the MacBook Pro, iMac or Mac Pro to get the most out of this game.
The bottom line
A flawed release off the mark that's been fixed with a downloadable patch, the legendary Madden game franchise makes its triumphant return to the Mac with Madden NFL 08, and in plenty of time for the playoffs.