When Apple announced the Quick Look feature in Leopard back in October, I got excited at the notion that I might finally be able to view my InDesign and Illustrator files in the Finder without having to open them—much the same way I've always been able to do with Photoshop images. Unfortunately, upon installing Leopard I quickly found that Quick Look doesn't work with InDesign and Illustrator files.
Thankfully, Code Line Communications came to the rescue for millions of InDesign and Illustrator CS3 users everywhere with the release of SneakPeek Pro. SneakPeek lets you not only see a preview image of their InDesign, Illustrator and EPS (Encapsulated PostScript) files, but valuable information about the files including colors, images and fonts used in the documents—all in the now familiar Quick Look window accessible by hitting the space bar with any file selected.
But SneakPeek doesn't stop there. You can also view those previews when you have your Finder windows set to Cover Flow mode, and in standard Open and Save dialog boxes too.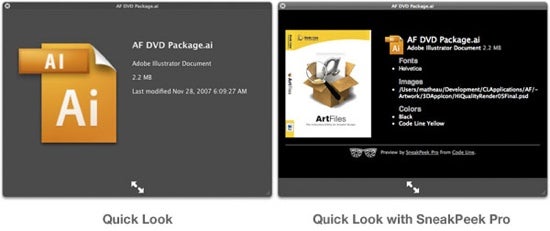 Code Line offers a 15-day unlocked demo of SneakPeek to get you hooked, and it can be purchased online for $20, although they're currently offering it for $15. SneakPeek Pro obviously requires Leopard to use, and only works with CS3 files. While I didn't have a licensed of SneakPeek to test, the demo worked on every CS3 file I tried it on.
If you work with a lot of InDesign, Illustrator or EPS files, this will surely be a huge timesaver.
PDF Booklet Maker
Christoph Vogelbusch has created a PDF service called Create Booklet which adds a new export command to your Print dialog's PDF menu. When you select it, the service converts your document into a PDF for printing as a booklet, making it easy to simply staple the printed pages down the middle.
You could do all this by hand in your document by moving pages around and combining them in printers' spreads, but Create Booklet does it all for you with a very slick Automator action.
Create Booklet is free and requires at least Mac OS X 10.4 (Tiger) and a printer capable of full-duplex printing.
Free time management e-book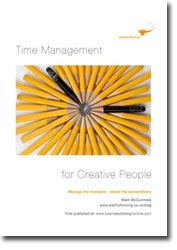 With all the time you will save when using the two previously mentioned utilities, you'll surely end up with some spare time to work on saving even more time. To help you with that, Mark McGuinness, of Wishful Thinking, has posted a series of articles discussing time management for creative professionals. And in the spirit of saving you the time you would have to spend visiting several different Web pages to read all of his tips, Mark has made the series available as a free, PDF-based e-book, Time Management for Creative People.
[James Dempsey runs the Creative Guy blog, which offers tips, tricks and opinion on a variety of Mac OS X and design topics.]