At a Glance
Expert's Rating
Pros
Easy to set up
Inexpensive
Longer range than a Bluetooth headset
Good battery life
Cons
Ringtone not customizable
No display on handset
Not possible to initiate conference calls from the Phone Book interface
Only shows online buddies with voice capability
Our Verdict
Skype ( ) and iChat ( ) are fantastic free voice communication tools, but unless you invest in a wireless headset or handset, your use of these programs will be confined to your desk. Miglia's DialogPhone provides a useful solution to this problem, so you'll be able to wander away from your Mac as you speak.
The product includes a simple plastic handset and a transmitter that plugs into a Mac USB port. The handset is a sleek-looking, AAA-battery-powered unit with an earpiece, microphone, volume control, mute key, and power button. About the size of a cell phone, the handset has no display. A rugged flip-down antenna allows the USB transmitter to be easily stored.
Miglia also provides a software phone book program that displays a combined friends list, bringing your iChat and Skype buddies together in a single window. Icons differentiate between iChat and Skype buddies. A double-click launches a call to anybody in the list. Placing calls is a snap, though the phone book software doesn't support launching multi-party conference calls. You'll also need to be at your Mac when you place a call, as you can't use the handset by itself to do so.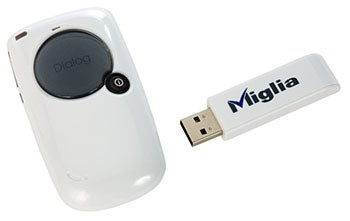 When you receive an incoming voice chat request, you'll hear an alert on both your Mac and the DialogPhone handset. The handset's alert tone cannot be customized.
The phone book program allows you to hide the iChat and Skype windows to reduce desktop clutter, but this feature is essentially useless because the software only shows friends with voice capability as being online. It would be handy to know if a friend is actually offline, or if they're just voice-disabled at the moment.
In addition to Skype and iChat, the DialogPhone supports Gizmo Project ( ), an Internet telephone program, since it appears as a USB headset. Call quality was similarly good on Skype, iChat, and Gizmo Project, though audio drop-outs occurred frequently as I moved the handset more than 30 feet away from the transmitter.
Macworld's buying advice
For voice chat users who spend a lot of time near a Mac (but not right in front of it), the DialogPhone provides more freedom and mobility than a Bluetooth headset. If you're mainly concerned with not missing an incoming voice chat request, then the DialogPhone is an ideal solution at an appropriate price. However, if you need to place calls from the handset while you're away from your desk, consider Miglia's more advanced wireless handset, the Dialog+, which includes a scrollable phone book display and a full keypad.
[Ted Wallingford is the author of VoIP Hacks (O'Reilly, 2006) and the co-founder of Best Technology Strategy in Elyria, Ohio.]