At a Glance
Expert's Rating
Pros
Offers photo-sharing support
Backs up files as soon as they change
SmartPicks for dynamic file selection
Cons
Restoring SmartPicks is tedious and awkward
Doesn't work with optical media
Poor support for large files
Limited iDisk support
Our Verdict
Memeo's LifeAgent 2.1.71 attempts to address some limitations found in other backup programs, including Apple's Backup ( ) (for .Mac members) and Time Machine. While LifeAgent performs some tasks brilliantly, it has significant shortcomings that diminish its overall appeal.
Like Backup, LifeAgent is based on plans—sets of backup source items and the destinations where they're stored. You can have as many plans as you want, and LifeAgent backs up different sets of files to different locations simultaneously. For extra security, you can optionally encrypt any plan's backups.
For each plan, a setup wizard walks you through the process of selecting files and choosing where they'll be stored: internal or external hard drives, network volumes, or—for an additional fee—Memeo's Internet Disk (costs range from $3 per month for 500MB of data to $12 per month for 2GB). LifeAgent does not support optical discs as destinations, and can currently use an iDisk only if iDisk Sync is turned off in the .Mac pane of System Preferences (a fix is reportedly in the works).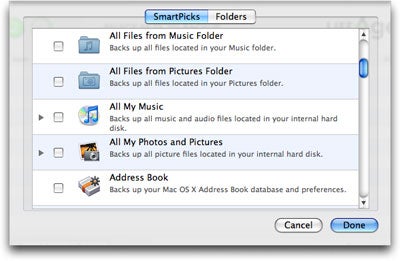 LifeAgent uses prepackaged sets of files called SmartPicks (equivalent to Backup's QuickPicks) to easily specify what you want to back up—your Address Book or Mail data, say, or all the Microsoft Word files in your user folder. Most SmartPicks are based on Spotlight searches and are dynamic: if you create a new Word document, LifeAgent recognizes it and backs it up automatically. You can also select individual folders (though not files) to back up or to exclude.
A clever addition to the selection of backup features is the inclusion of support for the Shutterfly photo-sharing service. You can set up a special plan that keeps Shutterfly updated with the contents of your iPhoto library (or any folder of photos you choose). Memeo says support for additional photo-sharing services is forthcoming. Unfortunately, though LifeAgent lets you back up your entire iPhoto library, you can't select just certain albums; it's all or nothing.
Where LifeAgent truly breaks the mold is in its scheduling feature: there isn't one. Instead, LifeAgent immediately backs up any file meeting the criteria you've specified, as soon as it's created or saved. Instant backups have their downside, though. If you frequently change a large file, LifeAgent dutifully backs it up after each change, but in so doing stays busy most of the time and rapidly uses up space on your storage device. If you happen to modify a file while LifeAgent is in the process of backing it up, LifeAgent stops the backup.
To restore data, you select a backup plan and, within that plan, the particular file(s) or folder(s) you want to restore. You can also search your backups for matching file names. Files can be restored to their original locations or to another folder. If you've backed up more than one version of a file, you select the version you want by clicking a radio button. But herein lies a major design flaw: the Restore feature doesn't treat incremental backups of SmartPicks as a unit. For example, suppose you used the Address Book SmartPick. If you want to recover the most recent version of all your Address Book data at once, you can do so easily. But if you want to restore Address Book to the way it was at a particular point in the past, you must select every single file in your Address Book data—perhaps hundreds or thousands—and, for each one that has multiple versions, choose which version to restore.
LifeAgent was designed to work only with items in your user folder. Backups of files that originated elsewhere, including applications, do not always preserve their correct ownership and may not function correctly after being restored. Also, the program can't back up your entire disk or create a bootable duplicate.
In my testing, I found some other troubling anomalies. For example, sometimes LifeAgent failed to notice that a new file had been created in a folder it was backing up—even after the file had been modified several times. In addition, although LifeAgent alerts you when its backup destination is missing, it doesn't always notice when it becomes available again; as a result, you may assume backups are taking place when they aren't.
Macworld's buying advice
The concept of instant and automatic backups is a good one. But LifeAgent 2.1 needs significant work, especially in the area of file restoration, to contend with the likes of Time Machine.
[Joe Kissell is the senior editor of TidBits and the author of the e-book Take Control of Mac OS X Backups ( TidBits Publishing, 2007).]