Given that the word "iPod" has become synonymous with "portable music player," it's easy to overlook other Apple-related music matters in 2007. Yet the year brought significant changes to the musical landscape in regard to online music distribution and digital rights management. And in most cases, Apple was at the heart of them.
iPod developments—and there were a few this year—will get their moment in the spotlight later in the week; today, we'll focus on other matters musical, including the death of DRM, the emergence of an iTunes rival, and the ability to buy digital tracks without having to set down your Starbucks frappuccino.
Macworld Expo: iTunes sales, Apple TV, and iPhone
Apple entered 2007 riding a continued wave of strong sales at its iTunes Store—a point Steve Jobs made clear during his keynote at January's Macworld Expo.
"There was an article recently that said iTunes sales have slowed dramatically," Jobs told Expo attendees. "I don't know what data they're looking at. What we see is iTunes sales were really up this year." According to Jobs, Apple doubled the number of songs it sold in 2006, selling more than 5 million songs a day.
"Isn't that unbelievable?" Jobs said. "Fifty-eight songs every second."
During that same Expo keynote, Jobs showed the general public the Apple TV, Apple's set-top box for playing and streaming music and video to a TV and AV audio system. Originally slated to ship in February, the Apple TV finally hit store shelves in late March. Although the device could play music purchased from the iTunes Store (as well as any music stored in your iTunes library), you couldn't buy music directly from the Store via the Apple TV. And as 2007 draws to a close, you still can't.
Oh, and then there was some mention of a video iPod, Internet communications device, and mobile phone.
Jobs' Thoughts on Music
Another development from 2006—governments from a number of European countries questioning Apple about its digital rights management (DRM) practices—influenced events in 2007. Norway, for example, gave Apple a March 1 deadline to reveal its future DRM policy plans.
In early February Steve Jobs posted Thoughts on Music in which he declared, "If the big four music companies would license Apple their music without the requirement that it be protected with a DRM, we would switch to selling only DRM-free music on our iTunes store." Met with cynicism in some corners, pundits questioned if this was simply Apple's attempt to shift the blame and avoid taking on the European Union. As it turned out, the company had a different goal in mind, as we'll see below.
Amazon and TiVo sitting in a tree…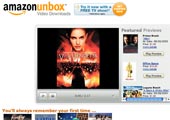 The iTunes Store was clearly popular enough to tempt other entities to try their hand at distributing media online. In early February two of the largest media outfits joined forces and proclaimed their intention to do exactly that.
Amazon and TiVo announced that TiVo users should soon have the opportunity to purchase and download TV episodes and movies from Amazon's Unbox service. The service went live in March. For the most part, it didn't catch on as those who tried it found a limited selection of content and discovered that full-length movies took several hours to download.
The decline of DRM
In April, Steve Jobs joined EMI CEO, Eric Nicoli, to put some teeth behind February's Thoughts on Music. The two announced that EMI would offer an unprotected version of its catalog at the iTunes Store. These unprotected tracks, termed iTunes Plus, would be available for $1.29 each (versus 99 cents for the protected version). Those who already had the protected version could upgrade for 30 cents per track or upgrade albums for one-third the album's current price. Not only were the tracks unprotected but they were available at higher bit-rates, AAC at 256kbps versus the protected tracks' AAC at 128kbps.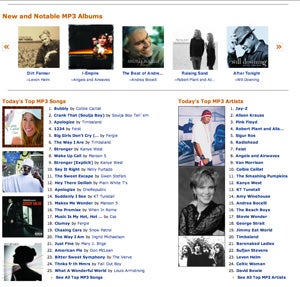 But that wasn't the final word on DRM-free music, and it wasn't just Apple forcing the issue. In late September Amazon launched a public beta of its online music store, Amazon MP3. Unlike the iTunes Store, songs sold at Amazon's store were completely unprotected and offered at high bit-rates, sold as 256kbps MP3 files.
Additionally, these tracks were offered at prices lower than the Apple equivalent—89 or 99 cents for unprotected tracks versus Apple's $1.29 price for iTunes Plus tracks. Popular albums were sold for $8.99 rather than iTunes' $9.99 and higher price. Amazon MP3 also offered unprotected tracks from labels that still imposed copy protection at the iTunes Store, specifically Universal Music. Independent artists' music was also offered in unprotected form at Amazon MP3.
Not long after the successful launch of Amazon MP3, Apple reduced the price of its iTunes Plus tracks from $1.29 per track to 99 cents each. Apple also removed the copy protection from much of the music found on independent labels.
Use our technology, or else
April showers brought May lawsuits as Media Rights Technology (MRT) filed suit against Apple and other media companies for offering content that violates the Digital Millennium Copyright Act (DMCA) and intellectual property laws. Specifically, MRT claimed that music streamed by companies such as Apple could be easily captured. Coincidentally, MRT sells a technology to prevent such capturing. The company claimed that these companies actively avoided using MRT's technologies.
Give us control, or else
Further on in the news of Demands and Waah, Universal Music Group, one of the Big Four music labels, chose to not continue a long-term arrangement with Apple and the iTunes Store. Although it didn't threaten to pull its music from the Store (as did NBC Universal with its TV programming later in the year), it did free UMG to make exclusive deals with other companies.
One final note on the simmering Apple-NBC Universal feud: In the fall, the media giant joined forces with News Corp.'s Fox to launch a beta of an online video service. Dubbed Hulu, the NBC Universal-News Corp. joint venture was meant to compete with both online media stores such as iTunes, as well as video-sharing sites like YouTube.
Ring in the new
The people who keep track of these sorts of the numbers tell us that custom ringtones are a huge business, yet what was shaping up to be the most popular mobile phone of the year, the iPhone, didn't support them. But that didn't stop third-parties from trying. Ambrosia Software was one of the first in with its iToner, a $15 utility for adding custom ringtones to the iPhone. Rogue Amoeba joined the party with its free MakeiPhoneRingtone utility.

These efforts presaged Apple's approved method for creating and adding custom ringtones—purchasing them for 99 cents from the iTunes Store. By year's end, the GarageBand 4.1.1 update gave users the ability to create their own custom ringtones.
Wi-Fi? Because it's there
Early autumn traditionally brings a new crop of iPods, ready for the upcoming season. 2007 was no different. But in addition to the new third-generation iPod nano, iPod classic, and iPod touch, Steve Jobs introduced the iTunes Wi-Fi Music Store.
Available on the iPod touch and iPhone, the iTunes Wi-Fi Music Store made it possible for those connected to a Wi-Fi network to preview and purchase music (but not video) from the iTunes Store.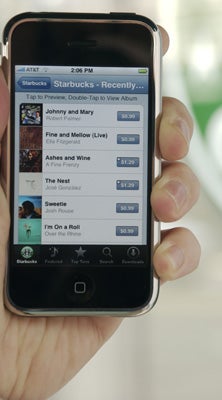 In addition, Jobs and Starbucks CEO, Howard Schultz revealed that iPod touch and iPhone users (as well as those using Mac and PC laptops) would be able to purchase Starbucks-branded music at their local green-and-white coffeeteria. The service began its rollout in Seattle and New York in October. San Francisco was brought on board in November. Starbucks in other major cities go live in 2008 and, by 2009, Apple and Starbucks expect all Wi-Fi stores up and running.
Unfinished business
The year comes to an end without some predicted (or, at least, wished-for) events occurring. Although each of the Beatles' individual catalogs appeared at the iTunes Store, the Beatles qua Beatles did not (though Led Zeppelin finally did). A hoped-for media rental model that might have fit the Apple TV like a glove never materialized. And while Microsoft released a far better version of the supposed "iPod killer"—the Zune—the Zune 2, like its predecessor, failed to set the world on fire.
Though the world of technology and music changes in sometimes alarmingly unpredictable ways, it's nice to know there's something you can count on.
[Senior editor Christopher Breen stays on top of digital music in the Playlist blog.]