At a Glance
Expert's Rating
Pros
Fast
Automatic OCR
Handles small and oversize pages
Automatic two-sided scanning
Cons
OCR software can't keep up with scanner
Fairly expensive
Quick Menu feature doesn't work with Entourage
Our Verdict
Since we reviewed the original Fujitsu ScanSnap scanner more than two years ago ( ), the ScanSnap has gone through two more incarnations. The latest model, the S510M (the Mac version of this product), improves on the original model's already good design with faster performance and smarter software.
Unlike flatbed scanners made primarily for scanning images, the ScanSnap has a compact, upright design more appropriate for scanning documents. It can churn through stacks of up to 50 sheets of paper at a time, scanning both sides of the page at once (with a rated top speed of 18 sheets, or 36 sides, per minute—up from 15 sheets per minute on the original model). The scanner automatically detects the paper's size, orientation, and whether the document is in color. The ScanSnap's 600-dpi optical resolution is ideal for scanning office documents and adequate, if not terrific, for photographs.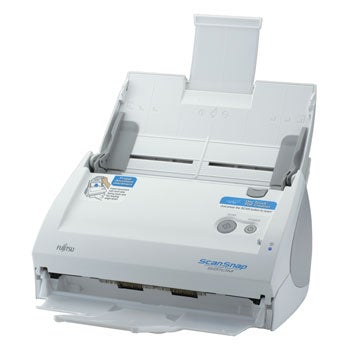 Saving scanned documents as printable, high-resolution images is useful, but being able to search, select, and copy the text in your scans is better still. You could accomplish this with the original ScanSnap by manually using the OCR feature of the included Adobe Acrobat 7 Standard or by employing an AppleScript Folder Action. But the S510M makes the process much easier thanks to its ABBYY FineReader for ScanSnap software, which can perform OCR automatically (and in many languages). The S510M also includes Acrobat 8 Professional ( ), a $449 value by itself, though FineReader alone does as much processing as most users will need.
The S510M's updated ScanSnap Manager software offers some convenient new options, too. By default, when you scan a document (by pressing the Scan button), a ScanSnap Quick Menu window appears, offering an array of one-click actions: saving your scan to a folder, sending it as an e-mail enclosure (Scan2E-mail), printing it, adding it to iPhoto, or using FineReader to create a searchable PDF. You can opt to skip this window, and instead select one action that will apply to all scanned documents until you change the selection; available actions include sending the scan directly to another application, such as DevonThink Pro Office.
Unfortunately, the Quick Menu window's Scan2E-mail feature works only with Apple Mail, not Entourage. You can enclose scans in an Entourage message by setting Entourage as ScanSnap's default application, but then you must manually change the settings if you want to do something else with your next scan. Aside from that problem, all the one-click options worked as they should.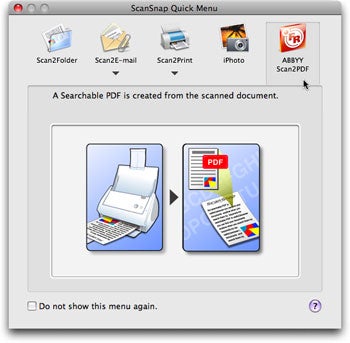 Also, be aware that the scanner will work with the Mac OS as far back as Jaguar (10.2.8), but if you want to use Adobe Acrobat, you'll need to be running Tiger; and FineReader requires 10.3 or higher.
The S510M includes a plastic carrier sheet that you can use to feed small, delicate, or irregularly shaped documents through the scanner. It also lets you scan some oversize documents: if you fold a tabloid-size (11-by-17-inch, or A3) sheet in half and put it in the carrier, ScanSnap Manager can "unfold" the resulting scan into a single full-size image.
The S510M is better than the original ScanSnap at detecting page orientation for small sheets of paper; it's also much less prone to sending through multiple sheets at a time. I encountered no jams when scanning creased or wrinkled sheets, or even pages torn out of a loose-leaf notebook. The only real irritation was that the FineReader software can't keep up with the S510M—or queue scans for later OCR. If you scan a document while FineReader is busy processing a previous scan, you'll get an error message; after the first OCR finishes, you'll have to drag the new scan onto the FineReader icon manually or use the above Acrobat folder action.
Macworld's buying advice
If you want to turn your paper archives into searchable PDFs, it doesn't get any easier than the Fujitsu ScanSnap S510M. At $495 it's not cheap—but its bundled software alone is worth far more than the scanner itself.
[Joe Kissell is the senior editor of TidBits and the author of numerous e-books about Mac OS X.]