When you launch Excel 2008 for the first time, your first impression may be a familiar one. Upon seeing the new version of Microsoft's spreadsheet application I had to double-check that I had, in fact, launched the new version of the program and not Excel 2004.
Aside from a icon changes, minor changes to the basic row/column layout, and a new row of buttons for the Elements Gallery, Excel 2008 could pass for a visual twin of Excel 2004 ( ). That's both good and bad—Excel is a well-established product, and long-time users should feel right at home in the new version. However, given its long gestation period, users may be disappointed to find that the new program seems identical to the old.
What's new
There are new features in Excel 2008, of course. There's a Formula Builder, which simplifies formula creation, and an auto-complete feature to show matching formulas as you type so you can easily find the one you want. The updated Excel also offers a number of new chart styles, complete with support for 3-D, transparency, and shadows.
The application sports a redesigned Preferences screen, which now resembles a scaled-down version of OS X's System Preferences. The formerly-independent Toolbox and Formatting Palette have been incorporated into the Toolbox, which takes on an iWork-like appearance, with multiple tabs across the top; each tab is used to access a different task. In-cell formula editing is easier, and the new toolbar icons are easier to read.
The Elements Gallery is a mixed bag—the pre-defined Sheets are all quite simple, and WordArt may not be of interest to many. The Charts and SmartArt Graphics, however, have potential to save time in creating nice-looking spreadsheets. Unfortunately, you cannot disable the Elements Gallery completely; it will take up vertical space in every spreadsheet you create.
Missing macros
Microsoft disclosed nearly a year-and-a-half ago that there would be no support for Visual Basic macros in Excel 2008. When you open a worksheet with macros, you're given the choice of removing the macros, or using the worksheet with the macros intact but non-functional.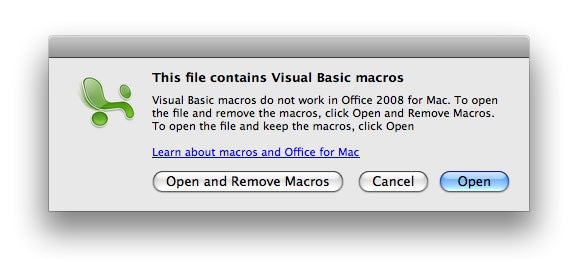 This remains my major gripe with Excel 2008, even now that I've had a chance to work with the program. I use Excel 2004's macros a lot, and there's simply no way to make these sheets work in Excel 2008. The program's AppleScript support, while greatly improved over prior releases, can't be recorded, meaning you'll have to be an AppleScript wizard to write any useful macros. There are some bundled Automator workflows, however, which may help in some situations.
Office 2008 (including Excel) still doesn't support OS X's Services menu, which is quite surprising given how long that feature has existed—so you can't select some text and send it to another program via the Services menu. The menu items in Excel 2008 are basically identical to those of Excel 2004, and the features accessed by those menus are also basically the same as you'll find in Excel 2004—complete with the same layout and limits. The main toolbar is now integrated into the window title, and unlike all other toolbars, it cannot be detached—so valuable screen real estate is now consumed by a toolbar that is repeated in each open window.
First impressions
Overall, I was hoping to see more dramatic changes in Excel 2008—things that might help push the spreadsheet paradigm forward, as Apple's Numbers has done with its multiple sheets-per-page layout. Instead, it seems that Microsoft has delivered a Universal version of Excel 2004 with some minor improvements, and minus one key feature that some power users rely on.
While that's no small accomplishment, it remains to be seen if it's enough of an incentive for users to upgrade. I'll offer up my answer in my full review of Excel 2008, which will appear at Macworld.com after the Office 2008 suite ships January 15.
[Senior editor Rob Griffiths offers OS X tips and tricks at the Mac OS X Hints blog.]