At a Glance
Expert's Rating
Pros
Intuitive and responsive touch interface
Cellular connectivity
Our Verdict
Unlike flashy frames overloaded with razzle-dazzle multimedia, the Vizit frame by Isabella Products aims for simplicity. Some digital photo frames offer so much functionality that photo sharing becomes an ordeal for the computer-nonsavvy, but the Vizit minimizes the frills.
The frame's viewable area is 10 inches diagonally, about 8.25 inches wide by 6.25 inches high. The responsive 800-by-600-pixel LCD touchscreen has a matte surface, and the frame itself is made of matte black or silver plastic. The Vizit is extremely lightweight, with a thin, plasticky feeling, articulating support that folds down in back. The support's faux-wood paneling surprised us—is Isabella aiming for a retro look retro rather than a high-tech one? Not entirely: Unlike the classic-looking Kodak frames, the Vizit has no mat. In any event, the unit's '70s wood paneling style doesn't look particularly classy or sturdy.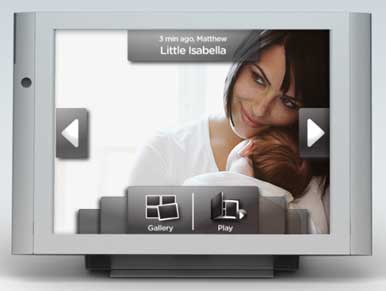 Like many other digital photo frames, the Vizit lets you set it up in two ways: mounted on a wall or displayed on a desk or coffee table (it looks better to us in freestanding mode). Either way, it must be tethered to an AC cord, since there's no battery back-up option. Like most energy-efficient digital photo frames, the Vizit includes an option for setting an automatic shutoff time.
You can arrange to authorize friends and family members to send photos directly from their e-mail accounts or mobile phones to the Vizit, using the AT&T network. The Isabella frame makes photo transfer exceedingly easy for anyone, with no need for card-swapping or USB flash drives.
To arrange for others to send photos to your frame, simply create an account at the Isabella Vizit Website, enter your frame's ID, and identify the individuals you authorize to e-mail photos to the frame (or to send via phone). On top of the $280 you pay of the frame, you must purchase a basic or premium photo plan that includes photo management, third party content, two-way photo sharing and cellular connectivity. According to our contact at Isabella, the basic plan costs $6 per month ($72 per year, capped at 50 photos received per month), while the premium costs $80 per year (maximum 60 photos received per month). Isabella's plans include support (eventually) for Flickr and Photobucket.
You can upload 16 photos at a time to the frame via your Vizit account online. The site is currently in beta, which may explain some of the difficulties we ran into when trying to use it. In our hands-on tests, Firefox crashed twice as we were uploading images. And some photos took forever to appear on the frame after we uploaded them to our account, despite their relatively small file sizes.
The first thing you'll notice when you turn the frame on is how long the device takes to start up. Once you're up and running, though, the frame is extraordinarily simple to use. Its interface resembles Facebook's. To organize slideshows, including transitions and photo display order, you work through the service's site, sending the finished slideshows to your frame. You can opt to page through your photo collection on the Vizit frame itself, using the touchscreen to label some photos as "favorites" and you can view by Gallery (categories that you set up online) or enlarge thumbnails. The Vizit will automatically rotate photos for display. Because the frame doesn't support audio files, you can't set your slideshows to music.
We were impressed by the screen's viewability from varying angles, but highlights were blown-out and we noticed posterization in some shots. We also detected hints of graininess and blurriness in the background details of certain shots, such as in the logs in a fireplace. Colors looked accurate, however, and the frame handled a wide array of photos we threw at it.
Macworld's buying advice
Though we liked the Vizit's intuitive menu system and cellular connectivity options, its price seems way too high. In image quality and overall appearance, the Vizit is no match for the Kodak EasyShare W1020. Photo frame enthusiasts on a budget can find plenty of other frames at lower prices.