To kick off CES, the consumer electronics orgy taking place this week in Las Vegas, Microsoft's Bill Gates took the stage to offer his farewell keynote address. During that address, Gates, who will leave Microsoft to presumably dedicate his life to performing Good Works, offered his Microsoft-and-partners-dominated vision of the future.
And, may I say from my armchair several hundred miles away, what a load of god-help-us it was.
Without recounting every detail of the seemingly endless parade of tributes, partners, demos, and accolades for such sterling technologies as Vista, Zune 2, and Microsoft Surface, maybe I can crystalize my objections to Bill's future (and, at the same time, offer some insight into why Apple seems to have the clearer vision) with a couple of examples from the event.
All data all the time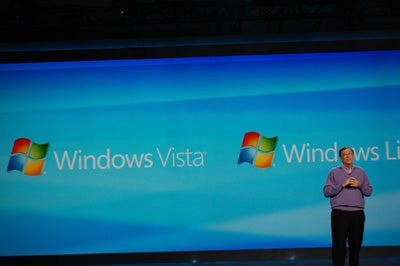 Earlyish in the keynote, Gates imagines a future where your data follows you around from home computer, to cell phone, to tablet PC, back to phone and desktop, over to the TV… all on devices from different manufacturers, all getting mucked with during its journey, all running Microsoft technology.
Putting aside, for the moment, that it will be a Herculean task to make this work seamlessly—and if Microsoft is about anything, it's seams—do we really want to pack our lives with more of this crap? I'm as keen on technology as the next guy, but there comes a point when enough is enough.
I don't want all of my data stalking me. It absolutely makes sense that I sync my contacts, calendars, bookmarks, and email between the computers I use and my mobile computing devices and that I can easily move media between my computer, iPods, iPhone, and TV. But beyond that, I'm pretty much good.
This is something that Apple's technologies allow me to do right now. They could work better—syncing remains more confusing than it needs to be—but the basics-and-more are in place. If I want to geek out in a way Gates envisions, I can. But like most people, I prefer to have what I need without a lot of unnecessary complication and clutter. Do as Apple does and keep it simple, Bill. Please don't present me with a future where complication and clutter are the standard rather than exception.
Hipness is, what it is…
At a point later in the proceedings, MTV's Van Toffler was brought on stage to talk up MTV and Microsoft's Urge subscription music service. During his spiel for the service, which provides content from MTV, VH1, and CMT, Toffler boasted: "You can make Urge the soundtrack to your own event. It will be programmed by music fans for music fans. Subscribers will tell us what sucks."
A Justin Timberlake track blared from the house sound system and then Timberlake strolled on stage to pimp the service.
Mr. Toffler, though I'm not an Urge subscriber, if you're really interested in what sucks, you might want to write this one down:
Justin. Friggin'. Timberlake.
Check his expiration date. Timberlake was hip, well… never, to be completely honest. You want to offer a homogeneous subscription music service as bland as MTV, led by music from the likes of Justin Friggin' Timberlake, be my guest, but a future of the same old, same old corporate music dreck isn't one I care to live in or subscribe to, thank you.
Contrast this to an Apple music event. Granted, John Mayer has seen the stage at least one time too many, but at least he's got some cred as a monster player. And Wynton Marsalis? Dude, even if two-thirds of your audience doesn't know who he is or understand a note he plays (and shame on them), those who do will give you points for making a greater effort than looking at the latest Billboard charts, pointing at a name, and saying "How many units? Get that one."
I feel an Urge to offer this hint: Non-stop rotation on Clear Channel and record sales to 12-year-old girls does not hipness make.
Too many cooks
And then came the barrage of partnership deals and Microsoft-compatible devices. While I'm sure the point was to underscore that Microsoft is everywhere with everyone, step back and Microsoft looks like the tavern strumpet—willing to do business (and make user-unfriendly compromises) with anyone with the cash or come-on to seal the deal.
Say what you will about Apple's penchant for control, its ability to control the entire widget—hardware, software, and content services—makes for a far more cohesive user experience. And one that has, once again, that keep-it-simple-and-accessible design ethic. Unlike with Windows or Microsoft-centric services, it's rare that I encounter an Apple technology and think "If Partner X hadn't demanded its pound of flesh, this would so rock!"
A fond farewell
My guess is that Gates' keynote and vision of the future has a shelf life of exactly 10 days—the same 10 days between Gates' presentation and Steve Jobs' keynote next Tuesday. Like Bill Gates I'm enthusiastic about the future. Unlike him, I'm putting my money on a future that just works in an elegant and hip way, from a company with the experience to make that happen.
Christopher Breen covers the iPod and digital-music market at the Playlist blog.