This week marks the year anniversary of Steve Jobs giving the world its very first glimpse at the iPhone. Which means it's also the anniversary of the first time someone looked at Apple's mobile phone and said, "It sounds nice and all, but what it really needs is…"
We're as guilty of this as anyone. The iPhone was barely a month past its June 29 release date before we produced a list of… well, demands is such an ugly word. Let's call it a wish list of iPhone features we wanted to see.
A lot has changed since that iPhone unveiling last January. The smartphone has shipped, for starters, and wound up in the hands of millions of users. Apple has also rolled out four iPhone software updates, some of which have brought major new improvements such as the iTunes Wi-Fi Store, international keyboard support, and video output amongst bug fixes and other, smaller features.
But for all of that, gaps remain in the iPhone's feature set. Six months after the device's launch—and a week before a Macworld Expo that might see more iPhone modifications—we're revisiting our wish list to see where Apple's smartphone has progressed and where future features still are needed.
Hardware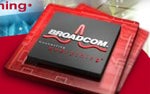 Adding support for GPS was one of the few changes we wanted that would require new hardware. As is its custom on any product speculation, Apple's been quiet on the subject. Google, however, recently announced it would bring a My Location feature to Google Maps on some cell phones, though support for the iPhone was notably absent. Since this functionality relies on calculating your position in relation to cell phone towers, it could be rolled out in a future software update.
The other hardware-based capability many have demanded is support for 3G wireless technology. This would make both upload and download speeds several times faster than the iPhone's current EDGE networking. It's also a must-have for competing in international markets like Japan, where 3G is already the standard.
Fortunately, there's good news on this front: both Steve Jobs and AT&T CEO Randall Stephenson have alluded to a 3G iPhone model—Stephenson went so far as to promise a 3G iPhone in 2008.
Battery power for such a phone has been a major concern as 3G technology consumes more energy, but the development of new, more efficient chips like Broadcom's BCM21551 3G Phone on a Chip processor suggests that many of these obstacles have already been overcome.
Interface
While the iPhone's user interface is almost certainly superior to most of the other phones on the market, that doesn't mean it couldn't stand a few improvements. Last summer, we complained about the lack of text selection, copy and paste, search capabilities, multiple selection, and the ability to use the landscape-oriented keyboard in applications other than Safari. Apple has yet to make a move on any of these fronts, though, judging by the reaction of iPhone users in our office, most of these features are still very much in demand.
Mail
The inability to delete multiple messages in the iPhone's Mail application was one of the most frequent complaints from iPhone users on our staff back in July, and it remains unaddressed in the new year.
While spam-filtering has improved in the past few years, spammers are still finding ways around it, and many users receive more spam than legitimate e-mail. Add the lack of spam-filtering on the iPhone itself into the mix and you quickly end up with a mailbox packed with offers for prescription drugs and get-rich-quick schemes—which you then must laboriously delete one-by-one. The message from users to Apple is clear: add spam filtering or give us a way to delete a bunch of messages at once.
There's also still no way to mark multiple messages as read, force HTML messages to display as plain text, or adjust how much of a message is quoted in a reply. And Mail's handling of pictures, both sending and receiving, remains limited: You still can't move photos from Mail to the Photos app, or e-mail multiple pictures at once. Those of us with multiple e-mail accounts still bemoan the lack of a unified inbox that would allow us to skim messages in all of our accounts at once.
The phone
After much hemming and hawing early on, Apple came around on one of our top complaints about the iPhone's phone features: custom ringtones. Having gone through third-party utilities such as Ambrosia Software's iToner, loophole hacks like the file-renaming trick, and the limited selection of ringtones you can buy directly from the iTunes Store, Apple added the ability to create custom ringtones into the latest version of GarageBand. If you don't have iLife '08, the $15 iToner still works fine and requires no hacking on your part.
While Apple's changed its tune on ringtones, it has yet to address our other phone-related gripes. Alert tones for Calendar reminders are still not configurable and you cannot use your iPhone as a modem for accessing the Internet on your laptop without extensive hacking. And with the iPhone's unlimited data plan, it seems that this may be one feature that AT&T would not be too thrilled about.
PDA features
Maybe it's because of the ribbing Apple took back during the Newton days, but the iPhone's personal information management capabilities are perhaps the least fleshed-out of any of its features. There's still no way to create To Do lists on the iPhone or retrieve them from iCal. And even though we expected the ability to sync Notes would come with the October release of Leopard, it remains conspicuously absent—despite Mail.app's new To Do and Notes features, you can't sync any of that information with the iPhone.
The iPhone's handling of multiple calendars is still nonexistent: events created on the iPhone calendar can only be synced with one calendar on your Mac, meaning that you're out of luck if you want to create both personal and work events on your iPhone and have those sent to the appropriate calendars in iCal. And while the 1.1.1 software update made viewing attachments like Excel and Word docs slightly easier by allowing you to look at them in portrait or landscape modes, you still can't edit them.
Apple has still revealed no plans to incorporate the same manual disk mode found on iPods, including the iPod touch, so the best solution for file storage remains Ecamm Network's $10 iPhoneDrive, which has also expanded to allow you access to pretty much any data on your iPhone, including your music, videos, pictures, ringtones, and Notes.
On the up side, one of our gripes, the inability to access contacts from the Home screen, was mostly addressed by Apple with the aforementioned 1.1.1 software update. You now have the option to summon your contact Favorites by double clicking the iPhone's Home button.
Internet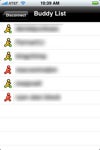 The iPhone's Internet access is perhaps its strongest aspect, but even it has some missing pieces. There's still no sign of Flash coming to the mobile version of Safari, and though many sites are learning the hard way that they should always have straight HTML alternatives, there are some things you just can't do without Flash (my morning crossword puzzle, for example). It seems hard to believe that Apple's not working on this deep in some underground lab, but there's no indication when we might see it in the wild.
And finally, one of the largest complaints from our original wish list remains a gaping hole in the iPhone's feature set even today—the lack of an official, native instant-messaging client. We've tried TinyBuddy IM, Meebo, ApolloIM, and every other IM client for the iPhone and we remain unsatisfied. The web-based clients are good in a pinch and the third-party native clients are usable, though they require you to jailbreak your phone, a process which has gotten more complicated with Apple's recent software updates.
It seems possible that Apple will release an IM client in an update sometime before February—if not, it's likely to be among the first applications released after the developers get their hands on the forthcoming software development kit (see below).
The rest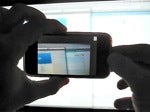 Our last remaining gripe was that the iPhone's camera can't be used to capture video; that hasn't changed in the last five months either.
And, of course, our list hardly remained static these last few months. Our band of on-staff iPhone users would like to see better battery performance on standby, more precise controls for scrubbing through media, iPhone-native games, the ability to send SMS messages to multiple parties, some semblance of multimedia (picture or video) messaging, and the addition of both voice notes and voice dialing.
There is, however, light dawning on the horizon. We complained in our original list about Apple's locked-down approach, which prohibited any third-party applications on the phone. The announcement from Steve Jobs that a Software Development Kit for the iPhone is due in February gives us hope that even if Apple does not roll many of these features into future software updates, the army of eager third-party developers will.
[Associate editor Dan Moren blogs about the iPhone for Macworld at iPhone Central.]