They say all good things must come to an end. Might sound depressing, but I'm hoping with all my heart that it means the reverse—that all bad things must continue indefinitely—is not true.
So here we are on my third and final day of CES. I say "my" final day, because though my time in Sin City is drawing to a close, CES is steaming ahead until the end of the week. It's just that I can't take it anymore. I'm experiencing a rather particular form of Posttraumatic Stress Disorder called, catchily, TMG (that's "Too Much Gadgetitis"). It's not pretty, either: symptoms range from twitching extremities to, in its most serious form, an uncontrollable urge to become Amish.
So then, for my last trick, I present to you a triumvirate of tech to fulfill your wildest dreams: a hands-on report on the best (or, at least, most expensive) keyboard ever, more robotic beings to carry out your slightest whim, and, we kid you not, the world's only musical TASER holster.
Optimus Maximus just about ready to roll out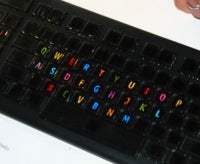 When I heard that rogue design genius Art Lebedev and his studio of tricks were exhibiting at CES, I stopped for nothing—nothing—in my quest to get some hands on time with the fabled Optimus Maximus. It might sound like a Transformer, but it's oh-so-much more. By now you know the specs: 113 OLED displays each capable of displaying full color pictures, animations, and an infinite variety of keyboard layouts. For the privilege you'll pay, well, more than you've ever conceived of for a keyboard: pre-orders are currently going for $462.27 on their site, though in the past the price has been as high as $1,500, but that's just the price for a keyboard with one display; for the whole 113-key shebang, it'll cost you that full $1564.37.
So here's the real question: how does it work? Well, I finally got a chance to get my hands on a couple of units (black and white models) and I touch-typed that sucker old school. You'll be happy to know that the feel is responsive and clicky and kind of reminded me of the classic, venerable Apple Extended, though the spring response in a couple of the keys, such as the spacebar, were a little too strong for my taste. Also, the keys are somewhat larger than you might be accustomed to, given the need to fit the displays in them, so you might need to limber up those fingers.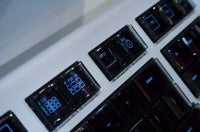 The displays are gorgeous. Pictures don't do them justice: the images are bright and clear and easily distinguishable at a glance. And watching the entire keyboard shift from lowercase to uppercase letters as you hold down the shift key is subtle, yet amazing. Best of all, there is an OS X interface so should you wish to part with your hard-earned cash, it will work with your Mac. The official release date is March 15th, so there's good reason to beware the ides this year, cause that'll be the day when your significant other will try to murder you for spending a ridiculous amount of money on a keyboard.
Robots here, robots there, robots everywhere
There are really only two ways this whole robot thing can go. If we've learned anything from television and film—and I learn little elsewhere—the robots will eventually rebel against their fleshy masters and subjugate us into a cold, soulless world where we must fight just for our own existence.
iRobot is banking pretty hard on the other eventuality, that, as mechanical beings take over the menial tasks that humans hate to do, freeing mankind to pursue more creative ends and propelling us into a robot utopia. We've already seen them provide robots that sweep and mop our floors and even clean our swimming pools. What's next?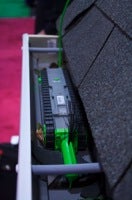 Well, sure is a pain to clear those gutters out every fall, huh? Yeah, that's what they thought too. Hence, the new iRobot Looj. Featuring a detachable handle that also serves as a remote control, the Looj gleefully zooms through your gutters, using its brushes, hard plastic disruptors, and rubber ejectors to send detritus flying. You'll probably want to stand somewhere other than directly under the gutters though. Three separate models with slightly different features (do you want a belt holster? a belt clip? an extra battery?) range in price from $99 to $169.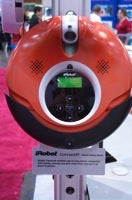 But, you know, robots are getting a little touchy about just getting stuck with all the stupid household tasks. They're looking for a little more diversity in their work. iRobot's new ConnectR is billed as a "Virtual Visiting Robot." Travel a lot? Miss family dinners or playing with your kids? No worry: the ConnectR can do all of that for you, and remind you of everything you're missing by transmitting it all back via its webcam and integrated microphone. Meanwhile, you can control the robot remotely, driving it around to annoy the cat while you're at the office, or remind your kids to their homework. The downside? The software runs on Windows XP at the moment—but then, isn't that just like a PC user, to play with their kids via robot?
The ConnectR isn't quite ready to go yet, but when it is it'll carry a hefty $499 price tag. Just remember: when the robot revolution does come, it might be you who ends up as the go-between for those mechanical beings and their little robo-kids.
Don't tase me, bro!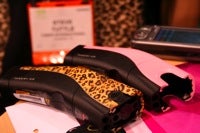 Personal defense is serious business. But not so serious that you can't have a sense of whimsical style, or so TASER International would have us believe. The company's rolled out a brand new $380 model of their electronic control device with red, pink, and even leopard-print designs that might make you think you're looking at the latest in lingerie, or perhaps even some sort of stylish consumer electronics device, like an MP3 player.
But wait! Turns out that TASER's already thought of that. Hence, the new combination TASER MPH holster/MP3 player. That's right: two great electro-shocking tastes that go great together: a leather holster featuring a 1GB digital music player.
Shocking.
You know, one might argue that this device may actually be counterproductive when it comes to personal defense, since listening to music could make you less aware of your surroundings, especially if you're lulled into a feeling of safety by that incapacitating 50,000 volts you've got snugged away. We say don't go traipsing down any dark alleys jamming to your favorite rock opera just yet. Just remember that certain states restrict the carrying of TASERs (blast you, Massachusetts!), so check before you buy.
That's all folks
At last! I'm free! No more waiting in lengthy lines for pathetic free lunches, tramping miles of show floor before realizing you've just walked in a giant circle, and talking to vendor after vendor about their revolutionary iPod speaker system.
Well, until next week. Blast.