At a Glance
Expert's Rating
Pros
Simple, addictive gameplay
Great graphics
Lots of fun
Cons
IPod version delivers nothing new from ubiquitous console versions
Our Verdict
After my poor experience with the iPod version of Sonic the Hedgehog, I wasn't holding out a lot of hope for Hudson Soft's introduction of its intrepid character Bomberman on the iPod. But as it turns out, the developer has done a fine conversion, bringing this classic video game character to a new platform—specifically, fifth-generation iPods, third-generation iPod nanos and iPod classics.
Although he may lack the brand identification of Pac-Man, Sonic or Mario, Bomberman is a true classic in every sense of the word. And if you don't know who he is, any video-game playing teenagers or kids in your household certainly do. This intrepid little bomb-making robot got his start in Japan more than 20 years ago, first busting out on early home computers, then later on the Nintendo Entertainment System. He's been a mainstay on consoles ever since.
Gameplay in Bomberman is simple—you navigate a maze filled with bad guys and obstacles. You blast them both by planting bombs and running away so you're not caught within the blast radius. You can collect powerups and transfer from level to level using Warp Panels.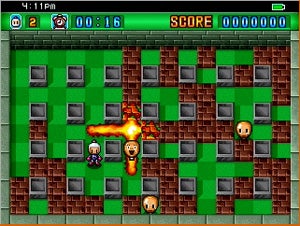 Everything happens in a 2-D world, where you see the action from overhead. Bobble-headed Bomberman makes his way through the maze, which changes from level to level, chased relentlessly by enemies. If the enemies touch him, he dies. Bomberman can set off bombs wherever he wants, but if he doesn't scoot out of the way of the blast fast enough, he, too, will be flamed and will lose a life.
Powerups imbue Bomberman with special abilities—Fire Up increases the blast radius by one square, for example, while Bomb Up lets you increase the number of bombs you can set. There's a Speed Up tile you can grab, along with an extra life tile.
Among the maze there are "Soft Blocks"—bricks you can destroy by planting bombs near them. This is handy for accessing new parts of the maze, which you may need to do to destroy enemies or grab powerups. And once you've cleared the level, a Warp Panel will activate to take you to the next one.
That's pretty much all there is to the basic gameplay Bomberman, which is why it's so addictive. And its basic 2-D gameplay—you control him up, down, left and right, and plant bombs—is ideal for the iPod's Click Wheel interface.
But that's not all. Bomberman for iPod also includes a few mini-games which help you take the gameplay a bit further. The mini-games are rewards for clearing a level (comprising several stages). You can return to the mini-games you've reached any time you want by using the Challenge mode, but you have to play through in Normal mode in order to access all three of them.
My favorite is easily "Bowling for Bombs," where you roll a bomb into other bombs to blow them up. You need to line up and time your shots right using the Click Wheel, and it's a lot of fun. There's also "Bomb Buster," which is a Bomberman version of Whack a Mole. You whack all of the bombs that are the same color as the one in the center of the screen to get points; you tap the corresponding areas on the Click Wheel to hit the correct bombs. "Bomb Rollin'" is the third mini-game; in this one, you jump from one bomb to the next, moving your thumb clockwise along the Click Wheel to get the bomb moving, removing your thumb from the Click Wheel to get on to the next one.
The game features two play modes—Normal and Challenge. Challenge simply lets you replay any of the stages you've previously cleared in Normal mode.
Bomberman features the options we consider pretty standard fare for iPod games at this point—the game lets you save and exit (good for commuting or short breaks), select either the game or your iPod for a soundtrack (or turn off sound all together), and screen brightness. You can also view built-in help, but you won't need it after your first or second game. Bomberman is simple to play and lots of fun.
The only criticism I have of Bomberman is that it's not an iPod original concept. If you've played Bomberman on consoles, you know what to expect, though that shouldn't diminish the playability of this game on the iPod in the slightest. It's just that some may ask, "I already have Bomberman for my console, so why should I get it for my iPod?" And I don't have a good answer.
The bottom line
Bomberman for the iPod is, as the kids say today, da bomb. It's a terrific conversion of the classic arcade game to the iPod, and definitely worth looking at if you want some console-style fun.